Jay Bruce back to a familiar spot- batting second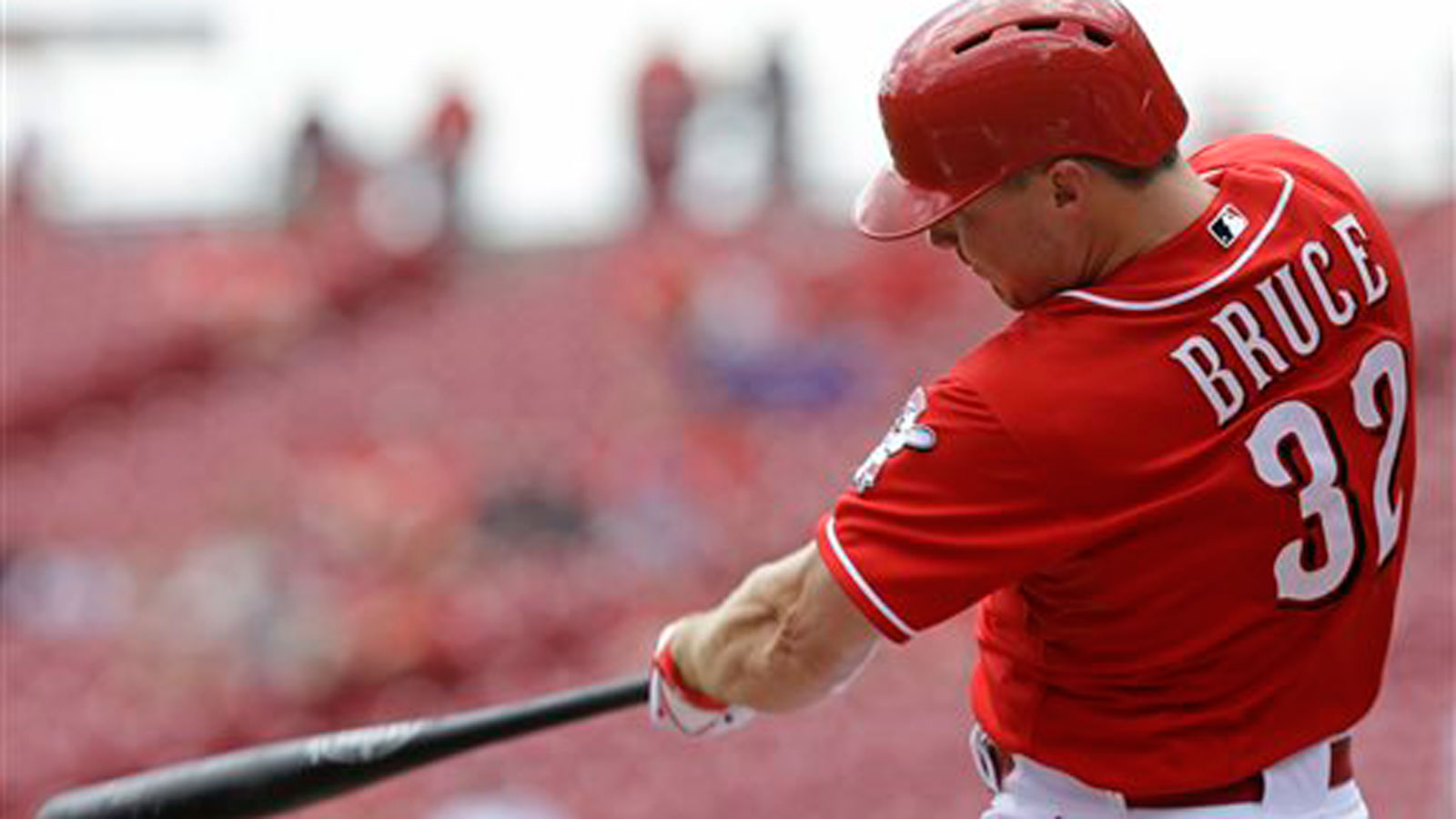 CINCINNATI — In his never-ending quest to find a viable lineup that can score more than three runs a game, Cincinnati Reds manager Bryan Price extracted what he hopes is a gem out of the pouch and not a zircon.
When right fielder Jay Bruce walked into the clubhouse Monday afternoon and checked the lineup board he did a double-take. He was batting second against the Arizona Diamondbacks.
And it brought a broad smile to his face because it brings back memories of unmitigated success.
When Bruce was called to the major leagues for his debut in late May of 2008, then manager Dusty Baker dropped him into the second spot in the batting order. Bruce's debut was, as they say on Broadway, boffo.
In his first seven games he went 15 for 27 (.577). During a three-game series against the Atlanta Braves he was 7 for 10 and drew a walk. He tried to steal second and was thrown out and Braves catcher Brian McCann said, "We finally figured out a way to get him out — walk him and throw him out stealing."
Getting Bruce out these days has been about as complicated and putting a rubber band around a stack of paper. He is 3 for 32 with 12 strikeouts and one RBI, numbers unfit for public display.
"Batting second is the first spot I ever hit in the Reds batting order, so it's an old spot," said Bruce, whose batting average has shrunk to .218. "Hopefully I can channel some of that into being there again.
"It is no secret that personally I've been struggling and as a team we haven't been doing to well, so shaking it up a little bit can't hurt," he said.
During the first nine games after the All-Star break the Reds have lost eight and have not scored more than three runs in any game and have not had as many as 10 base runners on board in any of those nine games.
Bruce, though, doesn't plan to change his approach to hitting, which he means still plans to try to bang his way through the dramatic shifts to the right side that teams employ against him.
"As Bryan says, no matter where you hit in the order, you don't change your approach to hitting," said Bruce. "You go up there focused on your approach as to what made you successful. The key is not to get tentative or indecisive, just keep moving forward."
Nobody knows better than Bruce what the season has been like for a guy who has hit 30 or more home runs for three straight years while driving 97 or more runs in that same span.
"It hasn't been a pretty year for me," he said. "There are no excuses and I expect to have done better. But you can't stay in the same place in the past. You have to move forward."
To Bruce, the past is ancient history, wiped clear in his mind, and today is the first day of the rest of his season.
David Kohl-USA TODAY Sports
CINCINNATI REDS
2014 Schedule | Team Page | Standings Stats | Roster | Injuries | Latest MLB news on FOXSports.com
"I look forward to today because the opportunity to turn it around is there for me to take," he said.
Where Bruce bats in the order means nothing to him and he said, "It beats not being in it at all. Hey, I'm just employee No. 32 (his uniform number)."
Price said by putting Bruce second in the order, behind leadoff hitter Billy Hamilton, there is a chance if Hamilton gets on Bruce will see more fastballs to keep Hamilton from running.
"That's a possibility," said Bruce. "I don't know if there are any hard facts to determine that. But the way teams focus on Billy when he gets on base is definitely something noticed. I'll be ready, from pitch one. Where I hit doesn't affect me. I'm a baseball player.
"I look forward to helping the team wherever and whenever because we need to play better. This is the time where it would really behoove us to turn it around and start winning some games and play how we expected to play."
Bruce hears the boos and knows talk radio is down on the team and says, "We put higher expectations on ourselves than anyone on the outside can," he said. "We know we've been underachieving and we've been doing everything we can to turn it around."
Bruce smiled and said, "You know, speaking of batting orders, I've even batted leadoff for this team a few times."
And would he like to try that again?
"Yeah, but. . .uh. . .we have a pretty good leadoff hitter right now. This kid, Billy something? Billy Hamilton."