Indians-Athletics Preview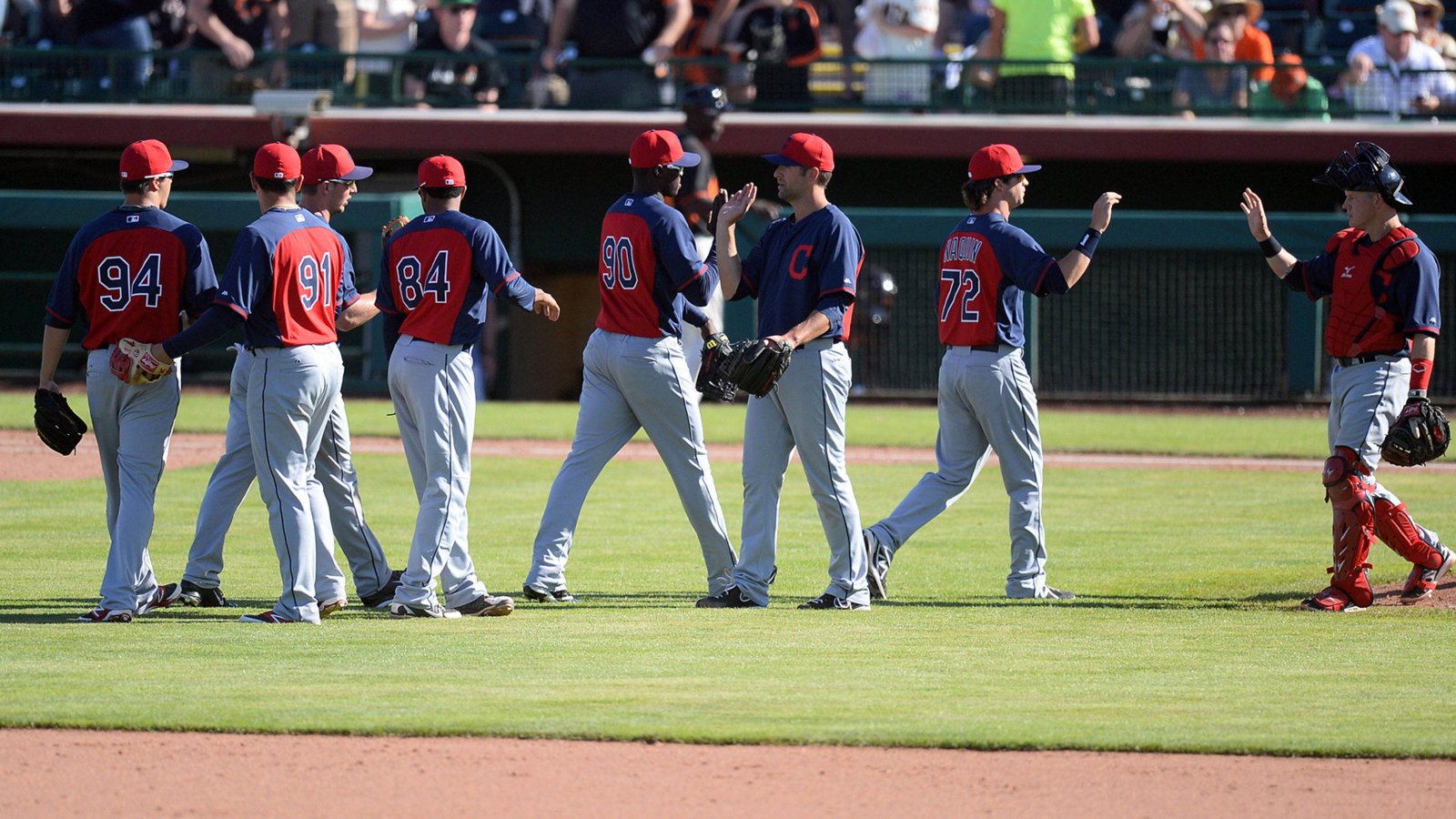 OAKLAND, Calif. (AP) – Sure, Sonny Gray
gained some nice momentum from that impressive pitcher's duel with
Detroit ace Justin Verlander last October.
Gray insists any highlights from his remarkable rookie season – he made
all of 12 major league appearances and 10 starts – mean nothing now as
he prepares to take the ball for the two-time defending AL West champion
Oakland Athletics on opening day at home Monday night against the
Cleveland Indians.
After Jarrod Parker was
lost to season-ending Tommy John elbow surgery late in spring training,
Gray (5-3, 2.67 ERA) assumed the top spot in the rotation for the A's
(96-66).
"I'm really honored to get the
opportunity, but at the same time I'll go out with high expectations,"
Gray said. "It'll be a really fun day."
Gray will be leaving his share of tickets, too: for his grandma, aunt
and uncle, a cousin, mom and stepdad, girlfriend and two buddies from
back home in Tennessee.
"For most of them it's their first time in Oakland," Gray said.
Justin Masterson (14-10, 3.45) will make his third straight opening day start for the Indians, but perhaps his last.
Masterson avoided arbitration and agreed to a $9,762,500 salary for
2014, but can become a free agent after the season. The sides never
reached a new multiyear deal during the offseason and cut off talks for
now.
"Yeah, this is the third time I've
been able to do this and I take ownership of it every time," said
Masterson, who had a career high in wins last year. "I've been trying to
lead this staff for more than just the last couple years. This just
kind of solidifies that position to be able to go out and be the leader,
set the tone and no matter what happens, set a good example."
Hoping to build off their unexpected 92-win campaign in manager Terry
Francona's first year, the Indians enter 2014 confident they can not
only contend this season, but go even further. Cleveland had to win its
final 10 games just to make the playoffs – its first postseason
appearance since 2007 – then suffered a 4-0 loss to Tampa Bay in the AL
wild-card playoff game.
The grounds crew
in Oakland will be hopping, as it could be a long day given the forecast
for steady rain. Wet weather already canceled the finale of Oakland's
preseason Bay Bridge Series against San Francisco on Saturday.
Gray has shown he is unfazed by anything – the weather, facing Verlander, the big October stage.
"He's a very driven guy, takes nothing for granted. If he has a good
start he wants to go out and improve upon that," manager Bob Melvin
said. "You watch his bullpen, there's a lot of intensity to that. He's
not a guy you have to motivate because he's very motivated, and that
makes my job and Curt's (Young) job very easy. He's always been a guy
that's been basically a No. 1 guy wherever he's pitched, so he's not
foreign to that even though we're not putting that pressure on him to
have to be a No. 1."
Gray's teammates learned what a clutch pitcher he can be last fall.
At first, reliever Sean Doolittle figured Gray didn't understand the
magnitude of responsibility in the big leagues – but quickly changed
that tune.
"Even though he's young, in a
very short amount of time he's shown an incredible amount of maturity
and poise," Doolittle said. "He obviously appreciates this opportunity.
He doesn't act like he's 24, especially when he's doing his work or he's
out on the mound. He gets in tough situations and he doesn't panic."
Gray insists he hasn't thought about that sensational night matching
zeros with Verlander in Game 2 of the division series. They faced off
again in Game 5, and the Tigers ended Oakland's season for the second
straight year.
"There's a lot of momentum
coming off of last year but obviously it's a new year, and it's a new
year for everyone," Gray said. "Coming Monday, we'll be 0-0 and it's the
start to a long season. We really just want to get started on a good
note and hopefully we'll finish the same way."