Giambi starts at DH in first game back, Chisenhall batting cleanup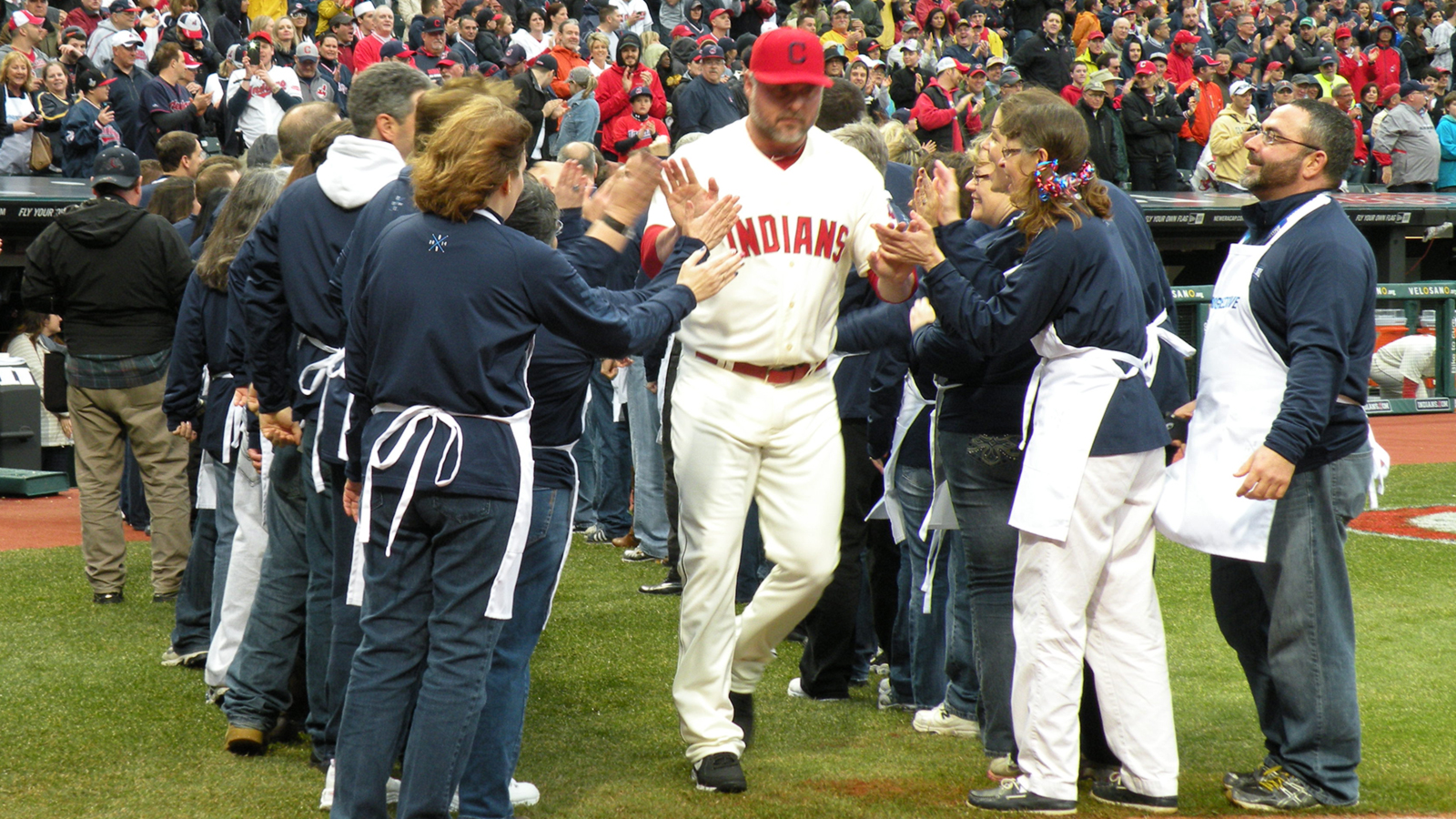 CLEVELAND –€" In his first night back after being activated off the disabled list, Jason Giambi is in the starting lineup as the Indians open a four-game series against Kansas City.
Giambi will bat seventh tonight, which is his usual spot in the order. Of the 54 games he started last year, Giambi batted seventh 34 times.
"If I'm gong to come off the DL, that's the best way to do it. That's why I think we waited," said Giambi of being in the lineup. "It will be good to get the first one out of the way. The first one is where the adrenaline is kicking in but you're excited to be playing and then you get into the Groundhog Day of being part of the club."
Giambi had been on the DL since the start of the season after suffering a right rib fracture on March 7 when he was hit by a pitch by the Cubs Edwin Jackson. Giambi batted only .183 last season and was 12 of 81 from July 3 until the end of the season but he did have nine home runs, including three as a pinch-hitter, which tied an Indians' single-season record.
Having Giambi in the order isn't the only surprise. Carlos Santana has the night off and Lonnie Chisenhall will be batting cleanup.
This is the third time in his career Chisenhall is batting cleanup. He was 3 for 10 with a double and RBI when he batted fourth on Sept. 29 and 30 of 2012 which was also against the Royals. Chisenhall is also 5 for 10 with a home run and four RBI against Royals starter Jeremy Guthrie.
Manager Terry Francona said he didn't want to jumble the lineup for one game, which is why he put Chisenhall at cleanup. Chisenhall is batting .448 (13 of 29) to start the season including five doubles. He has a hit in eight of the nine games he has started.
Said Francona of Chisenhall: "He's been swinging the bat as well as we've seen him. It keeps everyone else in place."
Santana gets a much-needed night off as he is batting just .145 (9 for 62) with one home run and three RBI. Francona said after seeing Santana chase some pitches out of the strike zone this past weekend against Toronto that he can tell that Santana was getting too anxious.
"You get yourself in a bind and want to get two hits instead of one and you get into more trouble," Francona said.
Santana admitted on Monday that he is pressing too much. His batting average is the worst after 18 games in April in his career. At this point last season, Santana had a .388 batting average with four home runs and 10 RBI. His previous low-water mark after 18 games was .215 in 2011.
"I'm a good player and hitter but I'm fighting. I have a slow start but need to be strong," Santana said. "I'm trying to be positive, focused and working hard."
WOOD OPTIONED: With Giambi being activated, pitcher Blake Wood was optioned to Triple-A Columbus. In seven relief appearances, the right-hander was 0-1 with a 7.11 ERA.
Francona said the coaching staff decided about the move after Sunday's game but because there was an Easter party after the game, they elected not to tell Wood until Monday.
"We've liked having the eighth reliever. We knew all along we may not be able to always do that. We may not be able to have a four-man bench either but we'll see how the games go," Francona said. "If Wood gets consistent work in Triple-A he can come back and really help us."