Getting to know your prospects: Eric Haase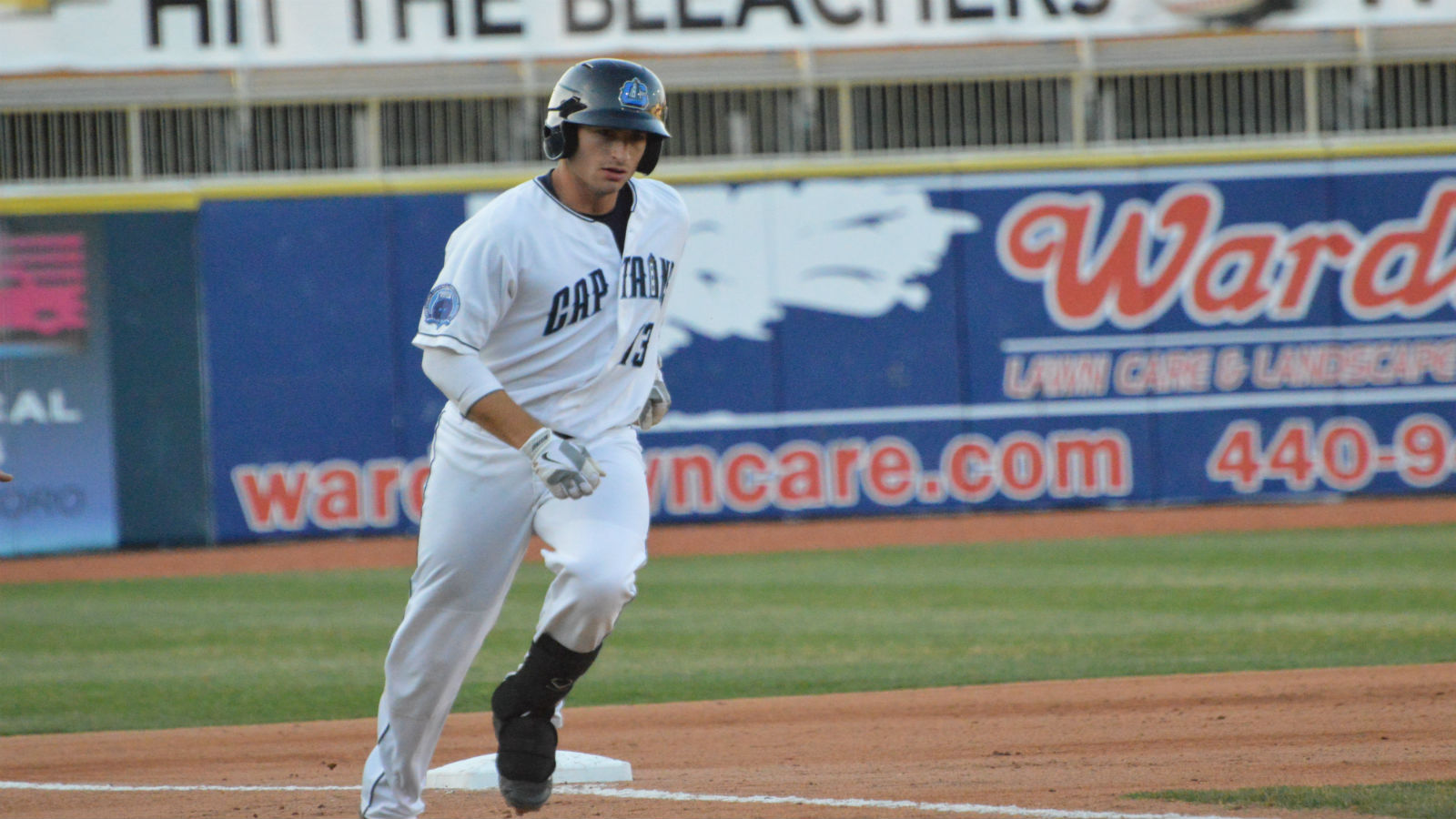 Name: Eric Haase
Position: Catcher
Current team: Low-A Lake County Captains
Age: 21
Height: 5'10"
Weight: 180
Bats: Right
Throws: Right
Facts & Info: Haase was selected in the 7th round of the 2011 Draft out of Divine Child High School (MI). He had a commitment to attend Ohio State University but signed with the Indians for $580,000.
David Richard/USA TODAY Sports
CLEVELAND INDIANS
2014 Schedule | Team Page | Standings Stats | Roster | Injuries | Latest MLB news on FOXSports.com
The Offense: Haase has really gotten a lot bigger and stronger over the last two years and really utilized the time in Arizona in 2011 and 2012 to prepare him for his first full season last year. He is a tough out who puts up a quality at bat on a consistent basis. He has a good swing that is aggressive with good bat speed. He has really learned to use his lower half better, stay more balanced, and drive balls using some of his natural strength. His power is still developing, but he has solid average to borderline plus power potential and the ability to hit the ball out to all fields.
The Defense: Haase has been a work in progress as a catcher because of his raw skills and inexperience at the position because he is from a cold weather state and was unable to play year-round growing up. He has the instincts, work ethic and upside that make the Indians believe he can stay behind the plate and could become at least a solid average Major League backstop. His best skill might be his catch and throw skills as he combines a quick release, an extremely strong arm and the athleticism to really make strong, accurate throws.
The Intangibles: Haase has a solid run tool and shows some good instincts on the basepaths. He is an extremely smart baseball player for his age who is a very hard worker and is open to making adjustments. He cares about the game as much as anyone in the organization, wants to improve, and has a lot of self-discipline and motivation. He has very good leadership skills and hustles on the field.
The Focus: Since joining the organization, Haase's primary focus has been his work behind the dish. Originally a third baseman, he caught a little during his junior and senior year in high school before he made the full conversion to catcher when he was drafted by the Indians. He has spent a lot of time the past two-plus seasons developing his craft and has made some significant strides with the improvement of his receiving, understanding how to call games, and refining his ability to throw runners out. Also, as with all young hitters, plate discipline is something that the Indians continue to try and reinforce with him. He has a tendency to expand the zone, so he is working to not only swing at strikes but swinging at pitches that he can do damage with.
The Future: Haase is a guy that continues to improve every year and has not yet reached his potential both as a receiver and thrower. His athleticism and arm behind the plate and the power at it make him a player you can dream on, though he obviously still has a ways to go in his development. When you combine the potential of his bat and his defense, you have the makings of a nice catching prospect for the Indians and a player to keep an eye on as he progresses through the minors.