Focused Kiel shows off in UC spring game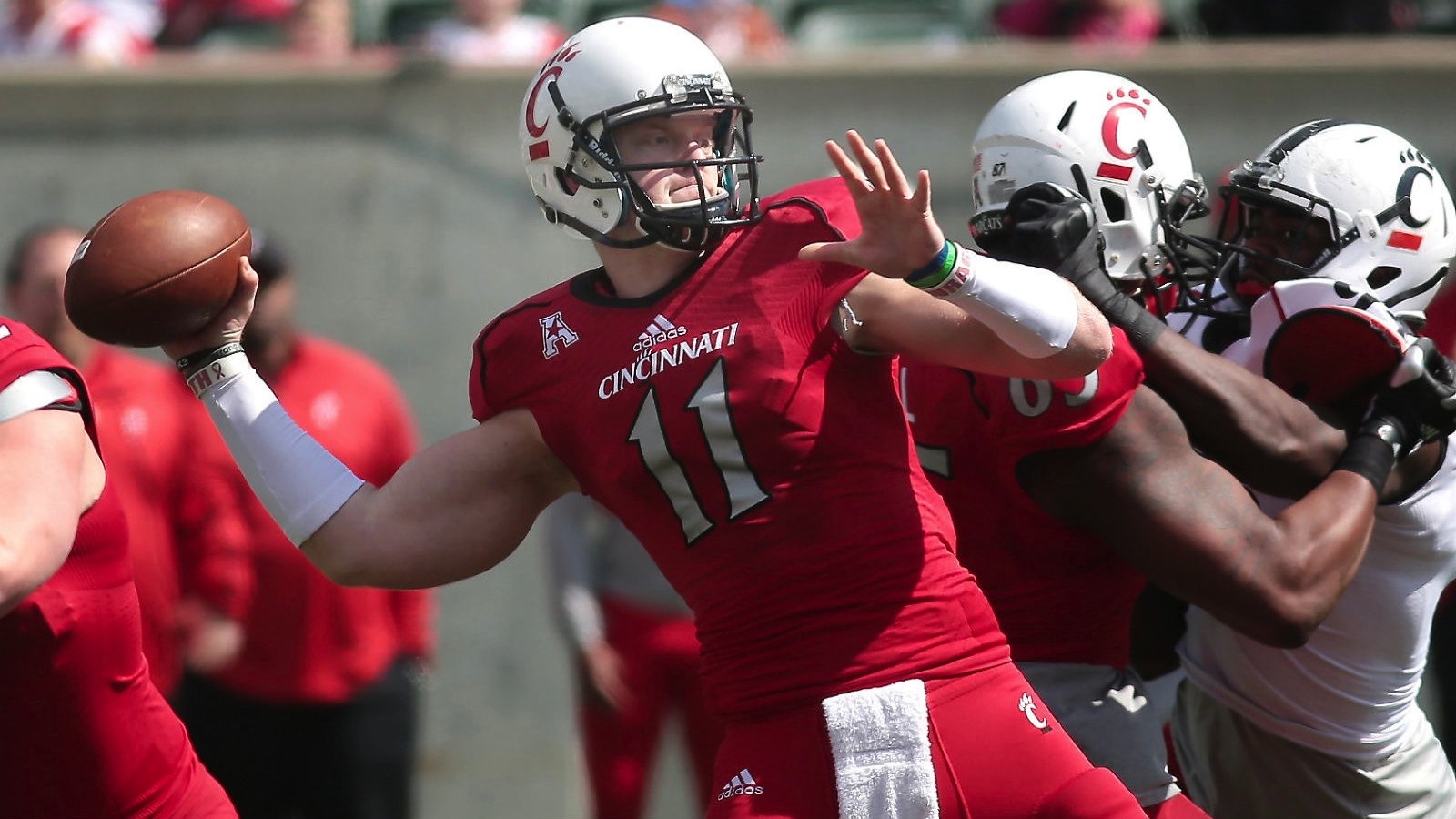 CINCINNATI — Gunner Kiel hasn't played in a real live, the final score counts, football game in three years. Saturday wasn't one of those games for Kiel but he was taking Cincinnati's spring game serious. He has the quarterback pedigree name and the background of being a highly-decorated recruit but when it comes to college football Kiel doesn't have much else.
That's why Saturday was so important to him.
Kiel played the first half of UC's spring game at Paul Brown Stadium, leaving the kind of impression he hopes will carry over once practices get underway for real in August and the games start counting in September. He completed 17 of 22 passes for 300 yards, leading the first team offense to scores on four of five drives before he took the rest of the afternoon off.
The Red team made of mostly first- and second-teamers, beat the White team, 24-23, for what that's worth. The score didn't matter but while this is just the first week of April, for Kiel Saturday was the biggest day he's had on the field in a long time.
"For me, I treated it just like a game," said Kiel. "Last night I watched tape, I went over our plays, went over protections and coverages and I treated it just like a regular game. I woke up early and had breakfast and came out with a chip on my shoulder to get better and play hard. That's how I am. I'm a competitor and it's time to win the game."
UC coach Tommy Tuberville has been careful this spring not to say that Kiel is the No. 1 quarterback, that junior college transfer Jarred Evans will very much be a part of the conversation later this summer. Evans was a combined 17-of-30 for 172 yards, one touchdown and one interception while splitting time with both teams. Freshman Hayden Moore went 14 of 20 for 113 yards and one touchdown playing in the second half with the reserve offense. There is hope that Munchie Legaux will be able to return from torn knee ligaments suffered last season at Illinois to compete for the job.
For much of the spring, including a scrimmage last weekend, the defense has had the better of the offense but if Kiel does as expected and earns that No. 1 spot he has all of the makings of quarterback who can keep UC football in the national spotlight.
"Gunner has a quick release. He understands football and he's usually going to throw it to the right guy," said Tuberville. "The problem he's had this spring is he's had some happy feet. We've had three starting offensive linemen out. Hopefully we don't have that like we had last year, but Gunner is a football guy. He understands where to throw the ball. He's learned the offense."
Kiel wasn't so good in last week's scrimmage. He completed just nine of 20 passes for 44 yards. Saturday's final spring workout was much different. The early emphasis was on shorter, more controlled passes but Kiel eventually hit on deep throws for 47 yards to junior Chris Moore and 46 yards to junior Mekale McKay, who caught four passes for 103 yards from Kiel.
McKay was a one-trick receiver last year after transferring from Arkansas. He was a deep threat, albeit a dangerous one averaging 30.3 yards a catch. Seven of his 16 receptions were good for touchdowns. He's worked on improving on his short and intermediate routes in order to become a more complete receiver.
UC is going to throw the ball a lot next fall. With McKay and Moore, plus smaller slot receivers Shaq Washington and Max Morrison returning, there will be a variety of weapons at the offense's disposal. Kiel showed on Saturday just what he can do when he's focused and ready to play.
"Gunner is an excellent quarterback," said McKay. "He very attentive, he pays attention and he learns. He can dissect a defense. Whenever you have that kind of quarterback, you can make a lot of noise."