Corey Kluber by the numbers
With the Cy Young Award being named tonight. A look at some of the more interesting numbers in Corey Kluber's season for the Indians with an assist to STATS LLC:
At Bat
Most plate appearances: Jose Abreu and Alexei Ramirez each faced Kluber 17 times. Abreu was 6 for 17 with a home run and three RBI while Ramirez was 2 for 17.
Least success: Chicago's Alejandro De Aza and Detroit's Ian Kinsler each went 1 for 12.
Most success: Detroit's Miguel Cabrera was 9 for 13 with a home run and two RBI.
Going deep: Nine players homered off Kluber this season. Of Kluber's 11 home runs allowed, Detroit's Victor Martinez had three of them.
Tale of the Tape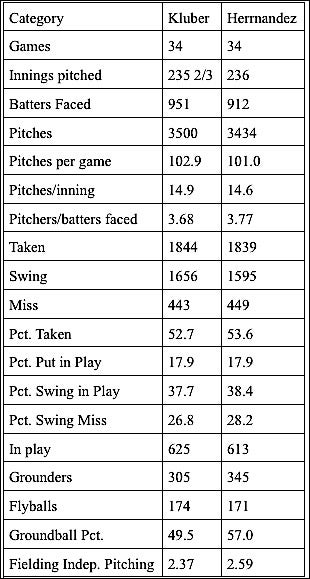 Kluber Strike Outs
Kluber struck out 136 batters this past season. A look at who struck out the most:
Righties: Alcides Escobar (KC) 7, Jose Abreu (CWS) 5, Brian Dozier (Minn.) 5, Tyler Flowers 5.
Lefties: Oswaldo Arcia (CWS) 6, Alejandro de Aza (CWS) 6, Alex Gordon (KC) 6, Joe Mauer (Minn.) 6
Switch hitters: Kennys Vargas (Minn.) 4, Dexter Flower (Hou.) 3, Robbie Grossman (Hou.) 3, Carlos Sanchez (CWS) 3