Cole, Leake will look to keep ball in the park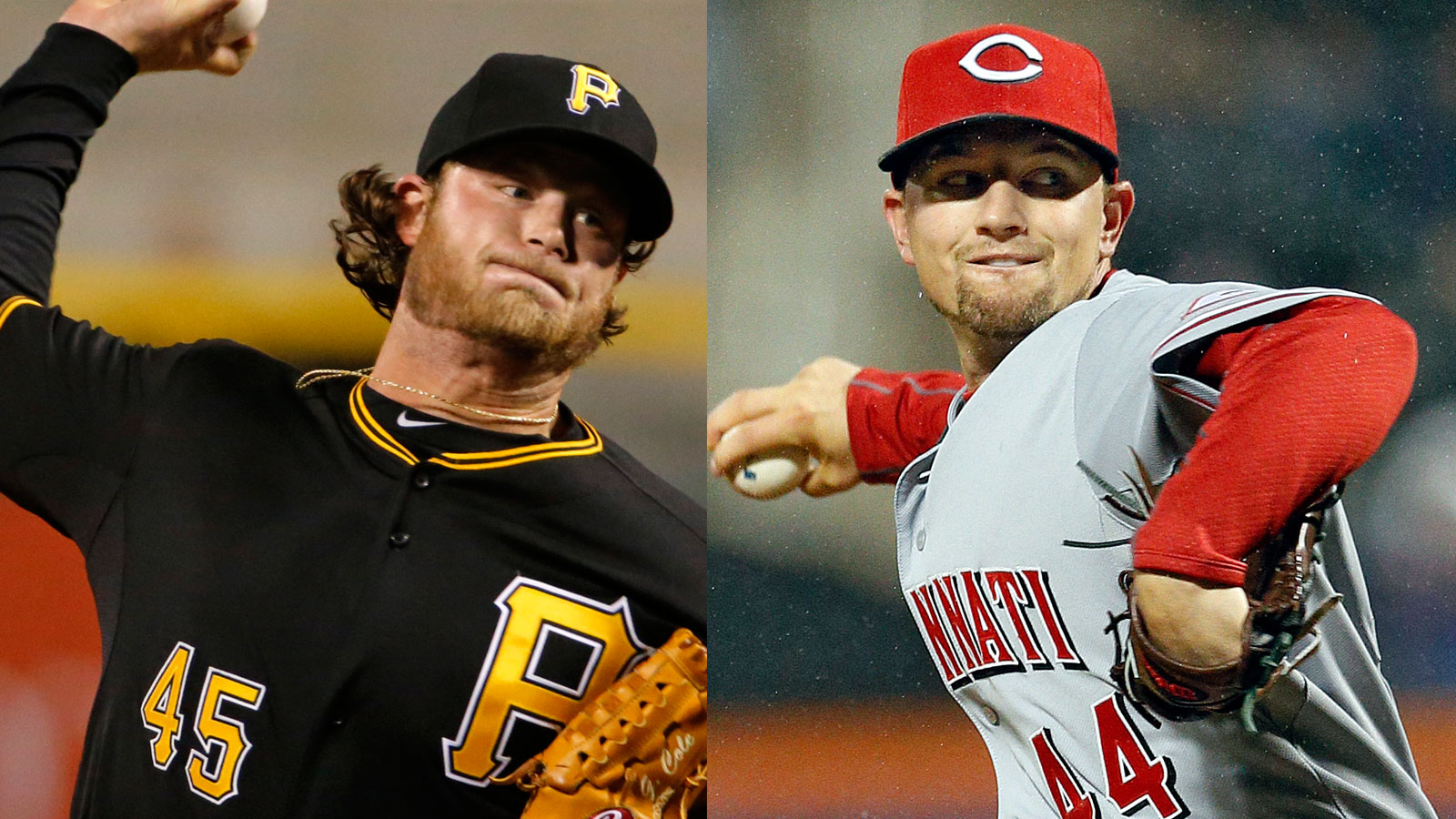 Gerrit Cole has made 21 starts in the regular season and two more in the postseason since making his major league debut 10 months ago, facing three of the Pittsburgh Pirates' NL Central rivals three times apiece.
He's yet to get a look at the Cincinnati Reds.
Following the conclusion of Monday's homer-heavy contest that was suspended by rain, Cole will hope to keep the ball in the park Tuesday night in his debut against the Reds and Mike Leake.
Pittsburgh's young right-hander has surrendered 10 homers in 141 1-3 innings since arriving in the majors, but Pittsburgh (6-6) and Cincinnati (4-8) hit that many in six frames Monday night. The Pirates hit six solo shots – going back-to-back three times, twice by Neil Walker and Gaby Sanchez – while the Reds hit three two-run blasts before Devin Mesoraco went deep with two outs in the sixth to tie the score at 7.
The game was delayed heading into the top of the seventh, so the teams will play the final three innings trying to add to what's already a record number of home runs at Great American Ball Park since it opened in 2003. No game has featured 10 homers since 2006, and the major league record for most combined homers is 12.
"I saw a lot of crazy stuff in Coors Field over the years," Pirates manager Clint Hurdle said. "I spent a lot of years there, saw a lot of homers, saw a lot of weather.
"This was as good as any of that, jammed into one evening."
Cole (2-0, 3.46 ERA) has yet to get a taste of pitching in Cincinnati – or facing the Reds at all for that matter. He's faced the Pirates' other three Central opponents three times apiece, including St. Louis and Chicago this month as Pittsburgh opens with 26 straight division games.
He struck out 10 Thursday at Wrigley Field while allowing four runs in six innings, but the Pirates scored five in the seventh to give him a 5-4 win.
Cole has been at his best away from home so far in his young career. He's 5-2 with a 2.63 ERA and 52 strikeouts in 51 1-3 regular-season innings since making his road debut June 21, holding opponents to a .548 OPS – fifth-best among the 107 pitchers to make at least eight starts in that stretch.
Leake (1-1, 2.45) will be making his home debut coming off one of the more impressive starts of his five-year career. After giving up a pair of two-run homers in a loss to the Mets on April 4, he held the Cardinals to four hits over eight innings Wednesday in a 4-0 victory.
The right-hander induced three double plays and got 17 ground-ball outs.
"Keeping the ball down and keeping them guessing was the main thing," Leake told the Reds' official website. "They didn't really seem to know what to expect each time."
Leake, however, didn't keep the ball down often enough at home last season. He allowed 15 homers in 15 home starts – posting a 4.00 ERA – as opposed to six in 16 road outings and a 2.81 ERA.
Leake is 4-0 with a 3.52 ERA in seven home starts against Pittsburgh despite allowing seven homers – six solo – in his last 25 2-3 innings.
Andrew McCutchen is the only Pirate to have taken him deep twice, though the reigning NL MVP has yet to homer this season.
Since last season's All-Star break, Pittsburgh has homered 21 times in seven games in Cincinnati. Walker has led the way with four – all in the past two games.