Five most memorable Cleveland Indians home openers
Baseball's Opening Day is one of the greatest traditions in professional sports. It's a clean slate, a fresh start, hope for a new season.
While the Indians officially kicked off the 2015 season on Monday in Houston, Friday marks Cleveland's unofficial holiday, the home opener.
No. 5 – April 6, 2007
Indians vs. Mariners
It was the infamous snow-out. The two teams battled Mother Nature through nearly four innings when the game was called just one out shy of an official game.
The series was snowed out and the Indians played the following series against the Angels at Miller Park in Milwaukee.
No. 4 – April 10, 1998
Indians vs. Angels
After the heartbreaking loss in the World Series, the Indians started out the season on fire before coming home to face the Angels. In the 11th inning, Jim Thome hit a three-run homer for the walk-off win.
No. 3 – April 8, 1975
Indians vs. Yankees
Frank Robinson debuted as the first African-American manager, but what made it even more unique was that he was a player manager.
No. 2 – April 4, 1994
Indians vs. Mariners
It was the first game ever played at Jacobs Field. Mariners ace Randy Johnson pitched a no-hitter into the 8th inning. Wayne Kirby hit the walk-off game-winning hit in the 11th inning to beat the Mariners by a final score of 4-3.
It was a day that not many will ever forget.
No. 1 – April 16, 1940
Indians vs. White Sox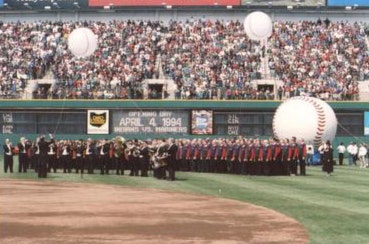 Indians legend Bob Feller pitched the first and only Opening Day no-hitter in the history of Major League Baseball as the Indians beat the White Sox 1-0.