Brantley, Votto nominated for Hank Aaron Award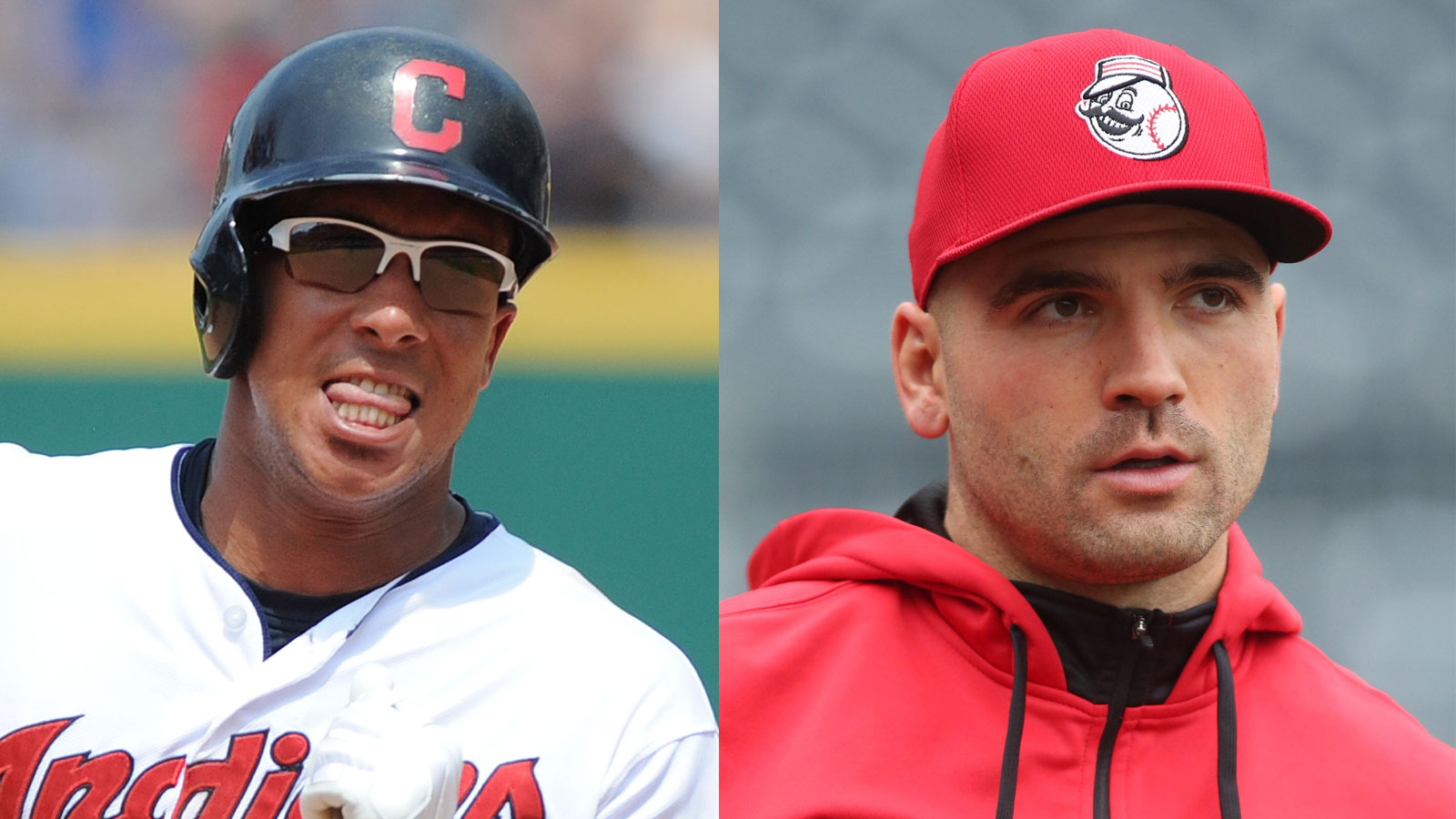 Major League Baseball and MLB Advanced Media announced that first baseman Joey Votto has been named the Cincinnati Reds' nominee and Micheal Brantley the Cleveland Indians' for the 2015 Hank Aaron Award.
Fans can vote for the 2015 Hank Aaron Award exclusively online at MLB.com and the 30 Club sites. For the sixth straight year, a special panel of Hall of Fame players led by Hank Aaron will join fans in voting for the award, which is officially sanctioned by Major League Baseball and has recognized the most outstanding offensive performer in each League since it was established in 1999.
Votto, 32, hit .314 with 33 doubles, 29 HR and 80 RBI while leading the National League in walks for the fourth time in 5 seasons. He established single-season modern franchise records for walks (143), number of times reaching base at least twice (107) and number of times reaching base safely via hit, walk or HBP (319). From August 11-October 2 Votto reached base safely in 48 consecutive games, tying Pete Rose's 1978 single-season franchise record and the longest single-season on-base streak by any player since Kevin Millar's 52-game streak in 2007. Votto won the Hank Award Award in 2010, when he also was named the NL's Most Valuable Player.
The Hall of Fame panel led by Aaron includes some of the greatest offensive players of all-time –Roberto Alomar, Johnny Bench, Craig Biggio, Eddie Murray, Frank Thomas and Robin Yount. These Hall of Famers — who combined for 16,697 hits, 8,712 RBI and 2,166 home runs — have all been personally selected by Aaron to lend their expertise to select the best offensive performer in each League.
Continuing through October 11th, fans will have the opportunity to select one American League and one National League winner from a list comprising of one finalist per Club. The winners of the 2015 Hank Aaron Award will be announced during the 2015 World Series.
Combined, the nominees have been named All-Stars 90 times, including 16 2015 All-Stars. The group also features 20 players under the age of 30 with five (Arenado, Correa, Harper, Herrera and Trout) under the age of 25. The finalists for the 2015 Hank Aaron Award are:
Past winners of the Hank Aaron Award include: Giancarlo Stanton and Mike Trout (2014); Miguel Cabrera and Paul Goldschmidt (2013); Cabrera and Buster Posey (2012); Jose Bautista and Matt Kemp (2011); Bautista and Joey Votto (2010); Derek Jeter and Albert Pujols (2009); Aramis Ramirez and Kevin Youkilis (2008); Alex Rodriguez and Prince Fielder (2007); Jeter and Ryan Howard (2006); David Ortiz and Andruw Jones (2005); Manny Ramirez and Barry Bonds (2004); Rodriguez and Pujols (2003); Rodriguez and Bonds (2001-02); Carlos Delgado and Todd Helton (2000) and Manny Ramirez and Sammy Sosa (1999).
The Hank Aaron Award was introduced in 1999 to honor the 25th Anniversary of Aaron breaking Babe Ruth's all-time home run record, and, at that time, was the first major award introduced by Major League Baseball in more than 25 years.
(MLB press release)