Now you can own a piece of Johnny Manziel! (Well, sorta)
If you're a big fan of Johnny Manziel and you have a lot of cash, we've found a deal for you.
Heritage Auctions is currently offering one of Manziel's personally owned Rolex wristwatches — more specifically, the watch he wore to the 2013 ESPYS.
But wait! That's not all…
The winning bidder of the watch will also receive a letter of provenance from Manziel's entourage member, Nathan "Uncle Nate" Fitch. So yes, it's real.
Check out the auction description from the Heritage website:
"In the past eighteen months of football sportswriting, perhaps no name has seen as much ink as Johnny Manziel, a.k.a. Johnny Football, the dynamic Heisman Trophy-winning quarterback for the Texas A&M Aggies and, at the time of this writing, rookie contender for the starting job under center for the Cleveland Browns. While prophecies regarding his future professional success run the full gamut, Manziel's status as the first freshman ever to claim college football's most coveted hardware has assured a certain degree of athletic immortality. The bidding on the presented lot should serve as a barometer for public opinion within the collecting community.
Certainly this stainless steel Rolex Oyster Perpetual Datejust (model 16200), with an extravagant diamond bezel, is a particularly valuable and desirable timepiece in its own right, but its appearance on the wrist of Manziel at the 2013 ESPY Awards, where the young superstar claimed "Best Male College Athlete" honors, will attract a new breed of collectors.
It is accompanied by a letter of provenance from Nathan "Uncle Nate" Fitch, a lifelong friend of Manziel's from their middle school football days, and familiar member of the quarterback's personal entourage. Fitch attests that the watch was gifted to him by Manziel in 2013. Fitch's letter lists the serial number of the watch to ensure authenticity, and the design perfectly matches photography of Manziel at the awards ceremony. The watch appears to be in perfect physical and operational condition, and no longer retains its packaging or registration documentation."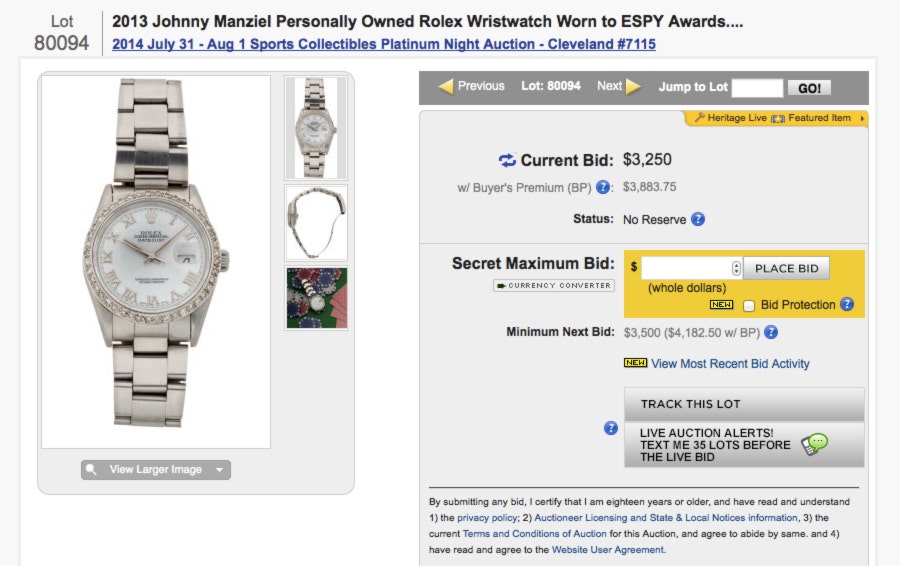 If you wish to own the former piece of Manziel's wardrobe, get ready to pony up. At the time of publishing, the bidding was up to $3,250 — but the description states that the estimated value of the watch is about $10,000.
Ten grand? That's a small price to pay to own a piece of Johnny Football.
(H/T Darren Rovell)