Amidst NFL coaching carousel, Bengals are a model of stability
CINCINNATI — Marvin Lewis is working on a game plan this week for the San Diego Chargers. It's the fifth time in his 11 seasons as the head coach of the Bengals that he's doing so the week after the NFL regular season has ended.
That would have been an absurd statement to many people in January 2003. Getting a Bengals team to finish a season above .500 was supposed to be a pipe dream, let alone doing so on a consistent basis. Yet here Lewis and the Bengals are again working on taking that next step, trying to achieve the franchise's first playoff win in 23 years and then come back for more game-planning next week.
The Bengals were considered the NFL's Siberia when Lewis was hired at the Senior Bowl in Mobile, Ala., in 2003. The franchise had gone through four head coaches — the of Sam Wyche's tenure, Dave Shula, Bruce Coslet and Dick LeBeau — from 1991-2002 while managing just 55 wins in 192 games. The consensus of belief was that the only coaches who would work for the Bengals and Mike Brown were those desperate enough to stay in the league at any cost.
Lewis changed that belief when he led the Bengals to 8-8 finishes his first two seasons before winning his first division title in 2005. Not everything has always been smooth for Lewis and the Bengals but the continuity of the coaching staff is one of the reasons they are again in the NFL postseason.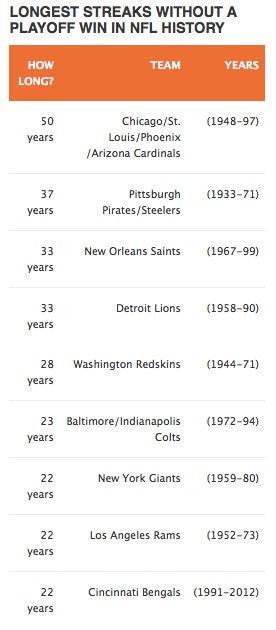 The fact that six head coaching positions (and subsequently multiple coordinator and assistant jobs) opened up on Monday, including in AFC North rival Cleveland for the second straight year, shines a spotlight on how important coaching continuity is to a franchise's success or failure.
Of the 12 teams to reach the postseason this year, only Kansas City and San Francisco have made more than two head coaching changes in the past 11 seasons.
"I think we've had the opportunity to grow and mature our players. I think when you have the chance to do that, you reap the benefit of it," said Lewis on Monday. "The guys, they know what to expect. They develop. When you have a guy who goes down and the next guy has to go in, he's been part of the program, part of the system, he plugs into place a little easier. That's part of it."
The Bengals host the Chargers at 1:05 p.m. on Sunday at Paul Brown Stadium in a first-round AFC Wild Card game. The Bengals haven't won a playoff game since beating the Houston Oilers on Jan. 6, 1991. The franchise has lost five straight postseason games, including the four previous times Lewis has guided a team into Week 18.
Lewis is all too well familiar with the stats. He's also familiar with all of the questions that have surrounded his team since last Jan. 5 when it lost 19-13 at Houston. It was the second straight first-round loss to the Texans on the road.
"People have been clamoring and talking about this since we got started back in April, then all through training camp and so forth, and all the questions: Are you going to the Super Bowl?," said Lewis. "We don't ask the question. You've got to answer it by winning and that's what time it is now for us."
Only Bill Belichick of New England (hired in 2000) has been in his current position longer than Lewis with the Bengals. Six of Lewis' assistants have been on his staff since Day 1, including assistant head coach/offensive line coach Paul Alexander who has been with the organization since 1994. Defensive coordinator Mike Zimmer joined the staff in 2008.
Four other teams made head coaching changes in 2003 besides the Bengals — Dallas, Detroit, Jacksonville and San Francisco. Those four teams have had a combined 10 coaching changes after those hires in 2003. There have been 68 other head coaching changes since Lewis joined the Bengals, not including the six current vacancies. Add up all of the coaches who have been either interim or full-time head coaches in the NFL since Lewis came to Cincinnati and there are more than 120 names on the list.
Players in Cincinnati are hearing the same message, the same explanation of scheme or technique from the day they first enter the locker room.
"Just like I know with Geno (Atkins) or Mike (Johnson) and how they think or the way they're going to react to a certain things, that plays a huge factor because it cuts down your reaction time on the field," said defensive end Carlos Dunlap. "It's the same with coaches when you're watching tape and with what they see. You know what the coach is going to see and what they're going to call in certain situation so it works together throughout."
Dunlap was the team's second-round draft pick in 2010. He was signed to a long-term extension last offseason and has backed up that commitment from the franchise by having his best all-around season. According to Pro Football Focus, he has played in nearly 300 more snaps this season than any of his previous three. He's had career-best totals for tackles, quarterback pressures and pass deflections while tying Wallace Gilberry for the team lead with 7.5 sacks.
"I've got friends who talk about (coaching changes) and they talk about how rough it is," said Dunlap. "A couple of my friends have had four coaches in four years and that can be really tough because every year you're learning a new defense so you never get comfortable. I know one of the big things for me from my rookie year to my second year was understanding the defense more. How can you do that if you're learning a new one?"