Bengals get another chance to break long drought
CINCINNATI (AP) — The Bengals are convinced that this time, it will be different.
No first-round flameout. No winter full of playoff angst. No more fans grumbling about how they can't win the big one — or any one that happens after the regular season.
That historic streak of playoff futility? They've got their best chance to put it to rest.
The Bengals (11-5) haven't won a playoff game since the 1990 season, a stretch of futility that's tied for seventh-longest in NFL history. They're favored to end the drought on Sunday when they host the San Diego Chargers (9-7), a team they beat 17-10 a month ago.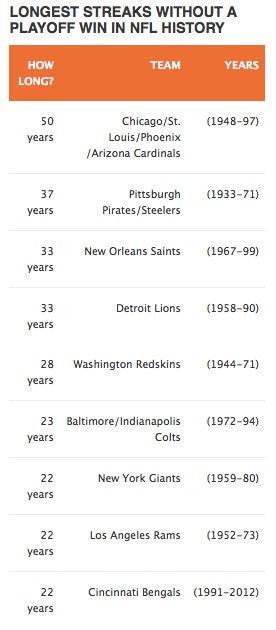 Unlike the past two seasons, when the Bengals were a young team that got into the playoffs as a wild card, this postseason holds a lot more promise.
Just win one.
"That's really the next hurdle," offensive tackle Andrew Whitworth said. "There's not a hurdle we haven't cleared this season."
Things seem to be falling into place for the AFC North champions. By winning the division title, they get to host a playoff game for the first time since 2009, when they lost to the Jets.
And they've gotten the more favorable matchup. The Chargers got the final wild card on Sunday by beating Kansas City 27-24 in overtime. The Chiefs had a chance to win it, but Ryan Succop's 41-yard field goal attempt was wide at the end of regulation.
The NFL acknowledged on Monday that the Chargers should have been penalized for an illegal formation on the play, giving Succop another chance. A Chiefs win would have put Pittsburgh in the playoffs and sent the Steelers to Cincinnati on Sunday.
The Steelers beat the Bengals in Pittsburgh 30-20 on Dec. 15 and would have brought thousands of their fans to Paul Brown Stadium on Sunday, cutting into the Bengals' home-field advantage.
Instead, the Bengals get a West Coast team heading into the Midwest chill.
The Bengals are 8-0 at home for only the second time in their history. They needed an extension to sell out the second-last game, and had more than 10,000 tickets left for the playoff game.
Mayor John Cranley went to the stadium and bought a pair of $86 tickets on Monday, then attended coach Marvin Lewis' media availability and lobbied fans to make the game a sellout so the city looks good nationally.
"What I'm asking is for the people of this city to come forward and buy tickets because we want Cincinnati to shine," Cranley said.
The Bengals have reached the playoffs five times in Marvin Lewis' 11 seasons as head coach.
Unlike other places, where coached get fired after one bad season, Lewis has benefited from owner Mike Brown's reluctance to change. He heads into the playoffs with an 0-4 postseason record — two losses at home, two on the road.
"If I can even my record, I'll feel pretty good," Lewis said, referring to the four wins needed to get a Super Bowl title. "That's my goal."
This team is in better shape than any of Lewis' previous ones to make a playoff run. The defense is ranked No. 3 in the league and the offense ranks No. 10. The Bengals have scored 49, 41, 42, 42 and 34 points in the past five home games.
"I feel better about this team going into the playoffs than I ever have," safety Chris Crocker said. "When we show up and we want to play, we're hard to beat. We're really hard to beat.
"In years past, we squeaked in. We squeaked in last year, we squeaked in the year before that. But we ran into the playoffs this year. To come out and go 11-5, that's really tough. You don't just win 11 games by getting lucky."
Notes: C Kyle Cook had his left foot in a protective boot on Monday and walked on crutches. He hurt the foot during a 34-17 win over Baltimore on Sunday. X-rays were negative. … There's a chance that cornerback Terence Newman could be back for the playoff game. He missed the past three games with a sprained knee, but had resumed practicing.