Baltimore Ravens 2014 Preview: Was 2013 a Super Bowl hangover?
With football season around the corner, FOXSports.com is providing a thorough analysis of all 32 teams heading into training camp. The offseason may have lacked some hard-hitting action, but franchise-altering moves have been made. Parity is excessive as ever. Every team looks great on paper in July. But it's the development and seasoning of a team that will matter in January and, yes … even February. Goodbye, offseason!
2013: 8-8, tied for second place in the AFC North.
Head coach: John Harbaugh, seventh year. Last year was the first year the Ravens did not qualify for the playoffs under Harbaugh.
Key departures: Michael Oher is gone, having signed for $5 million a year in Tennessee and opening up a spot at right tackle. Safety James Ihedigbo was a 16-game starter and finished tied for second on the team with three interceptions. Cornerback Corey Graham was usually the third cornerback but saw plenty of snaps; ditto defensive end Arthur Jones, who's gone to the Indianapolis Colts after a 4-sack season in 2013. Ed Dickson and Terrance Cody are also gone after disappointing tenures, but a year after losing long-time leaders Ray Lewis and Ed Reed, the Ravens return almost intact and need to get more out of what's on hand rather than create a new identity.
Key arrivals: Five-time Pro Bowl wide receiver Steve Smith is the headliner of a small but solid free agent group that also includes offensive lineman Jeremy Zuttah and tight end Owen Daniels. The Ravens re-signed tight end Dennis Pitta, a favorite of quarterback Joe Flacco, after he missed almost all of last season and Smith, Pitta and Daniels should have a chance to produce under new offensive coordinator Gary Kubiak. First-round pick C.J. Mosley should be an immediate starter at middle linebacker, while second-rounder Timmy Jernigan and third-rounder Terrence Brooks should compete for playing time at defensive tackle and safety, respectively.
Three questions:
1. Was last year about the Super Bowl hangover — or are these Ravens pretty average?
The Ravens got run off the field in last year's opener at Denver and were 4-6 the week before Thanksgiving before putting together a four-game win streak, all against teams that would miss the playoffs. The offense never established a consistent running game or much of a vertical threat, and though the defense wasn't terrible it wasn't the same intimidating, game-changing unit it's been for a long, lont time.
How might things change in 2014? A new offensive coordinator, a better offensive line and Steve Smith making the kind of chain-moving catches Anquan Boldin used to make will help; Steve's presence should open things up on the other side for Torrey Smith, too. Ray Rice has bigger problems than football right now but his 3.1 yards per carry average weighed down the offense last year, and without success in the running game both sides of the ball suffered.
Flacco is paid like a superstar and now expected to be a leader, but in reality he just needs to be steady and efficient. The defense has a bunch of Pro Bowlers and known names but also has proving to do and some real depth issues in the secondary.
If the run game improves, the defense stays healthy and the Ravens can get the kind of blood-and-guts AFC North games they love, they could be back in the postseason. If they get pass happy and play a bunch of shootouts again, another down season could be coming.
2. Can the running game be fixed?
Maybe Rice just doesn't accelerate like he used to, or maybe he wasn't healthy last season — and, quite likely — he's going to be suspended at the start of this season for an offseason incident in which he was caught on camera assaulting his now wife. But the Ravens as a team and Rice each averaged 3.1 yards per carry last season, dead last in the NFL.
The potential fix comes by way of a coordinator change, to Kubiak and his one-cut system, and by investing in an offensive line that never found a groove last year. Eugene Monroe was re-signed to hold down the all-important left tackle position, Zuttah was brought in to play somewhere on the inside and the Ravens believe they can deal with Oher's departure for several reasons, including the fact they already needed an upgrade somewhere and that a healthy Kelechi Osemele will be an impact player.
Bernard Pierce probably gets the first shot to replace Rice, fourth-rounder Lorenzo Taliaffero is a big back who will compete for carries and second-year man Kyle Juszczyk makes the transition to full-time fullback. The Ravens will commit to making the run game work and hope the quarterback and the defense benefit if it does.
3. Is this another "now-or-never" type of team?
It sure looks that way. Steve Smith in his 14th season, linebacker Daryl Smith got a new contract before his 12th and names even most casual fans know — Haloti Ngata, Terrell Suggs, Elvis Dumervil — are all at least 30. The Ravens kept making the playoffs and kept knocking on the door before finally getting hot at the right time and kicking it in to end the 2012 season, and subsequent retirements and salary-cap mandated moves left a team with some pieces and plenty of recognizable names but not one with championship talent or chemistry.
It might not always be pretty, and this roster is constructed to win when it's not, but if the Ravens can get their formula and have their horses for a the stretch run, they could contend. There's probably going be parity in the AFC North, but if the Ravens can get hot again at the right time and the defense sets up Flacco in good spots, this team should not be dismissed.
Tight end Dennis Pitta
Last year's offensive struggles were the result of many factors, but Pitta's injury — and just one start and 20 catches after returning — certainly didn't help. Technically, he had his breakout season in 2012 when he had 61 catches, 7 touchdowns and became a Flacco favorite, but he's still not a known name outside of Baltimore and could break out again; the Ravens hope, at very least, defenses will decide whether to put safety help on the outside against Torrey Smith or in the middle for Pitta.
Kubiak has always operated a tight-end friendly offense, Flacco trusts Pitta and though he's 29, it's a new start for him and the offense after what was essentially a lost season. Look for Pitta to be targeted early and often.
REASON FOR OPTIMISM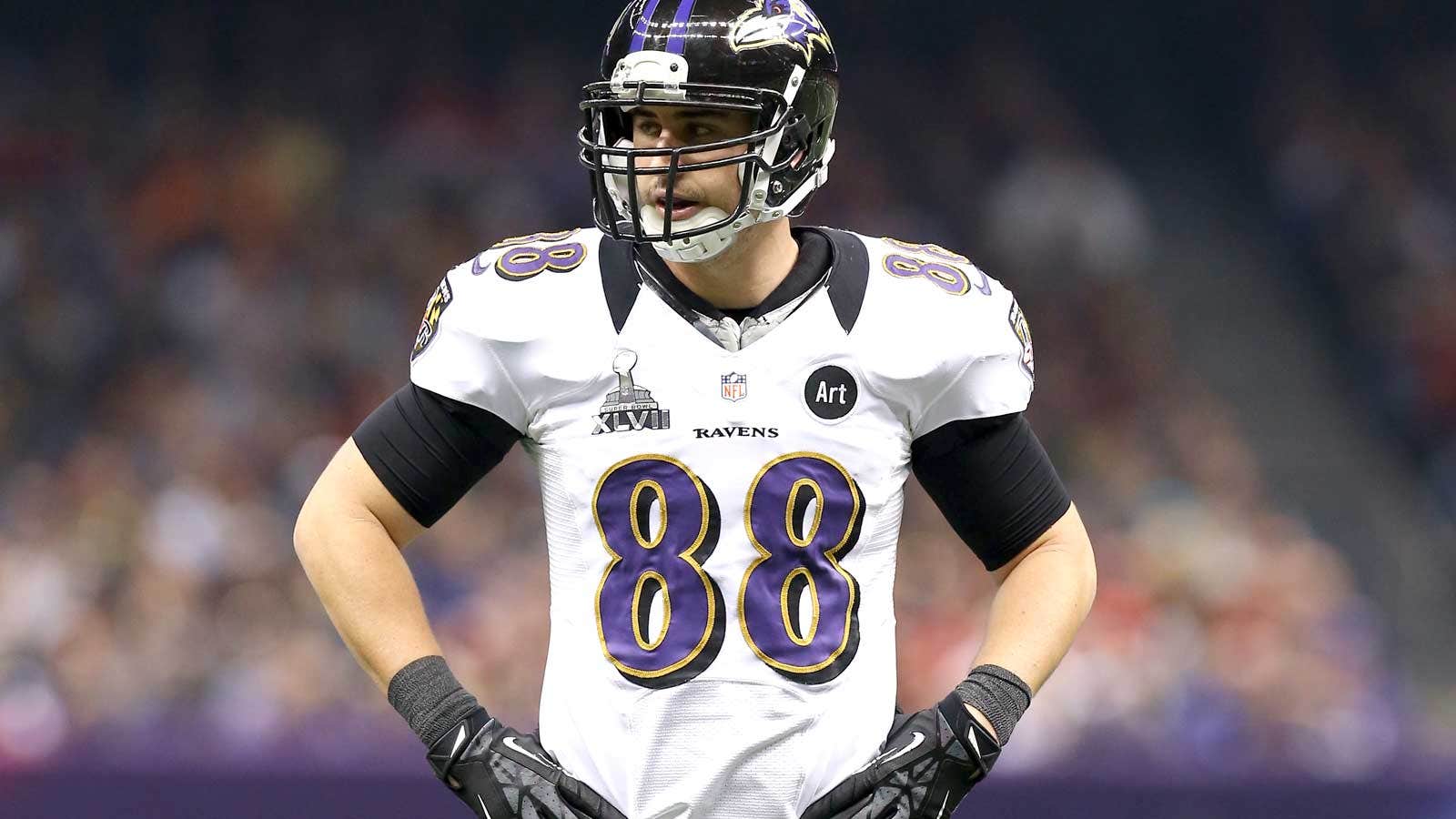 They're still the Ravens; still a team with big-stage experience, big-name players and a winning culture. History says they've rarely been down two years in a row and will almost always have more hits than misses when it comes to the draft and free agency, and the focus certainly has been sharpened after going from the top of the mountain to missing the playoffs.
Ideally, the Ravens would like to stop the run, run the ball much better than they did a year ago and play with the lead in the second half, eventually leaving the pass rush led by Suggs and Dumervil to close games. Mosley should be an immediate playmaker and the run defense should have a chance to again be very good.
It could come down to health, winning those close games and the offensive line helping open holes for the run game and for Flacco to throw to what will be an improved receiving corps. If the playmakers are better, the Ravens can return to the league's top tier.
REASON FOR PANIC
Flacco's supporting cast should be better but still might be pretty average. Rice is facing a suspension, the offensive line has to play better and the defense still has a number of key players on the wrong side of 30.
It's a passing league, sure, but big games are still won in the trenches and the Ravens have to prove they can hold up on both lines. If the Ravens are going to be new and improved they'd better be improved early as three division games are at the front of the schedule, and there doesn't figure to be much margin for error in the AFC North.
The division could be won at 9-7, but it's just as easy to say the Ravens aren't much better right now than they were last year as it is to say they've made great improvements. If the running game and offensive line aren't much improved, the Ravens could be watching the playoffs again.
ALEX MARVEZ'S 2014 PREDICTION