Aaron Craft seals Senior Day win with trademark hustle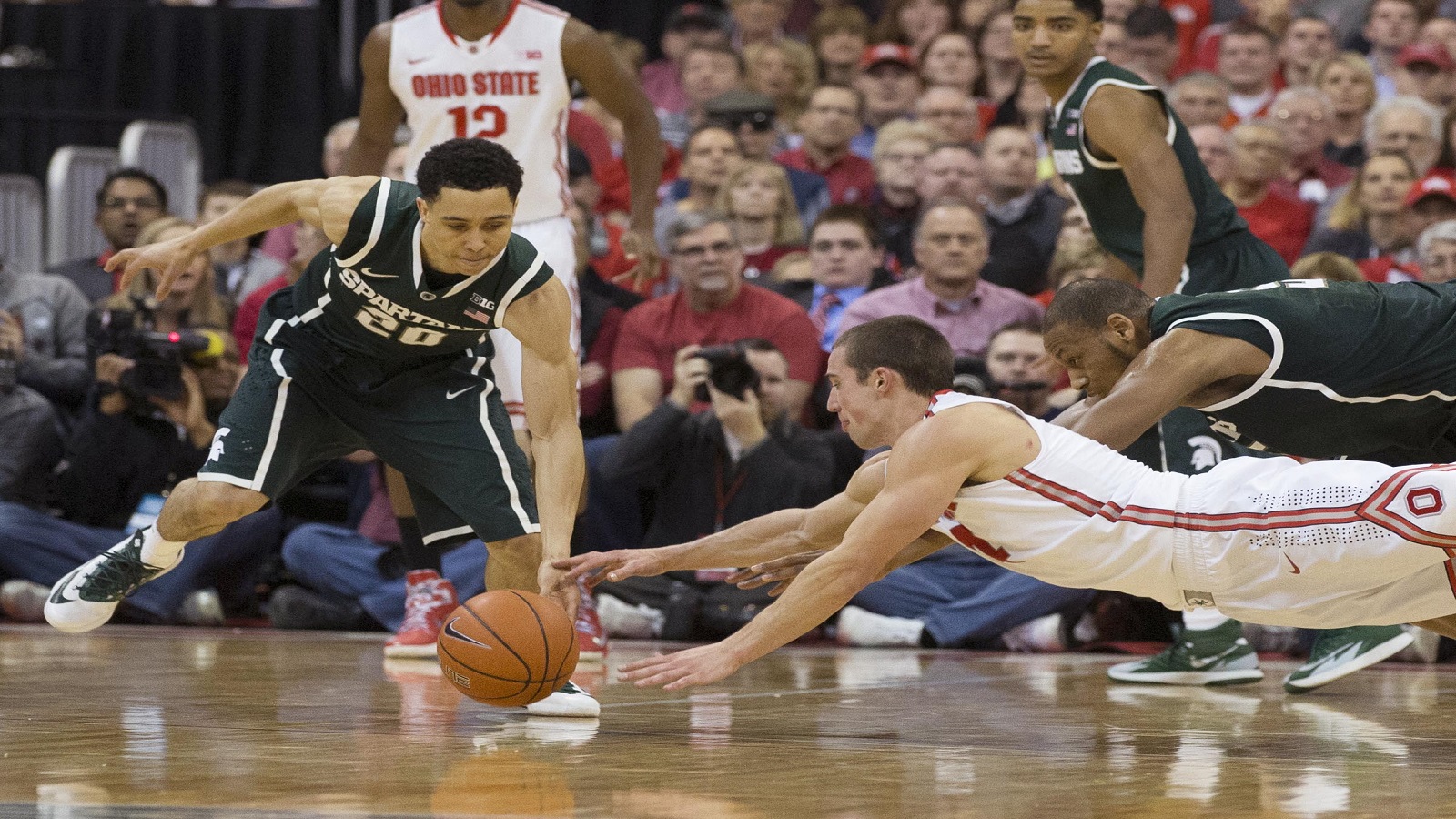 COLUMBUS, Ohio – Maybe the Basketball Gods were watching late in Sunday's Ohio State-Michigan State game — Senior Day for the Buckeyes and for Aaron Craft, in particular — when Adreian Payne's missed 3-pointer caromed away from the rim and bodies went flying everywhere in pursuit of it.
Craft dove it and secured it. From the sideline, Ohio State coach Thad Matta called timeout.
The Buckeyes kept the ball and their one-point lead. After the timeout, Craft got fouled and made one of two free throws to extend the lead.
In the final seconds, Michigan State's Gary Harris missed a jumpshot. The winning margin was two, 69-67. Craft was guarding Harris on that last shot, too.
"That would probably be the most fitting end to a guy's career at home," Matta said of Craft.
Matta's had an up-close view of every floorburn and every big play in Craft's four years. It hasn't been the greatest season for anyone involved with Ohio State, but a late rally Sunday secured a win that could be big for confidence and momentum going forward. The Buckeyes still can't shoot a lick, but they were tough and resilient enough to beat the Spartans Sunday and finish at 10-8 in conference play, 23-8 overall.
Following an early offensive flurry, it became Craft's kind of game. Sam Thompson hit big shots down the stretch as Ohio State came from five back, LaQuinton Ross scored 22 points and Craft finished with 12 points, 7 assists and 4 steals, taking over the Big Ten's all-time steals lead.
Craft pleaded ignorance on the record after the game, saying he thought he'd already set it.
"That's just Aaron being cocky," Thompson joked.
Asked if the plays he made in the final seconds made a fitting end, Craft said yes because it ended "with us having more points than them."
He's played in 144 games at Ohio State. The Buckeyes have won 117 of them.
Craft had blood on his jersey — he guessed it was his own — when Sunday's game ended, and it appeared he'd cut his elbow open diving for that rebound. Gutty plays and defense helped the Buckeyes overcome six missed free throws in the final minute; Michigan State didn't make a field goal in the final 4:30.
There were eight lead changes and 12 ties. There was one guy bleeding at the end.
"He might miss a couple games," Ross joked.
The Buckeyes will miss Craft next season, that is for sure. Their focus now remains on making the most of his remaining games, and they'll open Big Ten tournament play as the No. 5 seed Thursday against Purdue.
The really big games are still coming. Craft has been in plenty of those before.
"I'm not worried about how I'm going to be remembered or anything like that," Craft said.
His final 30 seconds in the Schottenstein Center took care of that.