Wolves, Lynx to get new practice facility
MINNEAPOLIS — At long last, the Timberwolves and Lynx get to move out of the basement.
The NBA and WNBA franchises announced Tuesday afternoon they'll have a brand new, state-of-the-art practice facility to call home by the time training camp opens next season. The new digs will sit directly across First Avenue from the Target Center in what's currently known as Block E, replacing Minnesota's practice area in the lower level of the arena's Lifetime Fitness Center.
That means no more cramped morning shootarounds, limited workout space or curtains draped from the ceiling in order to keep practices private.
"When I was here 18 years ago, I talked to (owner Glen Taylor) about (how) we need a practice facility," said Flip Saunders, Timberwolves president of basketball operations and the team's coach from 1995-2005. "It took a little bit of time to get there, but we're finally getting there."
Sweetening a deal that will cost the franchises upwards of $20 million, they'll partner with Mayo Clinic, which plans to open a sports medicine center adjacent to the practice facility and become the teams' official medical provider starting in the fall of 2014.
By then, both parties hope to have completed a 105,000-square-foot facility that contains two practice courts, larger weightlifting and training space, updated equipment and technology and all of the Timberwolves and Lynx's corporate offices. The real estate on Block E's third floor will also include Mayo's facility, as well as a lobby and new team store that are open to the public.
The new basketball and sports medicine fortress will be called Mayo Clinic Square.
Mayo will invest between $5 million and $7 million into the project, while Block E owner Camelot LLC has money set aside to improve other parts of the building, which used to house a movie theater, GameWorks, Applebee's, Borders Books, Hooters and Hard Rock Cafe. In all, the project will cost roughly $50 million, Camelot principal Phillip Jaffe said.
The venture is completely privately funded and separate from the $97 million Target Center renovations the team announced in October.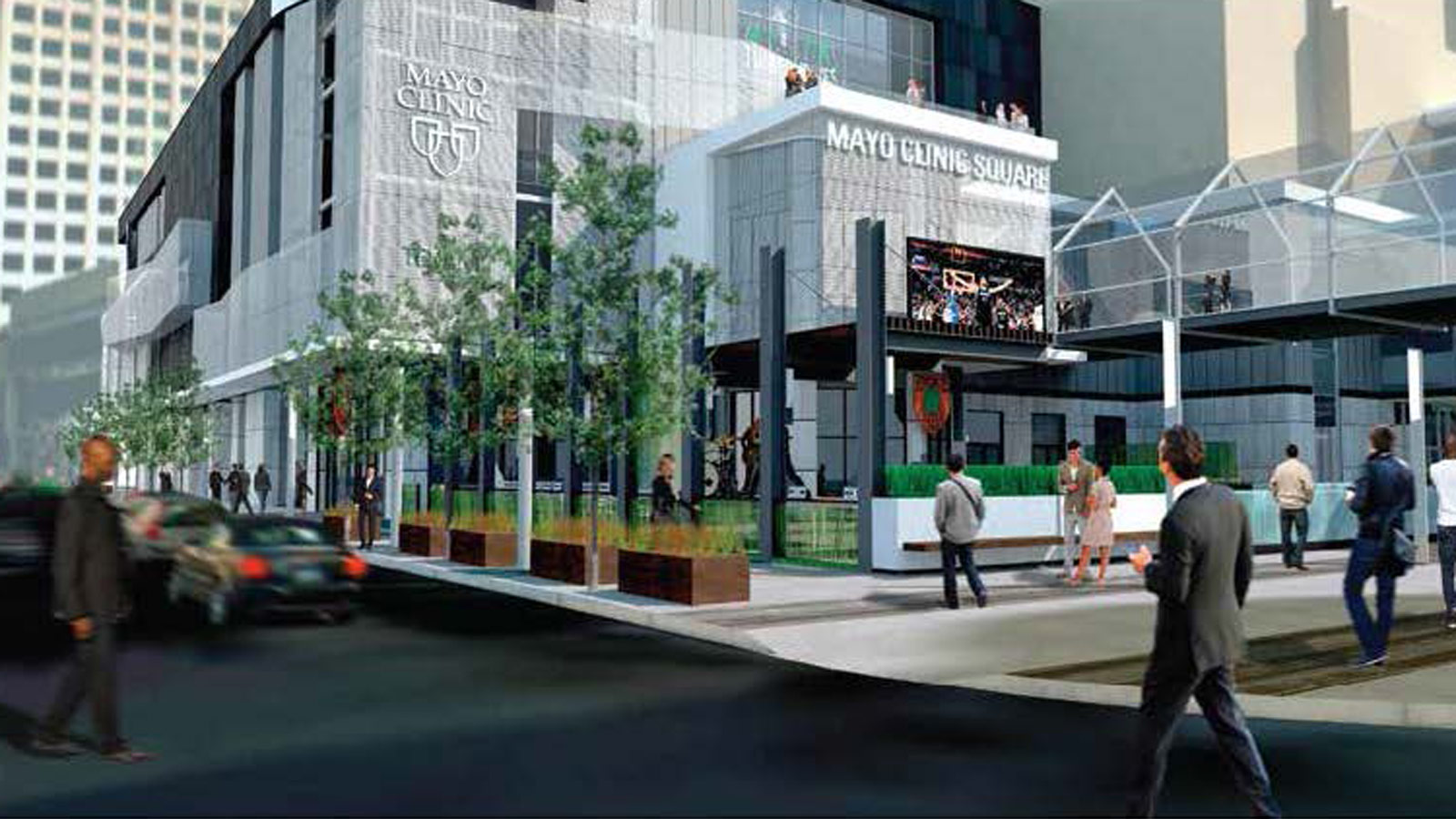 Minnesota's pro hoops franchises will enter into a long-term lease with Camelot. Timberwolves and Lynx CEO Rob Moor declined to detail the lease's length but did express marked enthusiasm at fulfilling a need that's been present ever since not long after the Target Center's inception in 1990.
"We are really gonna break a mold here," said Moor, surrounded by Wolves, Lynx, Mayo and Camelot executives at a press conference inside what used to be an AMC movie theater. "We're gonna have a state-of-the-art practice facility in the NBA and in the WNBA.
"We are really interested in having this facility be interactive with our community and be accessible for our fans."
In searching for suitable practice space, the Timberwolves eyed several locations, including the Mall of America. That's where team officials ran into higher-ups from Mayo Clinic, which recently ditched plans to enter the Twin Cities at the same Bloomington spot.
Conversations progressed, and when plans for Block E to bring in a casino fell through, the Timberwolves and Lynx snatched the opportunity to create a new training space for players that puts them on par with the rest of the NBA and WNBA and is literally next door to their home arena.
Timberwolves forward Kevin Love was heavily involved in the planning and design process, flying into Minnesota this summer to meet with Timberwolves and Mayo officials.
The three-time All-Star wasn't able to make Tuesday's announcement but did say "we'll set the new gold standard for both practice and medical facilities in the NBA and WNBA" in a video message played during the press conference.
Said Saunders: "It's going to be in the upper-echelon in the NBA, when you look at the type of facility that we're gonna have and what's gonna be in that facility."
Architectural renderings show a more open, naturally-lit practice locale — a far cry from the cozy, limited confines of Lifetime Fitness, which operates daily as a membership-based exercise center.
Now, the Timberwolves and Lynx will have their own home base. Other features of the setup include:
— easy player access to the Mayo sports medicine clinic
— an upgraded team classroom for meetings and film study
— youth basketball partnerships
— Minnesota-exclusive restaurants, retail and office space on the structure's second level
— Hydrotherapy and other updated medical technology
That last one was a major sticking point, especially after injuries ravaged the team's 2012-13 season. Love played in only 18 games last year due to a broken hand.
"The things that it takes to support an elite athlete today is far different than when we . . . moved into the (Target Center)," Moor said. "It's really a matter of we've outgrown it as an industry."
Updates to the Block E property will begin immediately in hopes of having the facility ready by the time players report for training camp next fall. That may mean no more trips to Minnesota State in Mankato, where the Timberwolves' training camp usually takes place.
"We're gonna start swinging sledgehammers tomorrow morning," Saunders said, "because we're hoping to get in there by Oct. 1 for training camp next year."
Follow Phil Ervin on Twitter