Twins unveil 2014 All-Star ballot
MINNEAPOLIS — Voting for the 2014 Major League Baseball All-Star Game is officially underway, as the Minnesota Twins unveiled the ballots Friday at a press conference at Target Field.
Fans can begin voting online or in ballparks Friday. The in-stadium vote is ending June 26, but votes can still be cast online until July 3. Along with voting for each position, fans can also vote for participants in the Home Run Derby — the sixth year in a row the event has been open for fan voting. The American League and National League each have 10 candidates for the Home Run Derby.
This year's All-Star Game takes place on July 15 in Minnesota at the five-year-old Target Field in downtown Minneapolis. It's the first time the city has hosted an MLB All-Star Game since 1985, when it was played at the Hubert H. Humphrey Metrodome.
"This is a huge day for the Twins organization and really all of Twins Territory," said team president Dave St. Peter. "The Major League Baseball All-Star Game is truly a once-in-a-generation event for a community, and it's a great honor for the Minnesota Twins, for our city, our county, our state, and our fans to play host to the midsummer classic."
Noticeably left off this year's All-Star ballot is Twins first baseman/right fielder Chris Colabello, who leads the American League in RBI with 26 entering Friday's game against Detroit. However, the ballots were created before the 2014 season — and Colabello's impressive month of April — began.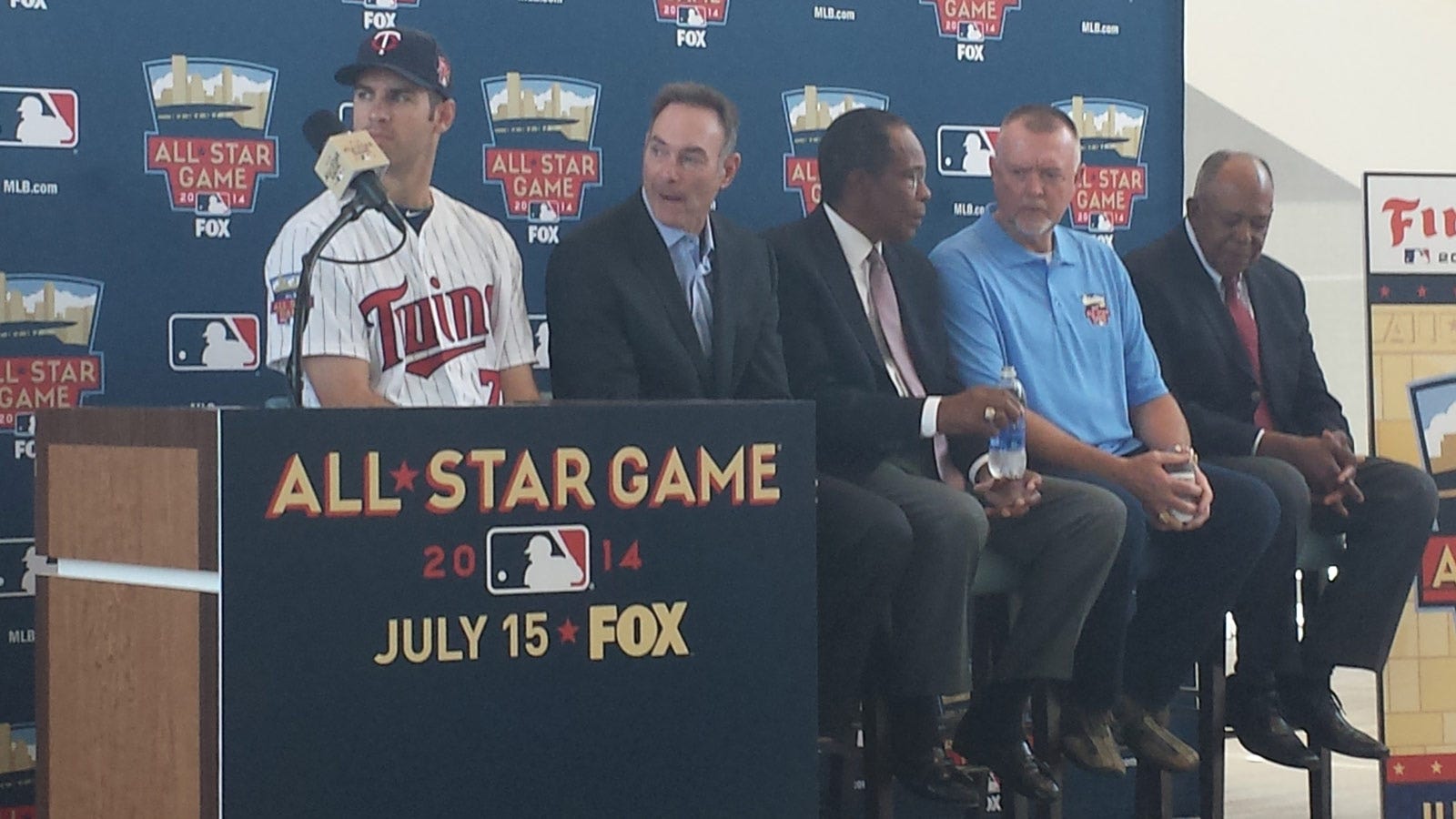 Nine different Twins players are on this year's ballot, including Joe Mauer for the first time as a first baseman. He's joined by second baseman Brian Dozier; third baseman Trevor Plouffe; shortstop Pedro Florimon; catcher Kurt Suzuki; designated hitter Jason Kubel; and outfielders Oswaldo Arcia, Aaron Hicks and Josh Willingham.
The Twins also announced Friday that the team, in conjunction with Major League Baseball, will donate more than $8 to both local and national charities as part of the All-Star Community Legacy project. It's the largest such donation in All-Star Game history, both in terms of dollars and the amount of projects funded by the donations.
"We know that this partnership is so much more than just about baseball," said St. Paul mayor Chris Coleman. "It's about providing opportunities for children. It's about restoration of natural areas. It's about providing for veterans. It's about really making our community a great place. . . . Baseball gives back to the communities that help us and support them."
All-Star festivities at Target Field begin Sunday, July 13, with the MLB Futures Game. The Home Run Derby will follow that on Monday, and the All-Star Game will cap everything off on Tuesday night.
Follow Tyler Mason on Twitter