Recovery of Minnesota State's Kolstad aided by football community
Back when he could make out sentences and walk on his own, Isaac Kolstad used to lead the Minnesota State football team into contests with a sledgehammer in his hand — a symbol of the force about to be exacted upon that day's opponent.
After former Gophers quarterback Philip Nelson and Trevor Shelley allegedly assaulted Kolstad, the morning of May 11 in front of Blue Bricks Bar, according to witnesses, his family, friends and teammates feared the absolute worst. He spent the first several days in a coma and could barely move when his second daughter was born June 4.
Yet there he was Thursday, Sept. 4 — a warm, pleasant evening in the Blue Earth County seat — leading the Mavericks onto the Blakeslee Stadium grass against rival St. Cloud State, sledgehammer in hand, his No. 22 jersey and fans' "#22Strong" T-shirts popping in the early-evening sun over Minnesota.
"I think it was a very emotional situation for student-athletes, coaches, Isaac and his family," Mavericks coach Todd Hoffner told FOXSportsNorth.com. "I think it was a great sign of his progress and development."
That week, Kolstad went to the Minnesota State Fair with his family. Tried some drills at a Minnesota State football practice. Attended Vikings practice at Winter Park.
And it was all highlighted by a night specifically made for him.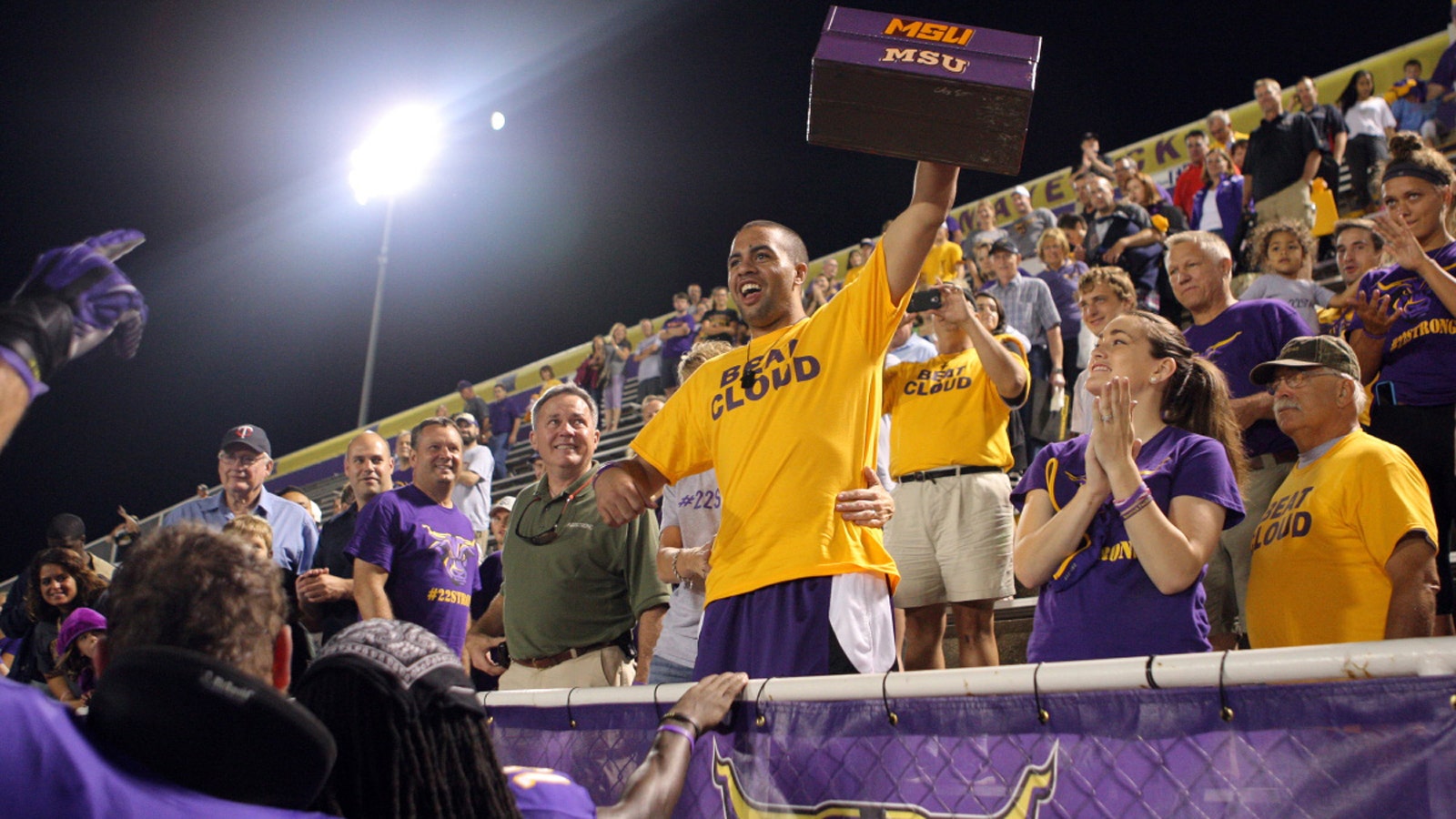 There were 22s everywhere — on players' helmets, on a flag that will fly there all season, on the back of "Beat Cloud" shirts, on the field itself in the form of a "22-yard line."
Isaac, his wife Molly and their daughters were honored on the field. He participated in the opening coin toss. His wife addressed the media for the first time since the attack — "nobody comes back from this; not going to happen," she said doctors had told her.
"This has got to be the most incredible and inspiring week of our lives!" she wrote on her husband's CaringBridge.org page a few days later.
Hoffner and his team, which shut out the Huskies 31-0 that night and are 2-0 heading into Saturday's home game against Minot State, looked on, momentarily forgetting about their own struggle that rocked the program and drew national headlines.
Hoffner was arrested in 2011 on charges of child porn possession (for what he calls the simple act of recording a home video of his kids horsing around) that were later dismissed. The school still chose to fire him, but an arbitrator ruled it must reinstate him if he still wanted the job, which he did.
"Anybody that went through what he did pales in comparison to what I went through or our student-athletes went through during that whole timeframe," said Hoffner, who coached Kolstad for only one season, 2011. "Putting all that in perspective, if that's the worst thing — my situation — those student athletes go through, I think their lives will be OK."
But when the team gets a visit from Kolstad — it's harder now that he's in a Twin Cities rehab facility — or hears about setbacks like the seizure Kolstad suffered last Friday night, the lens shifts back toward the bigger picture.
"When you put all things in perspective, we definitely want to do our best moving forward, but we completely understand what we can't take for granted," said Hoffner, who was hired to coach the Mavericks in 2008. "Life presents us all different circumstances, and it's how we respond to them that reveals our character."
Kolstad still has a long way to go, according to his wife's Caring Bridge updates. His seizure kept him hospitalized through the weekend and revealed he'll likely suffer from epilepsy the rest of his life. Furthermore, he has an IVC filter intended to prevent blood clots that's difficult to remove from his body. As long as it's there, he requires blood-thinning medications, which makes the prospect of a fall or blow to the head particularly frightening as it could easily cause internal bleeding.
His speech and use of his right arm are still limited. His wife calls his recovery "a marathon."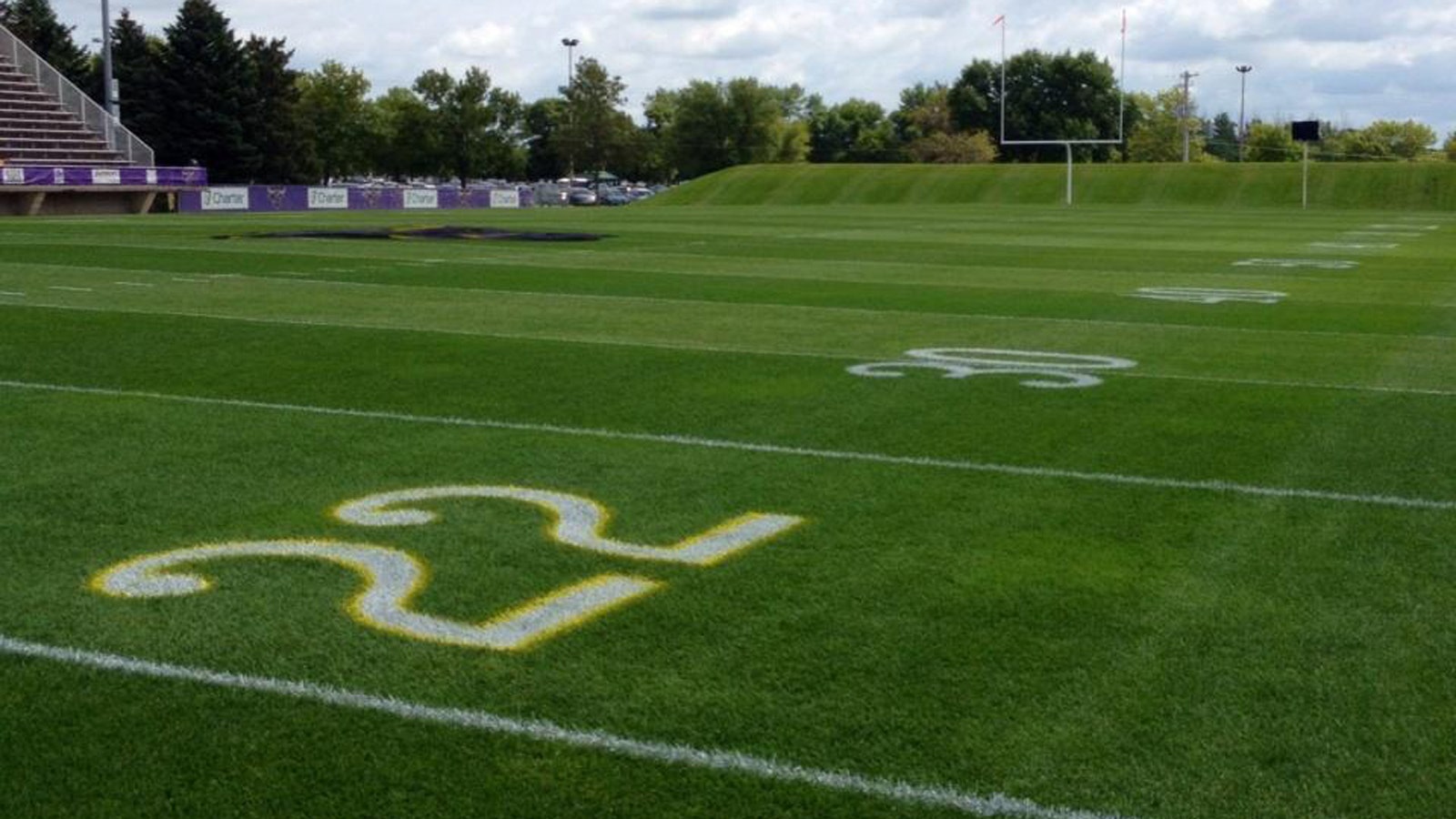 Nelson, who transferred to Rutgers but was kicked off the team following the incident, and Shelley have each been charged with first- and third-degree assault.
Molly Kolstad and the family don't talk about the night that changed everything. Only the recovery.
And although his career is over — he graduated in December 2013 — Kolstad's road back is still tied to the gridiron.
"This football organization has been a huge part of our lives for the last couple of years, and from it we have made lifelong friendships and connections to this community," wrote Molly Kolstad, whose husband started at linebacker for three seasons. "They have all been such tremendous supporters with their frequent visits and words of encouragement when we needed it most."
Follow Phil Ervin on Twitter