New York Jets 2014 preview: Leadership will be key
With football season around the corner, FOXSports.com is providing a thorough analysis of all 32 teams heading into training camp. The offseason may have lacked some hard-hitting action, but franchise-altering moves have been made. Parity is excessive as ever. Every team looks great on paper in July. But it's the development and seasoning of a team that will matter in January and, yes … even February. Goodbye, offseason!
Today, we continue the series with the New York Jets.
2013: 8-8, tied for second in the AFC East; one game out of playoffs
Head coach: Rex Ryan, sixth season with Jets (42-38)
Key departures: CB Antonio Cromartie, WR Santonio Holmes, OT Austin Howard, S Ed Reed, QB Mark Sanchez, TE Kellen Winslow
Key arrivals: rookie TE Jace Amaro, WR Eric Decker, rookie WR Shaq Evans, OT Breno Giacomini, RB Chris Johnson, CB Dimitri Patterson, rookie S Calvin Pryor, rookie WR Jalen Saunders, QB Michael Vick
THREE QUESTIONS
1. Is Rex the guy?
Rex Ryan was seemingly made for the New York spotlight. He adds to the attention, but also handles it as well as any coach probably could. The question is if Ryan can win in New York. The Jets have missed the playoffs in three consecutive seasons, but management stuck with Ryan, who guided the team to the playoffs his first two years as head coach.
Missing the playoffs again seemed to be last straw for Ryan. There was plenty of speculation Ryan would be fired. But after New York won three of its final four games last season, Jets owner Woody Johnson announced Ryan would return, and immediately it was known how his players felt.
Jets players heard the news after the final regular-season game — a 20-7 win at Miami — and mobbed Ryan, hugging him and showing their appreciation for their coach.
But, Ryan is a lame-duck coach, of sorts. He enters this season in the final year of his current contract. He still creates his own share of the spotlight, for sure. But Ryan has another year to prove himself. New York is always in the news, and maybe a coach able to keep the exposure to a minimum would be a calming influence on the Jets. Ryan has one year to show the current formula works.
Ryan is still a sharp defensive mind. His defenses haven't been the issue. New York did slip to 11th in the league in total defense last year but the offense was 29th in the league in points. Perhaps most concerning, especially with defense being Ryan's specialty, is the Jets forced the second-fewest turnovers in the entire league last year with 15.
2. Who will indeed start at quarterback?
Of course, Ryan's prospects might look a little better if there was consistency and competency at quarterback. Sanchez and Ryan were partnered from the beginning when Ryan went with Sanchez as a rookie. Sanchez ultimately didn't improve or show the consistency needed and Ryan made the decision to start another rookie last year in Geno Smith.
Smith wasn't ready for the task either. But Ryan stuck by Smith, who started all 16 games, despite 21 interceptions, a 55.8 completion percentage and a league-low 66.5 quarterback rating.
The quarterback decision was botched from the beginning when Sanchez, appearing set to beat out Smith for the starting job, was put in during the fourth quarter of a preseason game with several backups and hurt his shoulder. After unsuccessfully rehabbing, Sanchez eventually had season-ending surgery and is now in Philadelphia.
It wouldn't be the Jets without drama at quarterback though. With Sanchez gone, Smith entered the offseason with the starting job. Then New York signed Vick and the questions started all over again. Smith is the leading candidate to start heading into training camp and will, reportedly, be getting the bulk of the first-team snaps. But Vick isn't out of the picture yet either and Ryan has said he wants competition.
In one breath, Vick tries to say the right things as the veteran coming in behind Smith and says it's not an open competition. In the next, he doesn't feel he should be a backup and wants to be the starter. Ryan and the team haven't declared a starter yet. Smith enters camp with the edge, but it wouldn't be a surprise if Vick is starting Week 1 at home against the Oakland Raiders.
3. Will the passing options be enough?
Whoever wins the quarterback battle will have a lot of new options to throw to. New York's priority in free agency was adding Decker from the Denver Broncos. Decker is a big target and has decent speed. In the draft, the Jets added receiving tight end Jace Amaro from Texas Tech in the second round and then drafted a pair of receivers in the fourth round, UCLA's Shaquelle Evans and Oklahoma's Jalen Saunders.
The new additions will replace veteran underperformers, Santonio Holmes and Kellen Winslow. The two combined for 54 catches last season. Holmes played in 11 games, while Winslow played in 12. Last year's leading receiver Jeremy Kerley had 43 catches for 523 yards and returns.
Whether Smith was the issue last year or it was a poor mix of receiving options, New York's passing game was dreadful and couldn't complement a rushing attack that finished with the sixth-most yards per game in the NFL. The Jets had the second-fewest passing yards with 2,932 yards. Only Tampa Bay's 2,820 passing yards were fewer. New York had the fewest passing touchdowns with 13 and the third-most interceptions with 22.
Decker will certainly miss being on the opposite end of throws from Peyton Manning, but should give the Jets a reliable outlet. Kerley will be back and is a decent fit in a supporting role. The Jets are still hopeful for development from 2012 second-round pick Stephen Hill. He has all the athletic traits (size, speed, leaping ability) but dropped passes have been a problem and he has 45 catches for 594 yards in two NFL seasons.
Amaro is a unique talent with good size and speed. He's an accomplished pass catcher being used out wide at Texas Tech, displaying good hands as he finished with 106 catches for 1,352 yards last season. New York will hope Saunders or Evans progress quickly and are able to help.
BREAKOUT PLAYER
Cornerback Dee Milliner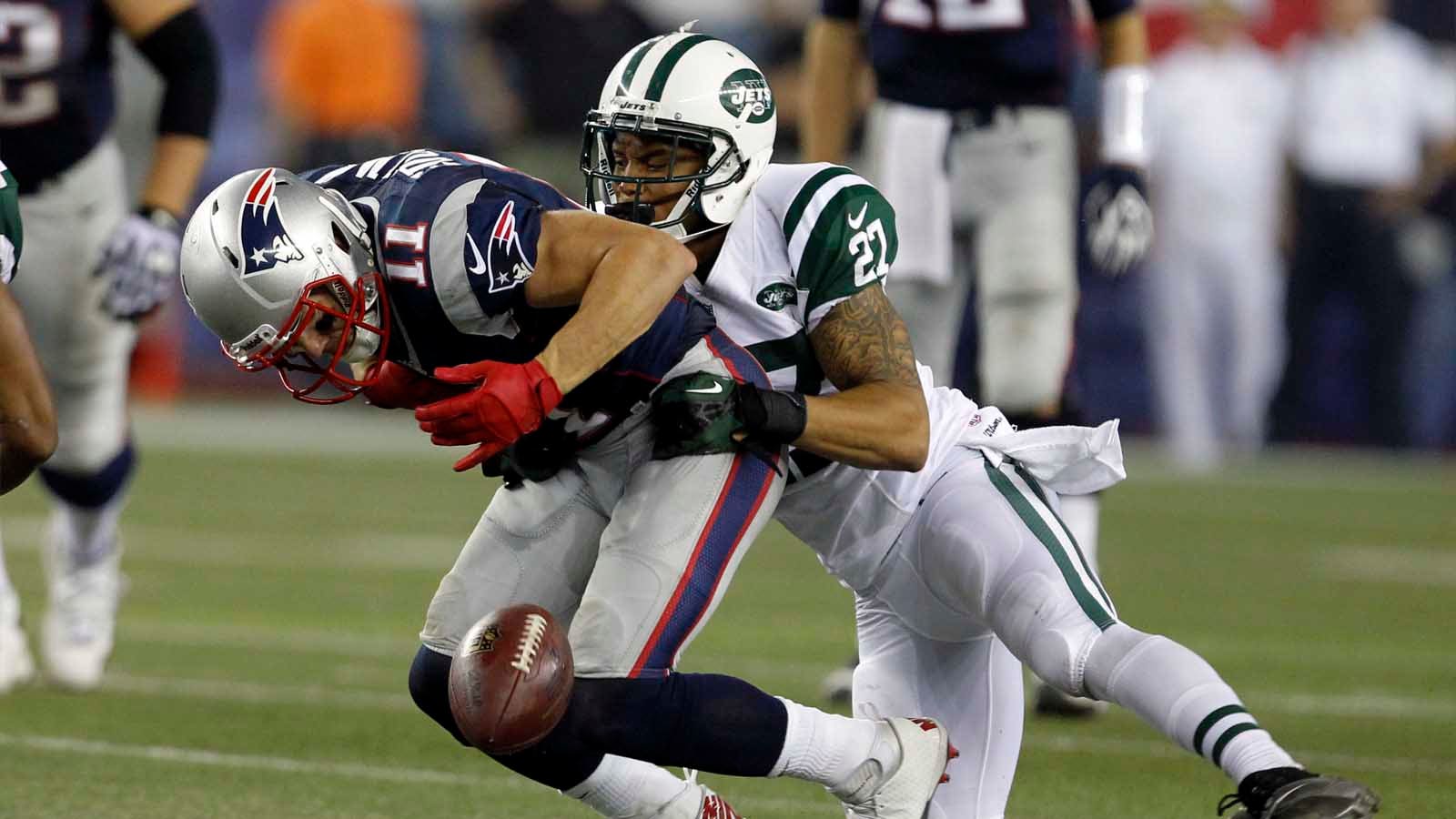 New York hopes its breakthrough player comes through in the secondary. Dee Milliner was the first cornerback taken in last year's draft, considered a steady player out of Alabama and one of the "safe" picks.
The only safe part of Milliner's rookie season was opposing quarterbacks feeling safe throwing his way. He was named a starter right away, but the decision might have been more from need than merit. He started opposite Cromartie and gave teams no reason to look Cromartie's way.
Milliner was benched several times in his first year and missed time with a hamstring injury. The injury concerns with Milliner — he had shoulder surgery before the draft — looked to be legitimate. He also missed time with an Achilles injury, missed three games because of the hamstring issue and was dealing with a bad hamstring again this offseason.
But if he can stay healthy, there is reason for optimism.
Milliner started to display the promise that made him the ninth-overall pick in the draft late in the season. Slowly, after returning in Week 7 from the hamstring injury, Milliner's production increased. The season's final two games can provide hope.
Milliner had a season-high nine tackles and his first career interception in Week 16 in a win against Cleveland and followed with two interceptions the following week against Miami. Of his 17 pass deflections in his first year, 10 came in the final two weeks. He won AFC defensive player of the week honors in Week 17 and defensive rookie of the month.
REASON FOR OPTIMISM
The passing game can't be as bad as last year, right? Holmes and Winslow were injury concerns and unproductive, in part because of the quarterback play. Decker shouldn't fall completely down post-Manning. Decker has had two straight seasons with at least 85 catches, more than 1,000 yards and double-digit touchdowns. Yes, that was with Manning. But remember, Decker had 44 catches for 612 yards in 2011 with Tim Tebow and Kyle Orton at quarterback.
Amaro should be able to make a quick transition to the NFL, at least as far as catching passes. He presents a matchup nightmare for opposing defenses. He just isn't a strong inline blocker. But he's a big target who should provide a safety outlet for Smith or Vick. Hill will have to harness his talent, and hold on to the ball. Kerley fits well as a third receiver, and showed last year he can step up if needed for more.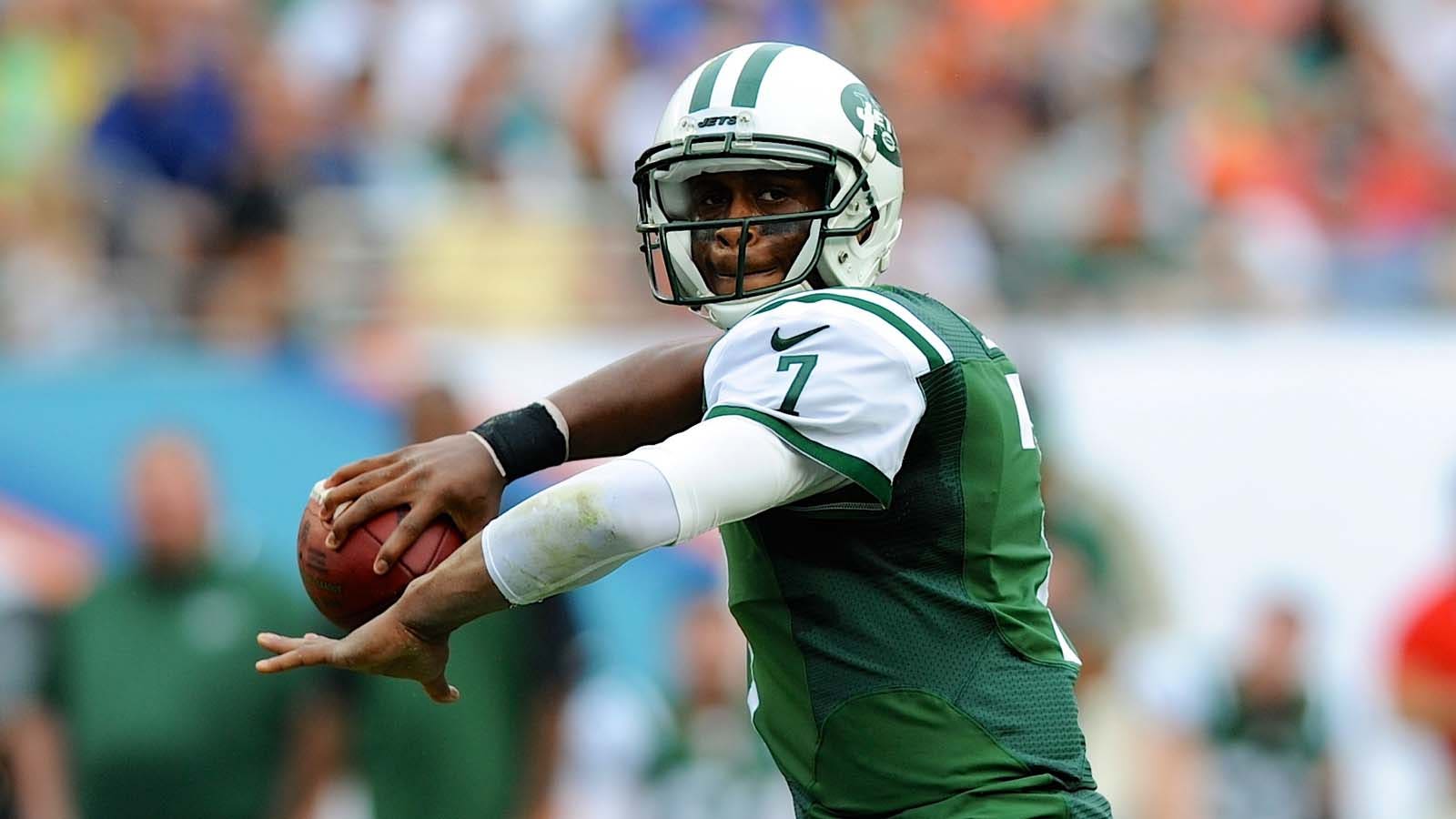 Smith, in his second year, or Vick should be an upgrade from the rookie Smith. Smith shouldn't continue to make the same poor decisions that led to the 21 interceptions. Vick has never thrown more than 14 interceptions in a season, though his accuracy numbers aren't much of an upgrade on Smith.
With improved efficiency in the passing game, New York's running attack looks to get a renaissance from Chris Johnson, who had a career-low 3.9 yards per carry last season. Johnson still has speed and could benefit from New York's offensive line, which features five-time Pro Bowl center Nick Mangold and three-time Pro Bowl left tackle D'Brickashaw Ferguson.
If Johnson at 29 years old is done, the Jets still have the top two running backs from last season, Chris Ivory and Bilal Powell, on the roster. Johnson and Powell have both shown the ability to catch the ball out of the backfield. The potential is there for improvement offensively.
REASON FOR PANIC
The secondary is still full of questions. New York returns nearly its entire starting defense from last year, except in the secondary. Gone are Cromartie and Reed, replaced by Pryor and Patterson. If your quarterback is throwing 20-plus interceptions, 15 forced turnovers won't cut it on defense.
While Pryor is a big hitter in the secondary and can help against the run and pass, he's not considered a ball-hawking type of safety. Pryor essentially replaces Reed, who was actually an upgrade for the Jets last season even after looking finished in seven games with Houston.
Patterson tied for the team lead with four interceptions last year for Miami, but was a cap casualty by the Dolphins. He doesn't have Cromartie's track record, but he'll likely start alongside Milliner. New York will need Milliner to have a big breakthrough and prove to be a big-play cornerback.
Cromartie, Reed and Milliner tied for the team lead with three interceptions last season.
The Jets also drafted cornerback Dexter McDougle, from Maryland, in the fourth round. Cornerback Kyle Wilson, a 2010 first-round pick, might be on his last opportunity to develop. New York will need a lot to break right, and Pryor to be an immediate force, for the secondary to hold up its end.
ALEX MARVEZ'S 2014 PREDICTION
Jets owner Woody Johnson recently said he wouldn't be "satisfied" with another .500 finish. Brace for some disappointment, Woody. Although running back Chris Johnson and wide receiver Eric Decker were added in free agency, the offense still lacks big-time punch behind a quarterback (Geno Smith) who must curtail the 25 turnovers he committed as a rookie. Muhammad Wilkerson and 2013 NFL Defensive Rookie of the Year Sheldon Richardson are big-time defensive linemen, but the Jets have to generate more consistent pass rush to help compensate for a secondary that has lost cornerbacks Darrelle Revis and Antonio Cromartie over the past two seasons. Prediction: 8-8
Follow Brian Hall on Twitter