Vikings 2016 draft grades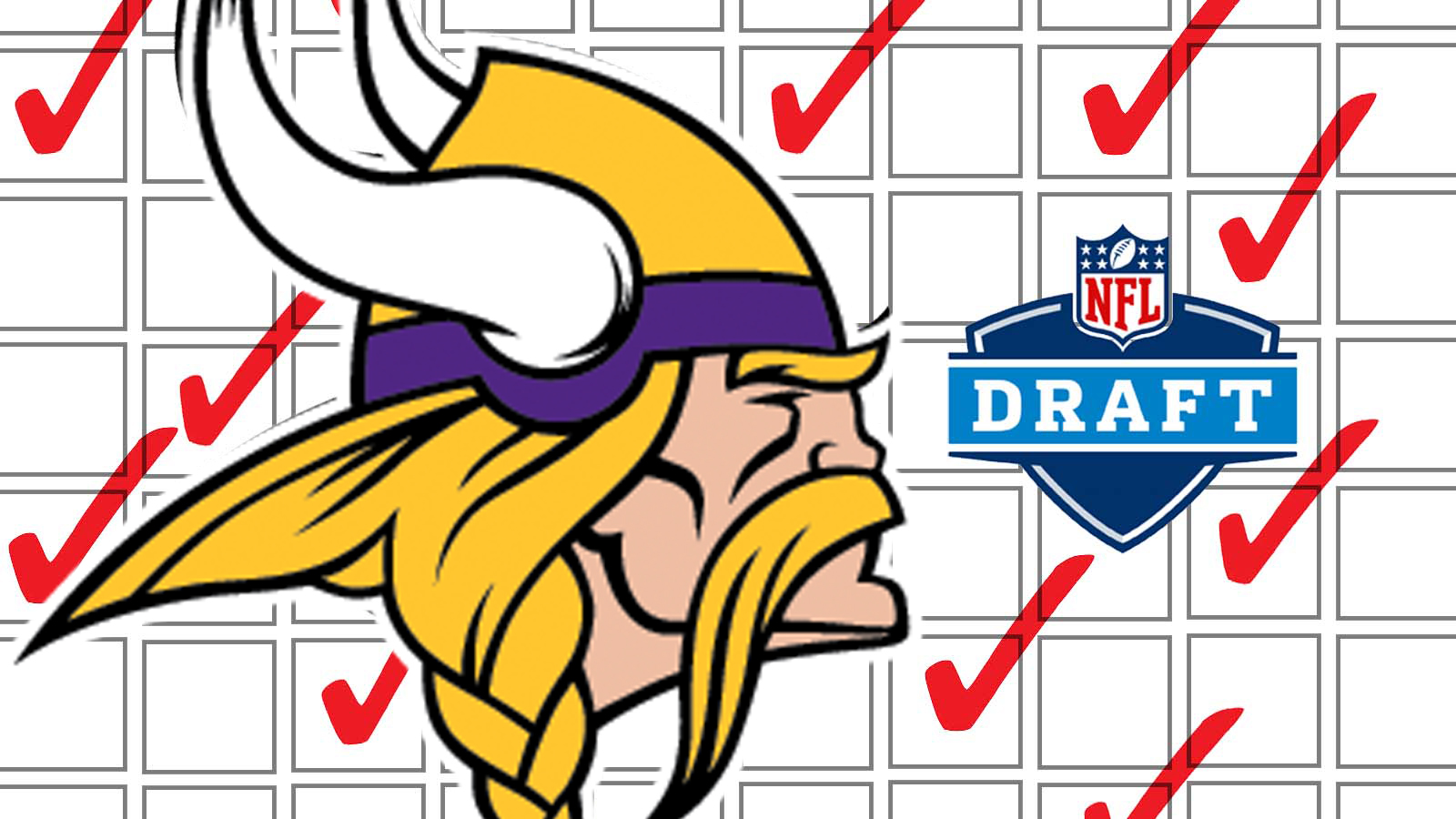 The 2016 NFL Draft is over and of course people are quick to judge how teams did.
Normally, you really need three or five years to grade a class (like we did here and here.
More NFL Draft coverage
But who is kidding who — we all want to know what others think of the selections made by our favorite team now. And there are plenty people doing just this.
I've tried to compile as thorough a list of Minnesota Vikings draft analysis as you'll find anywhere on the Internet. Without further adieu, enjoy.
NFL.com's Chad Reuter:
Skinny: "General manager Rick Spielman got the most physical receiver in the draft in Treadwell. There's no reason he won't be a to-go guy for Teddy Bridgewater. Alexander is an excellent defender, even without the turnover production. Then Spielman picked up two 2017 mid-round selections from Miami. That's building draft capital. Spielman found quality players in Beavers, Brothers, Weatherly, and Morgan. Kearse was worth a shot in the seventh round. Boehringer's upside is highly intriguing."
SI.com's Chris Burke and Doug Farrar: B
Pete Prisco of CBSSports.com: B-. Best pick: Laquon Treadwell. Third-day gem: Kentrell Brothers. Analysis: "The Vikings hit it right by getting Treadwell, and Alexander is a talent. Willie Beavers in the fourth round adds line depth and Brothers is a player who could make an immediate impact."
Rob Rang of the Sports Xchange: A-
Dane Brugler of NFLDraftScout.com: Listed the Vikings as one of the five teams who did "the best in terms of securing value and acquiring talent."
ESPN Insider Mel Kiper Jr.: B-
Evan Silva of Rotoworld.com: B
SB Nation's Dan Kadar: A-. Best pick: Mackensie Alexander. Questionable pick: Willie Beavers.
Steve Palazzolo of Pro Football Focus: B-
Bart Hubboch of the New York Post: A. "Both of the first two picks look like home runs in stud Ole Miss wideout Laquon Treadwell and promising Clemson man-coverage corner Mackensie Alexander. Minnesota definitely is on the rise."
USA Today's Lindsay H. Jones: A. "It's hard to find fault with any of the early draft picks."
The Washington Post's Mark Maske: B+
Ebenezer Samuel of the New York Daily News: A-
PLAYER GRADES
Note: All grades are for the first-round pick of Laquon Treadwell unless otherwise indicated.
CBSSports.com's Pete Prisco (rounds 1-3) and Spencer Hall (rounds 4-7)
SI.com's Doug Farrar: A. "He's a tough, physical, consistent receiver who won't set any land speed records against deep safeties, but he has the skills to become Minnesota's top target."
The Washington Post's Mark Maske: B. "The Vikings needed a receiver and got a potentially very good one."
Yahoo Sports' Eric
Bleacher Report's Mike Tanier: B+. "Treadwell won't be (Desean) Jackson or Antonio Brown, but he could be Allen Robinson, ripping off 50-yard catches against defenders a step faster than him. I'm a little skeptical of the theory that Teddy Bridgewater 'needs more weapons.' I think he has to develop his downfield game so he can make better use of the weapons he has. Still, adding receiving talent is
Quarterback Development 101, and the Minnesota Vikings are in great shape at most positions. So another target for Bridgewater it is."
SBNation's Dan Kadar: A. "Treadwell is a big and physical receiver who can be a top target for Teddy Bridgewater. If he can play a little faster and concentrate through the catch, he can put up big numbers in the NFL. Oh, and he'll help Adrian Peterson. Treadwell is one of the best run blocking wide outs in this year's draft."
For The Win's Steven Ruiz: A. "This pick made too much sense for the Vikings to pass up. Treadwell isn't a burner but he has the frame and ball skills to develop into a dominant receiver No. 1 receiver. That's exactly what Minnesota and Teddy Bridgewater need to push the passing game to the next level."
More Vikings coverage
Pro Football Focus' Steve Palazzolo: C+. "Overall, he's a solid possession receiver, but the pairing with the Vikings and Bridgewater may not be a good one unless the offense turns to a more quick-hitting passing game that takes advantage of both Bridgewater and Treadwell's skillsets."
The Salt Lake Tribune's Brennan Smith: B
Cleveland.com's Chris Fedor: A
Athlon Sports' Mark Ross: B+. "He may not be a burner or a big-play machine, but Treadwell should provide Bridgewater with a big, physical target on the outside and in the red zone."
NFL Mocks' Erik Lambert: B+
Cameron Silva of FOX Sports lists Teddy Bridgewater and the Vikings among his winners of the first round.
The Sports Xchange's Dane Brugler labeled the pick of Treadwell as one of the best in the first round.
Lindy Sports' Jeff Reynolds has the Vikings' pick of Treadwell as his fifth-best in the first round.
ESPN.com Insider Todd McShay hands out a "best pick" for each team. In Minnesota's case he picked wide receiver Laquon Treadwell. "Treadwell isn't a burner by any stretch, but he doesn't need to be in the Vikings' offense. Offensive coordinator Norv Turner will work Treadwell on short-to-intermediate routes, playing to his strengths. Treadwell has a big catch radius and great ball skills, consistently plucking the ball away from his frame. He gives QB Teddy Bridgewater a legitimate No. 1 outside receiver, with the ability to navigate the sideline effortlessly and make plays in the red zone."
Follow Dave Heller on Twitter