Gophers punter Mortell is all business on field, all comedian on Twitter
MINNEAPOLIS — The stats indicate that Minnesota's Peter Mortell was the best punter in the Big Ten last season.
The retweets and favorites show that he might have been the funniest, too.
When Mortell isn't busy leading the Big Ten in punting — he averaged 45.1 yards per punt in 2014, tops in the conference — he's quick to crack a joke or make people laugh on Twitter. Mortell, who will be a redshirt senior this fall, is arguably the Gophers' funniest tweeter. His account (@PMortell37) has nearly 4,000 followers, and he's also partially responsible for another account run by Minnesota's specialists (@MinnSpecialists).
As good as Mortell is at tweeting, though, he'd rather be known as one of the best punters in college football.
"I love making jokes on Twitter. I think people know that I have a pretty good sense of humor," Mortell said. "But at the same time, I want people to understand that when I come on the football field that I'm fully business and I know how to switch that attitude pretty quick."
That's not to say Mortell won't still have some fun on social media during the 2015 season. Everything about his account is entertaining, from the cover photo showing him being charged at by five Nebraska players, to his bio that says, "I tell people I play quarterback." On Wednesday, Mortell tweeted: "Thinking about getting in a lower body workout today #AprilFools." He also recently tweeted an old video of himself using a whoopie cushion during his last high school exam at Notre Dame Academy in Green Bay.
Mortell is carrying the torch passed down to him by former Gophers safety Brock Vereen as the funniest tweeter on the team. Vereen, now with the Chicago Bears, was always tweeting jokes or insightful yet funny commentary on Twitter.
The bar was raised by Vereen, Mortell said. Now he's trying to keep the tradition going.
"Brock Vereen set the precedent. When I got here, when I first got Twitter, he was the funniest kid I followed. He still is," Mortell said. "It's big shoes to fill, for sure. I definitely have my work cut out for me."
The tweet Mortell — a die-hard Packers fan — is most proud of actually has to do with a Minnesota Vikings player. When the Vikings moved into TCF Bank Stadium last season while their new stadium was being built, it just so happened that Mortell and running back Adrian Peterson shared the same locker in the stadium's spacious locker room.
When Mortell found that out, he was inspired to tweet: "Hey @AdrianPeterson I hear we are sharing lockers at TCF Bank next year. Keep your side clean and we won't have any issues #Gophers"
It garnered more than 180 retweets and over 300 favorites while drawing some national attention.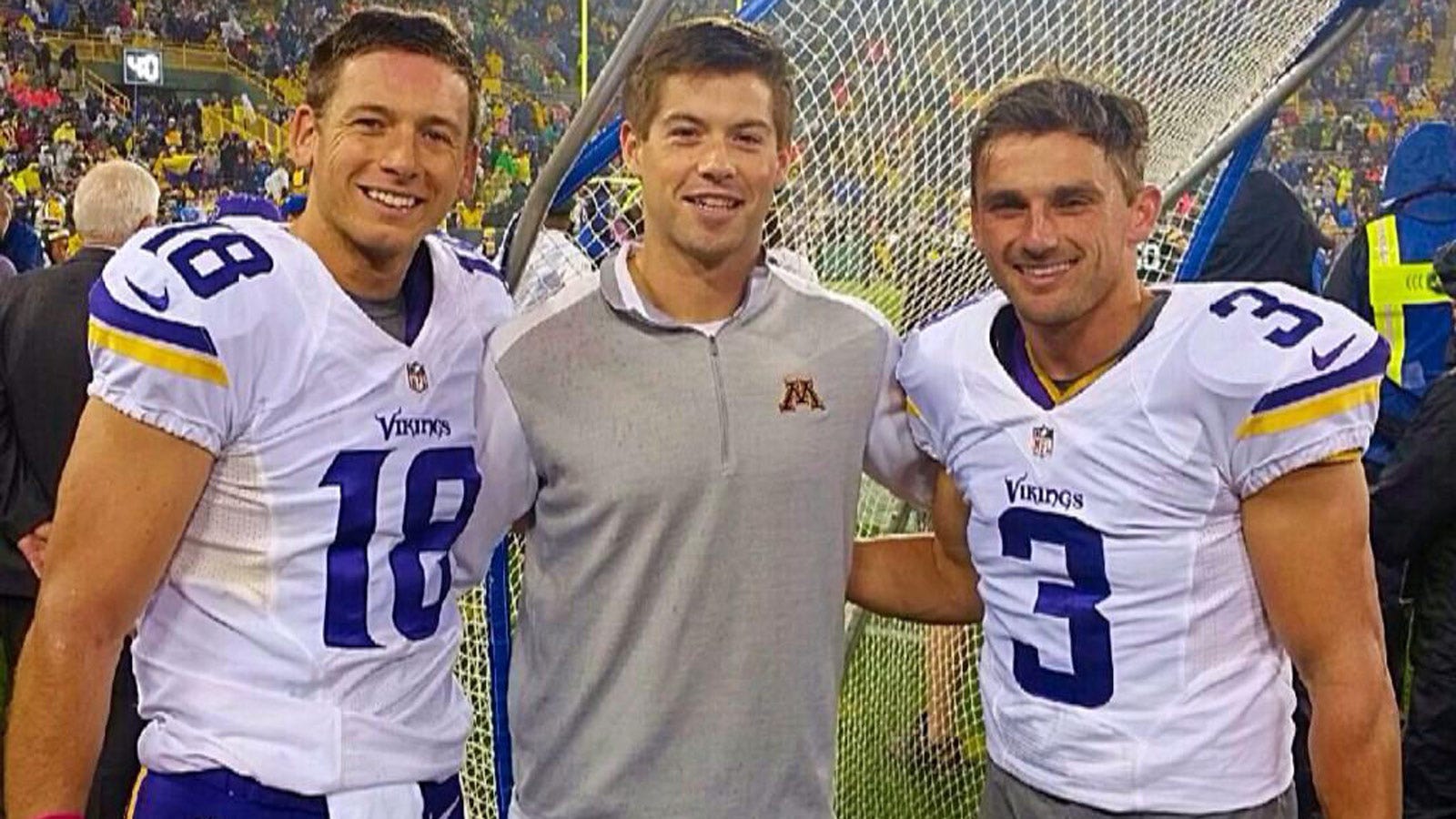 "All my friends got a kick out of that," Mortell said.
Sharing a home stadium with the Vikings has had other perks for Mortell. Since he had already punted at TCF Bank Stadium for a season before the Vikings played their games there in 2014, Vikings kicker Blair Walsh and punter Jeff Locke picked Mortell's brain for tips and pointers on kicking outdoors at the stadium. They talked about wind patterns and other tendencies of TCF Bank Stadium.
Mortell, though, says he learned much more from Locke and Walsh than they did from him. And yes, they're aware he's a Packers fan, but they still talk to him anyway.
"I did have a Packers long-sleeve shirt on but I turned it inside-out," Mortell said. "I went to the Packers-Vikings game at Lambeau and I got an opportunity to go on the field and get a picture with them. They know. They've accepted it. I tell them I'm a Gophers fan first."
Despite growing up with the Packers in his backyard and the Wisconsin Badgers just a few hours away, Mortell said Minnesota has been "a perfect fit" for him. It wasn't until the summer before his senior year of high school, though, that Mortell thought Division I football might be a real option.
Mortell began punting midway through his junior season of high school. He was already a cornerback and wide receiver, but eventually tacked on punting on the side. Mortell realized he had a strong leg, but his accuracy and technique remained a work in progress.
That's when his father got the idea to have Mortell attend a kicking camp, the Kohl's Midwest Showcase in Wisconsin Dells. Not only did Mortell attend — he won it. That resulted in a trip to Orlando the very next weekend to participate in the ESPN Underclassmen Challenge, where a number of eventual Division I punters were also competing.
It was during his time in Orlando that Mortell realized he had what it took to be a college punter.
"When I went to Orlando the next week and I saw that I could compete with the top guys in the country, that's when I put focus on I'm going to punt at the next level and I'm going to do whatever's necessary to get there," Mortell said. "Just getting that technique, going to more camps that offseason and then having a really strong senior season in high school punting eventually put me in position to come here."
Mortell assumed the Gophers' punting duties as a sophomore in 2013 and finished third in the Big Ten with an average of 43.3 yards per punt. He earned Honorable Mention All-Big Ten that year, as well as Academic All-Big Ten. Mortell's junior year was even better. His impressive season resulted in being named the Big Ten Punter of the Year as well as All-Big Ten First Team honors.
Despite those accolades, Mortell isn't satisfied. He felt he didn't do a good enough job last season of pinning opponents deep when the Gophers had the ball in enemy territory. Too often, he'd let shorter punts bounce into the end zone for touchbacks rather than keeping it inside the 20-yard line. Improving in that area remains one of his two main goals for 2015.
The other? Enjoy every moment of his senior season — which might include a few more tweets along the way.
"These past four years have really flown by for me," he said. "At every football event, whether it's practice or weights or meals, I just want to take a minute, step back and let it all soak in because I know these days are limited and I want to cherish every one I have left."
Follow Tyler Mason on Twitter