Inking a new deal: K-Love the octopus 'traded' to Cleveland
MINNEAPOLIS — All remnants of the Kevin Love era are being washed away.
Timberwolves president of basketball operations and coach Flip Saunders has moved on after trading the disgruntled superstar to the Cavaliers on Saturday. "Kevin put in some great years," Saunders said. "Kevin, told us that he wanted to win and unfortunately for both him and the organization, we haven't done it in the time that he has been here and prior to that. One thing that I feel good is that we put him, and working with his agent, we put him in a situation where he is going to be able to enjoy success and to win."
Owner Glen Taylor, too. "I want to personally thank Kevin love for his six seasons with the Wolves," Taylor said in a statement announcing the trade. "He represented the state of Minnesota well during his time us, and we wish him nothing but the best in Cleveland."
Love's face no longer graces the Minneapolis skyways wrapping around the Target Center. Even before the deal became official over the weekend, his name and likeness were all but removed from the Wolves' official website. Replica jerseys bearing his name and No. 42 have been marked down on the NBA.com online shopping site.
And the eight-armed sea creature bearing his name also has been swept up in the waves of change.
The SEA LIFE Aquarium isn't parting ways with K-Love, the octopus that Love himself released into its tank in 2012, but the moniker is being "traded" to the Greater Cleveland Aquarium's in exchange for the naming rights to Ocho, Cleveland's giant Pacific Octopus. SEA LIFE officials plan to change that name to something Andrew Wiggins-related, in honor of the centerpiece Minnesota gleaned in return for Love.
"The memories Kevin Love has given the Timberwolves will stay in Minnesota, and the octopus will be staying at SEA LIFE Minnesota as well," reads a release from the aquarium. "The Greater Cleveland Aquarium's octopus will now be taking on some big responsibilities with the new name."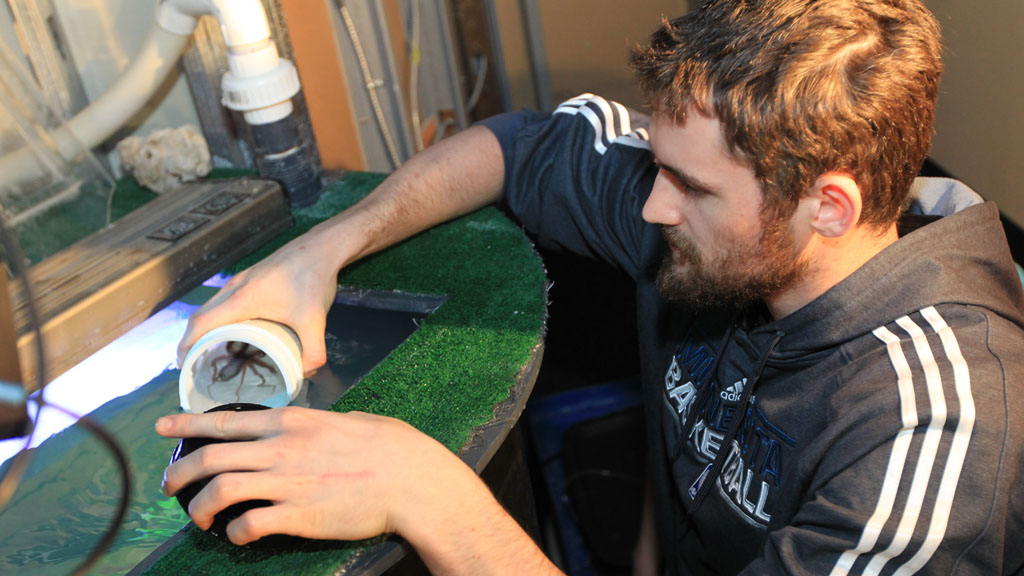 It's a fun gimmick that began in March 2012 when Love became the first known NBA player to have an octopus given his namesake. That day, Love pulled the cephalopod out of a bucket and tossed him into the aquarium waters.
"They wanted to name an octopus after me," Love said then with a laugh. "I couldn't say no."
That was right around the time Love signed an extension that served as a point of beef during the rest of his time in Minnesota. Believing he deserved a five-year max, dealing with injury and playing for a team that didn't finish over .500 or make the playoffs in his six years here while sometimes clashing with teammates, he eventually let the franchise know he'd be opting out after this season.
That led Saunders to trade him in a three-team transaction that brings back Wiggins, Anthony Bennett and 76ers power forward Thaddeus Young and sends former Wolves Alexey Shved and Luc Richard Mbah a Moute to Philadelphia.
And the domesticated animal kingdom isn't immune to the fallout.
Follow Phil Ervin on Twitter