Hopkins' Haley making name for himself in rugby
MINNEAPOLIS — If it hadn't been for the long, golden locks scraping his shoulders, Zach Haley might've thought he was at boot camp.
Crack-of-dawn wakeup calls. A number instead of a name that indicates where you're to line up and file out to the training field. Blood, sweat, tears, repeat.
But this was another kind of proving ground. The kind where egg-shaped balls and gladiator-worthy physicality reign supreme.
At the age of 15, Haley had found his way to Tempe, Arizona for a tryout with the USA Rugby High School All-Americans Under-17 team. After a few days of relentless, demanding training and tutelage, he cracked the roster.
And the rest is currently-developing history.
"It was super intense," Haley, now a senior-to-be at Hopkins (Minn.) High School, told FOXSportsNorth.com. "It's almost like you're in the military. Hardest thing I've ever done, at least sports-wise."
Climbing the ladder
Having represented the United States at international tournaments the past two springs, Haley is currently working his way up the ranks of a sport experiencing exponential but somewhat-undocumented growth in North America. A March 2010 Coventry University study discovered a 350-percent increase in rugby participation from 2004-10, and the International Rugby Board says there are more than 450,000 players registered with USA Rugby, including 67,000 high school students.
But only one of them from Minnesota has donned the stars and stripes the past two springs and traveled to England, Portugal and France with the U.S. High School All-Americans. He's a well-spoken, intelligent 6-foot, 220-pounder who also plays football and wrestles when he's not playing hooker — comparable to a center in football — for the Hopkins Royals rugby club or gearing up for international competition.
"He's abrasive," All-Americans coach Will Thompson told FOXSportsNorth.com. "He's a tough kid. . . . He's got a good engine."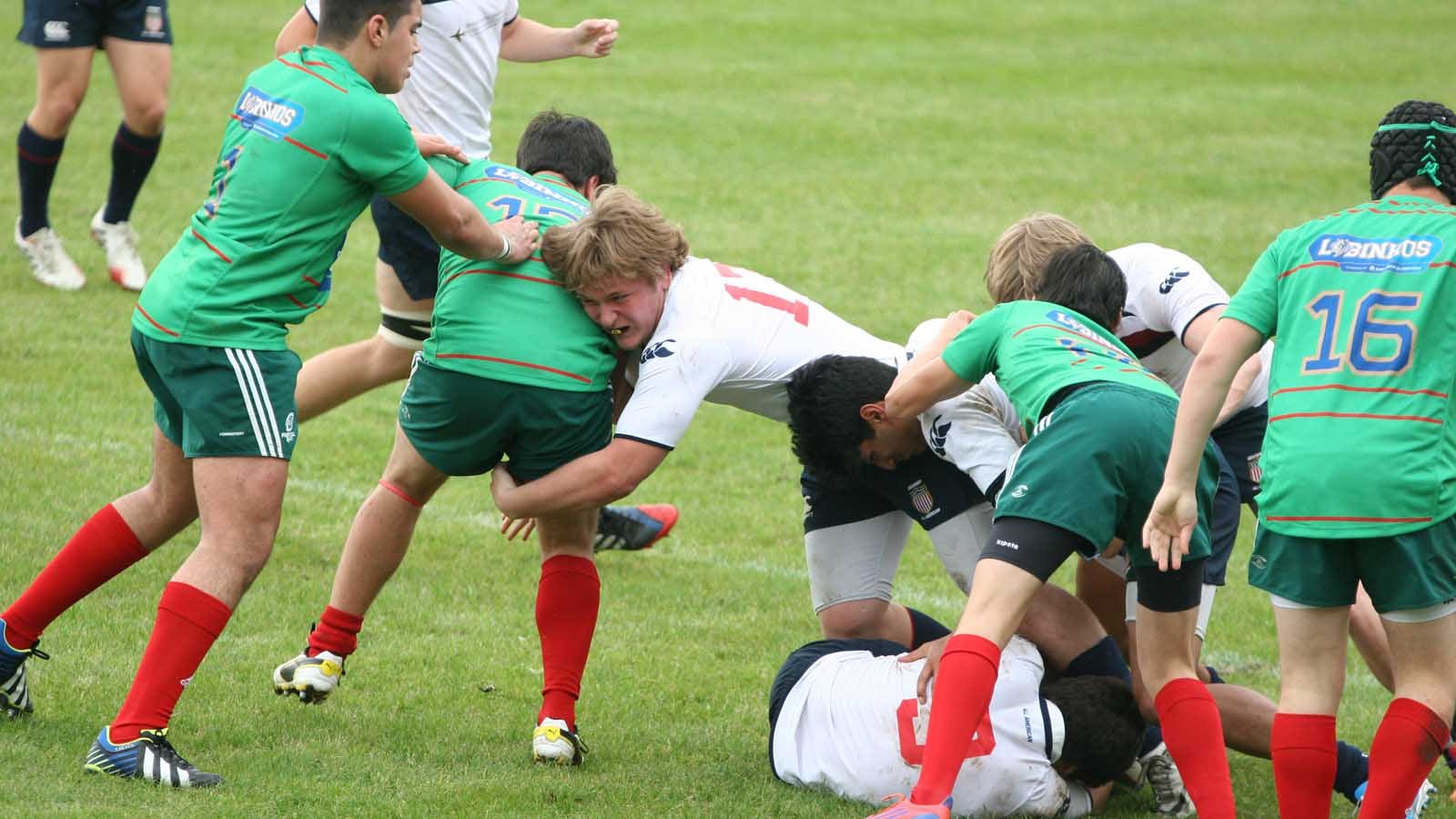 The motor was first revved when Haley decided in seventh grade that balancing football and wrestling somehow wasn't enough of a physical grind. He quit baseball and followed in the footsteps of some Hopkins High School wrestlers who'd taken up rugby and started practicing and playing with the Hopkins Royals under coach Dan Johnson's direction.
Haley's grit was evident almost immediately and made him valuable in scrums. His conditioning allows him to move around the field well, too. So after two years of junior-varsity club rugby — despite being younger than most of his teammates — Haley tried out for a select team made up of Minnesotans and made it as a freshman.
That's when a man who goes by "Salty" first caught wind of him.
National renown
Thompson was born in a small village south of Belfast, Northern Ireland. Before immigrating to the United States in 1986, he played English Premier League rugby for Nottingham and Stoneygate.
Somewhere along the way, he earned the nickname "Salty" — perfect for a fixture on any rugby scene.
In 2010, Thompson took over as the High School All-Americans' head man. Two years later, in June 2012, he was in Denver for a regional competition. There was Haley, the crux of the Minnesota Selects roster, orchestrating scrums and directing lineout plays.
Haley's all-tournament team performance caught Thompson's eye, enough to earn an invite to that rigorous selection camp Dec. 26-31, 2012 near Arizona State University.
When the 28-man final roster was announced, Haley's name was on it. The same process last winter yielded the same result.
In 2013, the All-Americans went 2-2 at the Wellington (England) International Festival at Wellington College. They played against the likes of Belgium, France, England and Wales, where the sport is much more popular than it is in the States.
But this wasn't a sightseeing sojourn.
"We stayed in a castle," Haley said. "That was pretty crazy . . . but it was a pretty tough trip. We had to do a lot of training and stuff. We'd submit our (weight-lifting and cardio statistics) online to our coach, and if we lied about our numbers we'd be sent home."
This past April, Haley trained with the team in Atlanta and played matches in Portugal and France against those country's national teams. He has one more year of Under-17 High School All-American eligibility next year.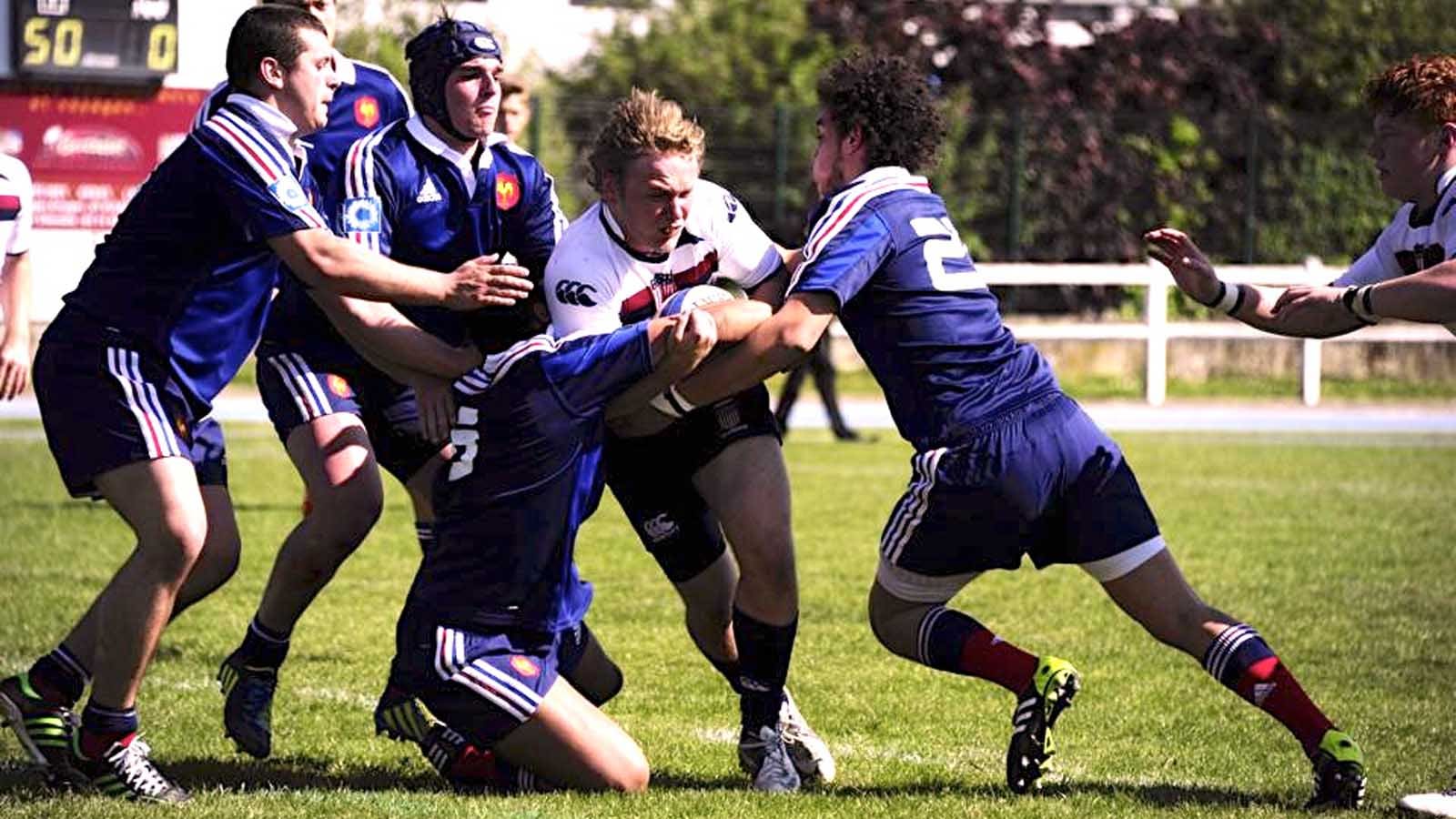 But he'll have to earn it, Thompson said.
"He's got his foot in the door in the sense that he is there," Thompson said. "You obviously never want kids to be complacent and think that because they play for the U.S. on one occasion, they're automatically coming back. They have to keep producing and keep getting better, quite frankly."
Delight and discipline
Beyond this upcoming spring, Haley's not sure what the future holds. By then, he'll have senior football and wrestling campaigns under his belt and perhaps some Division II gridiron offers to consider.
Or he could stick with the sport that's brought him the most success, either via a college varsity or club squad and/or participation in Team USA's Collegiate All-Americans Under-20 program. There are professional leagues overseas to consider, too, Haley said.
His national team coach thinks he's got a shot.
"He's not the tallest guy in the world, so he's going to struggle," said Thompson, who still speaks with traces of a thick Irish accent. "You never want to put a ceiling on a kid that's still in high school. If he aspires and works hard, he's going to be a very good player on the domestic scene for some time.
"His pathway should be looking at trying to make the High School All-Americans again this year, then think about the Collegiate All-Americans U-20 national team, and then if he's looking like he's really going to compete, then he's got a shot at going higher."
Those decisions can be made later. Currently, Haley's relishing the benefits of his athletic endeavors to date.
Even if they don't leave much time for his body to rest.
"There's a lot of really rewarding things — traveling the world, being named an All-American — but the most rewarding thing is the discipline I've got from it," Haley said. "I've had to train really hard doing it, and that mentality has stuck with me in everything else I do.
"I'm a lot mentally tougher than I was."
Follow Phil Ervin on Twitter