2014 preview: Vikings' quarterback, secondary issues will determine season
With football season around the corner, FOXSports.com is providing a thorough analysis of all 32 teams heading into training camp. The offseason may have lacked some hard-hitting action, but franchise-altering moves have been made. Parity is excessive as ever. Every team looks great on paper in July. But it's the development and seasoning of a team that will matter in January and, yes . . . even February. Goodbye, offseason!
Today, we continue the series with the Minnesota Vikings.
2013: 5-10-1, last in the NFC North
Head coach: Mike Zimmer, first season
Key departures: DE Jared Allen, TE John Carlson, CB Chris Cook, QB Josh Freeman, RB Toby Gerhart, DT Letroy Guion, LB Erin Henderson, LB Marvin Mitchell, DT Kevin Williams
Key arrivals: Rookie LB Anthony Barr, rookie QB Teddy Bridgewater, LB Jasper Brinkley, S Kurt Coleman, CB Derek Cox, DT Tom Johnson, NT Linval Joseph, rookie RB Jerick McKinnon, CB Captain Munnerlyn, DE Corey Wootton
THREE QUESTIONS
1. Bridgewater or the bridge?
There is no escaping the quarterback questions in Minnesota. Christian Ponder couldn't live up to being the 12th overall pick in the 2011 draft. While he's still on the roster, his fate with the Vikings has essentially been decided.
Coaches say Ponder is competing for the starting job, but the practice repetitions tell the truth. Ponder is getting few snaps and is essentially an afterthought. He failed at his chance to be the franchise quarterback Minnesota has searched for since Daunte Culpepper tore up his knee in 2005. The Vikings declined the fifth-year option on Ponder's rookie contract despite little obligations and he's likely looking at his last season in Minnesota.
The Vikings turned the page when they drafted Bridgewater with the final pick in the first round of the NFL Draft. Minnesota traded with Seattle to jump back into the first round and secure Bridgewater, out of Louisville, before teams could use the time between the first and second rounds to reassess and work out trade options.
The bold move looks good, so far. Bridgewater, considered the most pro-ready quarterback in the draft, has not been overwhelmed at all in the transition. He might have the strongest arm of any quarterback on the roster and displays a calm demeanor and aptitude to handle the position.
Veteran Matt Cassel was anointed the No. 1 quarterback entering training camp. But the proclamation by Zimmer was more about setting a depth chart than announcing a starting quarterback. Cassel has received nearly all of the first-team snaps during the offseason and early in training camp. He has the early edge to start on Sept. 7 when the Vikings open the season at St. Louis.
Being the starter is what Cassel envisioned when he opted out of his contract with Minnesota only to return to the team with more financial guarantees built into a new two-year deal. Cassel provided a steady, representative effort at the position last year after inconsistency by Ponder and the unsettled situation that saw Ponder, Cassel and Josh Freeman all start games last season.
In a season in which they went 5-10-1, the Vikings were 4-3 in games in which Cassel played at least a half. Cassel had an 81.6 quarterback rating last year and was the only quarterback on the roster to have more touchdowns than turnovers.
He averaged 200.8 passing yards per game while playing in nine games and making six starts. Cassel completed 60.2 percent of his passes and had 11 touchdowns to nine interceptions.
But he will have to hold off Bridgewater.
How long until Bridgewater forces his way into the lineup? Bridgewater was one of the consensus top picks until NFL teams apparently soured on him following his Pro Day at Louisville where he participated without the gloves that he wore the entire season. Bridgewater is back, for good, in gloves and he completed 71 percent of his passes last year for 3,970 yards, a 9.3-yard average per attempt and 31 touchdowns to four interceptions.
Bridgewater entered a good situation with Minnesota, with Cassel in place as the bridge quarterback. Bridgewater will have a chance to develop without the pressure of being the starter right away. But Cassel won't keep the Vikings from going to Bridgewater when the rookie proves he's ready. Cassel should start in Week 1, but Bridgewater will eventually find his way into the lineup.
2. How much does the coaching matter?
Minnesota might be a good test subject to see how much coaching matters. The offense brings back most of the same personnel, but Norv Turner has taken over as the offensive coordinator in place of Bill Musgrave. Zimmer brings his defensive system from Cincinnati, and has the track record as one of the league's best defensive coordinators.
Leslie Frazier was fired after three up-and-down seasons and players didn't seem to improve under the previous coaching staff. In particular, the defense collapsed routinely and is coming off a 2013 season in which it allowed the most points in the league and the second-most yards. Defense was Frazier's calling card, too, but once he became the head coach, the defense slipped.
Enter Zimmer and his aggressive, blitzing defense. Zimmer added coordinator George Edwards, who has a spotty track record as a two-time defensive coordinator. Edwards has worked with Zimmer in the past and is in place to deliver Zimmer's philosophies and lead his schemes.
In Cincinnati, Zimmer led a top-10 defense in four of the past five seasons. Last year the Bengals allowed the third-fewest yards and the fifth-fewest points in the NFL. Turner's offenses have ranked in the top five in points three times.
Zimmer and Turner are respected minds in their respective areas and make a strong 1-2 punch for the Vikings as the leaders of the defense and offense. Players have spoken highly of the respect they hold for Zimmer and Turner.
Coaching has certainly been an emphasis early on. Zimmer and Turner are vocal on the practice field and every coach is routinely pulling players aside and talking through points of emphasis, which include many technique changes. Many of the same players return. Will Zimmer, Turner and the rest of the coaching staff be able to pull more out of the personnel?
3. The new guard on the defensive line?
If there was one spot with considerable change, it was the defensive line. The turnover had been coming down the line as the old guard along the defensive line had been aging and become less productive. Minnesota's defense has long been led by its front line. Will the re-worked group be able to replicate the success of the past?
Williams and Allen built borderline Hall of Fame careers with the Vikings. Both were more than 30 years old and had regressed, though. The line of succession had begun last year when Minnesota drafted Sharrif Floyd in the first round as the eventual replacement for Williams. The Vikings re-signed Everson Griffen to a five-year, $42.5 million contract this offseason to replace Allen.
Griffen has been a rotational backup behind Allen the past four seasons and gets his first chance to be a full-time starter. Floyd will take over Williams' spot as the 3-technique tackle. Brian Robison is now the veteran leader along the defensive line, taking up the role from Allen and Williams. Robison has started the past three seasons and compiled 26 sacks during that span.
The newest member of the line is a vital cog in Zimmer's scheme. Minnesota signed Joseph, a 323-pound nose tackle, to be the space-eater in the middle and allow the rest of the line to play off him. Joseph was the team's priority signing in free agency, adding the big tackle with a five-year, $31.5 million contract. Interestingly, Joseph is in the mold of former Vikings tackle Pat Williams, who the team never properly replaced when it tried to move on from him.
Zimmer sees a rotational system along the defensive line and the changes extend to the backups. Fred Evans re-signed and will back up Joseph. He's been a steady performer in a backup role the past seven seasons. Minnesota added Wootton, a former Chicago Bears starter who is looking to re-establish himself after a knee injury. Johnson is a veteran backup tackle who could spell Floyd, and the Vikings drafted end Scott Crichton in the third round.
BREAKOUT PLAYER
Cornerback Xavier Rhodes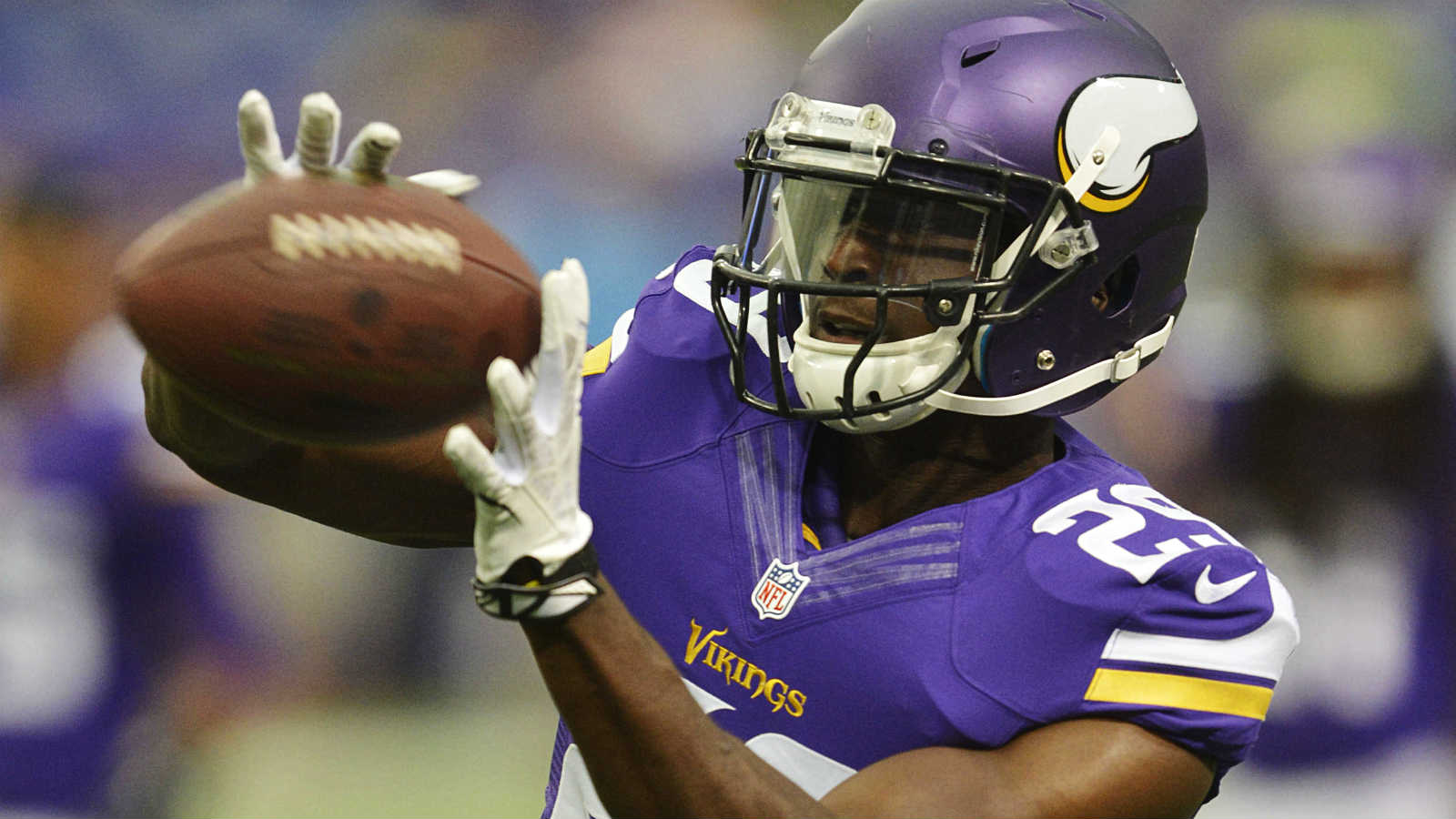 It's hard to call Cordarrelle Patterson a breakout player even though he could take the next step in his career. But he had a flashy, dynamic rookie season as a kickoff returner and later as a multi-purpose offensive threat. Griffen is a popular name among those putting together breakout lists. He has talent and is a strong, speedy player getting his first shot as a full-time starter.
The player who could show the biggest improvement, and maybe the person the Vikings need to see the most progress from, is cornerback Xavier Rhodes. The second-year cornerback is an important piece if Minnesota hopes to improve in the secondary. Rhodes was the second of three first-round draft picks by the team last season.
Rhodes dealt with several injuries last season, including knee, shoulder and a concussion before an ankle injury kept him out of the season's final three games right as he was developing into the Vikings' best cornerback.
Still looking for his first NFL interception, Rhodes had 48 tackles last year and 10 pass deflections. It really started to click for the former Florida State cornerback in November and he had eight of his 10 pass deflections in his final three games. He had 13 tackles in that time, as well, and started to look like the pure cover cornerback Minnesota has needed for a long time.
The Vikings secondary has been porous over the years and decimated by injuries. Rhodes will have to overcome the latter part, but he has the talent to develop into a Pro Bowl cornerback. He's lanky, at 6-foot-1 with long arms. He enjoys playing a physical game on the outside and enjoys playing bump-and-run coverage and is a big cornerback at 210 pounds. He had trouble learning when to disengage with receivers and was too physical at times. But he has the tools to be a No. 1 cornerback and match up with the NFC North's elite receivers.
While Cassel isn't an elite, franchise quarterback, he brought respectability and professionalism to the position last year and allowed the rest of the Vikings playmakers to have success. There's a reason there was little turnover offensively for Minnesota after a 5-10-1 season. The Vikings offense has quality pieces and now it has Turner in charge.
Of course, any discussion of the team's offense begins with running back Adrian Peterson. Peterson is coming off a down year by his lofty standards. Most backs would appreciate finishing fifth in the league in rushing with 1,266 yards. Peterson scored 11 touchdowns but he was limited by foot and groin injuries and played only 14 games. He averaged 90.4 yards per game, which was second in the NFL behind league-leading rusher LeSean McCoy.
Tight end Kyle Rudolph was the Pro Bowl MVP following the 2012 season, when he scored nine touchdowns, the second-most of all tight ends that season. Tight ends have flourished under Turner and Rudolph could be the next in line. He was limited to eight games because of a foot injury, and had 30 catches for 313 yards and three touchdowns, which was on pace to outperform his strong 2012 season in catches and yards. Minnesota rewarded Rudolph with a five-year contract extension, making him the league's fifth-highest paid tight end, perhaps a sign of the potential the team sees with him in Turner's offense.
Greg Jennings is still a complementary receiver and Patterson could be a future star at the position. Patterson had multiple touchdowns returning, receiving and rushing last year. He scored nine total touchdowns and scored at least once receiving or rushing in the final four games last season. The Vikings have depth at the position with Jerome Simpson and Jarius Wright.
Minnesota also returns its entire starting offensive line, which will be entering its third season together. The group has only seen two games in two seasons in which it hasn't started together.
With Turner, there is optimism for good reason. Even with the three-headed quarterback rotation, Peterson and Rudolph's injuries and Patterson's perplexing usage early, the Vikings scored the 14th-most points in the NFL and were 13th in yards gained. Add in stability at quarterback and potential in Bridgewater to go with the remaining pieces and Turner's play-calling and Minnesota should be more than respectable on offense.
Perhaps more of an issue than quarterback over the past few seasons has been the Vikings secondary. Just look at last season. Minnesota allowed 37 passing touchdowns and had just 12 interceptions. Opposing quarterbacks had a 98.6 rating, the third-highest total allowed last season. All while the Vikings racked up 41 sacks.
Somehow, those numbers were even improved over 2011 when Minnesota allowed a 107.6 quarterback rating and gave up a league-high 34 passing touchdowns, while finishing with a league-low eight interceptions.
The secondary has been a weak spot for years. Injuries hit every season, forcing the Vikings to dip into depth that just wasn't there. Cook finished his time in Minnesota, once as a promising second-round pick, without an interception. Antoine Winfield was let go and not replaced capably. Last year it was injuries again (Rhodes and safety Harrison Smith) and Josh Robinson's confidence dipped when he was asked to learn to play inside in the nickel and he was graded as one of the league's worst cornerbacks.
To address the position, the Vikings signed Munnerlyn, who has seven interceptions the past four years with the Carolina Panthers. Minnesota will also be hoping for health and continued development from Rhodes and Smith. Smith has the talent to be one of the best safeties in the league and could find his way to a Pro Bowl as soon as this season.
The new coaching staff — which includes former Pro-Bowl cornerback and defensive coordinator Jerry Gray as the defensive backs coach — committed to keeping Robinson on the outside and he says his confidence is climbing. He could potentially hold off Munnerlyn in the base defense and give Minnesota its best set of cornerbacks in the nickel in years.
The Vikings also signed Cox, a cornerback who signed a big contract with the San Diego Chargers as a free agent only to be released after one season. Cox has the potential to bounce back. He had 12 interceptions in four seasons with Jacksonville before signing in San Diego. Minnesota drafted two cornerbacks in the seventh round.
The safety spot next to Smith is open. Robert Blanton, a college teammate of Smith as a cornerback, has the early edge and the Vikings return Jamarca Sanford, who's started much of the past three seasons. Minnesota also signed Coleman, a former starter in Philadelphia.
Zimmer's roots were as a defensive backs coach, and Gray adds another perspective. The Vikings have to hope the changes, the development of young players and the coaching take root.
ALEX MARVEZ'S 2014 PREDICTION
Adrian Peterson was once able to carry Minnesota's anemic offense. Expecting that again in 2014 may be asking too much. Peterson turned 29 in March and is coming off an injury-tainted season in which he no longer looked like the NFL's best running back. The Vikings need better play at quarterback, whether it's from retread veteran Matt Cassel or 2014 first-round pick Teddy Bridgewater. At least the defense should be better – especially on third downs – under new head coach Mike Zimmer. Prediction: 6-10.
Follow Brian Hall on Twitter