An oral history of 'Little Big League'
"Baseball is made for kids. Grownups only screw it up."
Hall of Fame pitcher Bob Lemon coined that phrase during his Hall of Fame career with the Cleveland Indians from 1946-58.
Decades later, his quote took on another life in the 1994 Castle Rock Entertainment film "Little Big League."
The movie is the story of 12-year-old Billy Heywood, who inherits the Minnesota Twins franchise from his grandfather. While Heywood quickly learns the business side of Major League Baseball, players rediscover their love for the game and find themselves in the middle of an unexpected playoff race.
On its surface, "Little Big League" is a quixotic plot about the managerial career path from the dreams of a preteen. But look deeper into its core, and no other film captures the pure love, harsh reality and authenticity of the sport of baseball better than "Little Big League."
Twenty-six years after the film's release, FOX Sports North caught up with screenplay writer Adam Scheinman, actors Timothy Busfield, Luke Edwards and Michael Papajohn as well as nine others involved to get a behind-the-scenes look at the most underrated baseball movie of all time.
1ST INNING: A COMMUTE TO WORK
In the early 1990s, Gregory Pincus was living in Los Angeles as an aspiring screenplay writer, or in his words, "that meant I was working at a video store." He wrote the original script of "Little Big League," which was purchased by Castle Rock Entertainment — a film and television production company founded by Martin Shafer, Rob Reiner and Andrew Scheinman, among others, which is best known for hits such as "Seinfeld," "The Shawshank Redemption," "A Few Good Men" and "Best in Show." Shortly after the script was purchased, the reins were handed over to Scheinman, who made his directing debut and hired his brother, Adam, to join him in Minneapolis as the on-site screenplay writer. However, both Pincus and Scheinman shared the same vision — whether it was the plot, the dialogue or the actual play on the field, the baseball had to be authentic.
Gregory Pincus (screenplay writer): I was driving to work one morning on the freeway out here and had the random idea — what if a kid owned a Major League Baseball team? I wrote all of it in a very, very hot apartment here in the L.A. area, and it actually sold!
Adam Scheinman (screenplay writer): Martin Shafer was the guy behind most of Castle Rock's projects. He would decide what was a go and what wasn't. He liked the idea of this script. They bought the script and knew my affinity for baseball and said, "Why don't you take a crack at it?"
Pincus: I did not pick the Minnesota Twins. The original script was written as the [Kansas City] Royals – but for a number of the same reasons why the Twins are perfect. It couldn't be New York or Los Angeles because the idea of a kid, even back then, in a major market with the press — it would've been a totally different thing. It needed to be a place that was smaller and where there was a real relationship between the fans and the team and the city. Part of that came up because one could shoot inside of the Metrodome — the fact that it was an indoor stadium made shooting much easier.
Scheinman: That's why we picked the Twins, so we could control the shooting. There wasn't anything magical about the Twins, it was just that we could get the stadium after the season — although we had to work around football games.
An oral history of 'Little Big League'
John Gordon (Wally Holland, announcer): I think it was a big lift for [the Twins]. It was really a neat thing since most of the movies are shot on the West Coast.
Luke Edwards (Billy Heywood, manager): I was struck by how serious the creators were about baseball. It was really obvious upon reading the script that these guys were real students of the game.
Pincus: I wanted it to be real baseball. Is it really believable that a kid like Billy gets the team and names himself manager? Well, no. Probably not. You accept one level of implausibility – a 12-year-old is now the owner of the Twins and makes himself manager. Within that, the baseball's got to feel real, the story had to feel real. All of that has to feel possible.
Scheinman: I had it that the Twins lost [in the playoff game against the Seattle Mariners at the end of the movie], just because if you're an athlete, that's what happens. I go crazy when fans will excoriate a guy because a shot rims out. Losing is a huge part of sports, in my mind. It just is. I thought it was a little more interesting because in every single movie, they win.
Pincus: I wrote it that way. And I assure you, I thought about them winning and explored what that would be like at some point in time. We've seen the movie where they win. We see that every time. Because it's satisfying.
Scheinman: Castle Rock is about the only place that would have allowed it to happen. They were great. I can't imagine a bigger studio would have allowed it.
Pincus: We're bummed that they didn't win and yet, we're still happy about what happened. We still care about what happened. We're still grateful for the experience that we had with the team. At its best, I think all sports are like that. The reason I think we still talk about it now, 26 years later, is that as the baseball stuff goes, it really works. And it works a lot better than a lot of the other baseball movies.
2ND INNING: LIGHTS, CAMERA, PLAY BALL?
With a desire to take the Hollywood out of baseball and instead, take baseball to Hollywood, Castle Rock Entertainment held an on-the-field tryout before holding a single audition for an actor.
Michael Papajohn (Tucker Kain, RF): My buddy Jeff Reboulet was playing in the big leagues. He was an LSU guy and was a Minnesota Twin. Reb's agent called me and said, "I know you played at LSU and I know you're acting out here. I think you should jump on [the audition]."
Ed Hanley (set costumer): They're either going to hire actors and deal with the [game action] as doubles, or they're going to hire the athlete and try to get him to get through the scenes. In this case, they were really able to find nine good baseball players, good athletes.
Timothy Busfield (Lou Collins, 1B): If you have a 12-year-old [Billy] and then a bunch of non-ballplayers, then the phenomenal aspect of a 12-year-old being able to manage a Major League Baseball team, it wouldn't have worked. You needed this movie to be great baseball.
Scheinman: There was a list of baseball players and actors who had claimed they could play baseball. We did the baseball tryouts before reading lines. We didn't want a great actor who might not be able to play baseball.
Papajohn: That's where a lot of the actors were weeded out. They were really looking for players that could go on the field and wear the uniform and be athletic and make everything look major-league authentic. Once they stepped on the field, you could just tell by the way they wore their socks that they weren't real players.
Hanley: Usually, you get on films where you have actors that cannot play baseball or cannot play the sport, or Russell Crowe can't skate on "Mystery, Alaska." That's what happens.
Wolfgang Bodison (Spencer Hamilton, CF): They didn't want to use doubles or stand-ins. They really wanted to see us doing the plays.
Papajohn: [At the tryout], they'd film you throwing and taking some swings. And then they'd put you on camera and you'd tell them your baseball background. I always slid or tried to make a diving catch.
John Minch (Mark Hodges, C): They took us through infield practice and batting practice. I did alright. Catching was my main position, so I was comfortable back there. Having professional experience [Minch played in the minor leagues from 1985-89] and being around the guys that I was around, you've got that attitude and that way of moving.
Tony Todd (Mickey Scales, 2B): I crashed the audition. I never acted before. I was coming home with a friend of mine, and we passed by a park where we used to play. There were easily 250 people out there on that field. I got out of the car and I went over there to see what was going on, and they said they were casting movies. I said, by the looks of things, and I'm not tooting my horn, I'm probably better than anyone you got out there. And they said, "Yeah, we've been hearing that all day." I said, alright, well, give me a shot and I'll show you.
Scheinman: [The casting director] goes, "What's your name again?" [Todd] goes, "Mickey Scales." He just walks up and says "Mickey Scales." He knew exactly what he was doing. We just didn't know about him.
Todd: They put the L-screen up. They gave guys 10 swings; they gave me five. Four of them go to the fence and the last one I hit off the wall. They told me to run to first base. And, you know, brothers can run. So, I didn't stop at first and decided to run all the way around and do a little slide at home.
Scheinman: He got people's attention because his personality is larger than life. Boy, he was an athlete. He just jumped out when he was at the tryout.
Todd: Later, I show up [at the studio] for a reading. I get halfway done and they tell me to stop. They asked me if I'd ever been to Minnesota. I said, nope, but I know Kirby Puckett's there! They said, "Well, that's great because you're going to Minnesota and you're going to play the part of Mickey Scales." I went berserk. I started high-fiving everyone.
Hanley: Guys had ideas about their [jersey] numbers, for sure.
Todd: They asked me what [number] I wanted. I went with No. 11. I told them if I'm playing second, I gotta wear [Chuck] Knoblauch's number. I was a Black Chuck Knoblauch.
Papajohn: Not only were we so excited to be booked on it, it was a very great paying job. I kissed the script I was so excited to do it.
Bodison: I tell people the movie was probably one of the more fun ones that I've done. It started on the flight [to Minneapolis].
Papajohn: I remember Wolf [Bodison] on the plane ride coming up to me. He had a picture of an outfielder cut out of Sports Illustrated throwing the ball from the outfield. He said, "Papajohn, see that? I want to throw that ball like him." He was a football player [Bodison was a cornerback at the University of Virginia in the late 1980s]. He was adamant because he had to make some throws from the outfield hitting his cutoff, and he wanted the crow hop and the throw to look real.
Bodison: In high school, I played mostly infield. It was just a different throw [in the outfield]. [Papajohn] had played at LSU on a national championship team, so he had another level up in terms of playing. He would work with me. We worked out together a few times.
3RD INNING: FILLING OUT THE ROSTER
Adam and Andy Scheinman and the rest of the "Little Big League" production team had themselves a cast full of ballplayers. But it wasn't quite complete. They still needed to hand pick a lead actor for the role of Lou Collins and the kid wonder Billy Heywood. And to push their desire for a high level of authenticity even further, they added three big leaguers to the fictional Twins roster — Leon "Bull" Durham (Leon Alexander) Kevin Elster (Pat Corning) and Brad Lesley (John "Blackout" Gatling). John Gordon, who was the radio voice of the Twins from 1987-2011, also joined the mix.
Scheinman: Tim Busfield came in really late. We had cast a guy [for the Lou Collins role] named Brad Johnson, who was about 6-foot-4 and just looked like a Mike Trout-type guy. In my mind, that character was always like Lou Gehrig. He didn't talk very much. If he spoke, it was a big deal. But [Johnson] couldn't get out of his commitment. He had a TV pilot and right at the last minute, they wouldn't let him out. We were really strapped.
Busfield: They cast me as one of the other roles, and then they moved me up to play Lou in rehearsals.
Scheinman: We had never really seen Busfield [on the field]. I knew he played semi-pro, but that doesn't mean a lot. But he could play baseball and he's a very, very good actor. At the last minute, he worked out great.
Minch: Busfield was great — the guy with the most [acting] experience probably out of everybody. He was very open and helpful and encouraging on and off the field, keeping everybody going.
Hanley: A lot of times, you see actors and they're trying to pull something off, and then, for example, they go pick up their shoulder pads and it's like, "No, you don't carry them like that." It just sets you off. If you looked at his movements, everything was as a baseball player.
Busfield: I wasn't a left-handed hitter.
Scheinman: He's actually a righty; he decided it'd be better if he batted lefty. He liked his lefty swing.
Busfield: I'm still not a left-handed hitter. But I could imitate left-handed hitters, a lot of [former San Francisco first baseman] Will Clark at the time. Any time I'd try to hit right-handed, I'd just hit line drives. I was a good No. 2 hitter and could bunt and hit the ball the other way. But I played a lot of baseball and a lot of wiffle ball as a kid. In wiffle ball, I would take the big left-handed swing — the Reggie Jackson — I could put the loop on it. It's a prettier swing for me from the left side.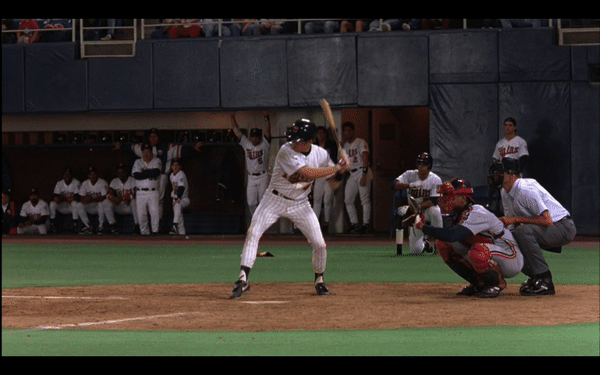 Kevin Elster (Pat Corning, SS): Timmy had a really pretty swing. He held up fantastic. Me and Timmy got to be very good friends. Before any of us went out to Minneapolis, we went to a field and rehearsed a lot of baseball stuff. I was mostly coaching and helping Timmy with his swing. He totally sold it. He definitely held his own.
Hanley: We had Kevin Elster at shortstop. Elster played with the Mets when they won the World Series [in 1986], and he played in the big leagues again after this movie.
Elster: We shot the movie in 1993. I was still in the middle of my career. I had a shoulder injury, and the Mets released me — the bottom line is I didn't have a contract that year. I was trying to come back from shoulder surgery. I was with the Dodgers in spring training [in 1993], so I was in the L.A. papers a lot. This Hollywood agent, his name was Dick Dunn, read about me and got ahold of my agent and said, "Listen, Kevin should go read for this movie. They've got an open call for a couple of parts."
Kent Paulson (Twins third-base coach): At the time, his glove — Elster was amazing.
Elster: But I didn't know anything about acting. Nervous as hell; I didn't know what I was doing. I read in front of a camera and a couple of casting folks behind it. I didn't think I did that well but I got a call, and they said I got the part.
Scheinman: It was funny because Andy said to me, "You realize we're not actually trying to put a real team together, right?" I'm going, you know, [12-year MLB veteran] Lenny Randle, we could use him at third. Andy says, "He can't act!"
Hanley: They took a chance on [Luke Edwards].
Scheinman: My brother had a great feel for what this kid [Billy Heywood] should be.
Edwards: What I was told is that prior to one of my callbacks, the director, Andy, saw my headshot on a stack of headshots, pointed to it and said, "This is what I want the kid to look like!" Right after saying that, I was the next kid to come in.
Scheinman: It wasn't your standard Disney movie kid who would be more effusive and bubbly and wide-eyed. Andy said, "I like this." And I felt it worked.
Todd: I thought he did an incredible job. He would just hang out with us. He was a great kid.
Hanley: He was surrounded by a lot of good actors. Dennis Farina was great. Jason Robards, Busfield, Ashley Crow — they were all great actors.
Ashley Crow (Jenny Heywood): [Luke] was wise beyond his years; thoughtful and kind and a little bit quiet at the time, but super smart. In my opinion, he was an accomplished actor at 12. He really knew a lot about the world that he was moving in.
Edwards: I'm definitely not like Billy. I don't know the whole history of baseball. It was really just about the acting, the performance — being able to rattle off a bunch of information as though it was second nature.
Todd: I know one thing I would've done if I was 12 years old. If my grandfather died and he said, "Oh, you have the team now." You know what I'm doing? I'm putting myself in that lineup, bro. Hey, commissioner's office, someone's gonna have to tell me no. That's just me. I just have to be in the game. It's my team!
Gordon: "Little Big League" is right up there on the bucket list as one of the best things and most interesting experiences that I've ever had in broadcasting.
Scheinman: [For the announcer role], we were going to get Jon Miller. [Miller, who has been the play-by-play announcer for the San Francisco Giants since 1997, was a baseball announcer for ESPN and the Baltimore Orioles at the time.] He's just the nicest guy in the world and really funny. We said, well, he's going to be our guy. He came in and just wasn't very good. He admitted, "I'm dying here. I can't do this. The guy you ought to get is John Gordon. He is this guy."
Gordon: Andy Scheinman was at the University of Virginia as a graduate student, I believe, when I was doing broadcasts for Virginia Cavaliers football and basketball. They called me and asked me [to take the part], and I was thrilled.
Scheinman: So, we read John Gordon and the guy was unbelievable. He got every joke, he hit every note without any help. He was just perfect.
Gordon: They gave me the script and I, for a couple of days, took all of the lines and put them on a 3×5 card. I studied, "Here's the pitch," or whatever the line was, I had it on a card and I practiced it. I felt that was what I was going to do. Well, the day came — I got there at 10 o'clock. It was really funny because I had a trailer in the parking lot of the Metrodome. I was in the trailer for about five minutes, and then they called me, and then I went upstairs into the broadcast booth.
Scheinman: He goes, "Can I put my hand on my ear? I always do that!" We go, sure! He just was perfect for this guy.
Gordon: I had my little 3×5 cards, and I was all set to go and everything. And all of a sudden, another person was off to the side. And he would read the line. After he would read the line, I would read the line. And then, that was it. I didn't need those 3×5 cards at all.
Scheinman: He just nailed it. His timing was great. Because you could really screw it up. He'd say, "He's hitting .600 … at home … in August!" And because he would read it that way, it made it way funnier. He was just great. I don't know if he had any comedic background, but he nailed every joke.
4TH INNING: KEN GRIFFEY JR. — "THE KID" BECOMES THE VILLAIN
Aside from the three big leaguers on the fictional Twins, there were 15 major-league ballplayers and one manager (Lou Piniella) who made cameos. And they brought some serious hardware to Minneapolis. Ken Griffey Jr., Randy Johnson and Ivan Rodriguez all have plaques in the Hall of Fame. Rafael Palmeiro, Paul O'Neill and Sandy Alomar Jr. combined for 15 All-Star appearances. In 1993 when the movie was shot, there were no bigger stars in The Show than Griffey. He had just wrapped up his fifth MLB season and was already a three-time All-Star. Griffey would finish second in AL MVP voting in 1994, the year the movie was released. So, there was no greater foe for the "Little Big League" Twins to face in a one-game, win-or-go-home playoff at the end of the film than Griffey and his Seattle Mariners.
Scheinman: My brother had an option. I believe it was to use what then was new technology called Avid, which made editing unbelievably easy. At the time, it was brand new. And he said, "No, I'll take the money and get real baseball guys to come in instead." So, we just sent out feelers [to MLB players and agents] and made things work.
Hanley: When they come onto the set, and some of your actors are guys like Kevin Elster, they really feel comfortable. Because you can pull off anything you have to do. If you have a bunch of non-baseball-playing people out there on the field with them, they're not going to be too crazy about it because it's not going to look right.
Elster: Pudge [Ivan Rodriguez] and I were teammates in Texas for two years. I just remember them looking at me going, "How the hell did you get this gig, man?" They were so jealous of me. I said, look I get to do nothing but have some beers in the middle of the day. You guys have got to work, man. So, at the time, I'm thinking maybe I'm just going to give up this baseball gig and become an actor. But I had to go back and play. I had more playing to do.
Papajohn: We all blended in really well with them. It was just a cool, laid-back, fun experience. Watching Ken Griffey Jr. crush batting practice, that's pretty cool.
Scheinman: In my script, I didn't have Griffey. I can't remember who I had — maybe Rickey Henderson. Once we got Griffey, we said, ahh, great. Once we got guys, I would just make little adjustments so we could have a reason for them to be in the movie. We just got as many guys as we could. It wasn't hard.
Paulson: There was a scene where Griffey needed to get it out of the park. If you remember, there's a home run that he hits to right field. [The dinger gives Seattle a 3-0 lead in the sixth inning of the playoff game.]
Busfield: They want him to hit it over the baggie.
Paulson: You don't see me, but I threw that pitch.
Busfield: First of all, he takes a couple of swings, and I'm down at first, and I've never seen anything like it. They're like scud missiles. I'd never seen anything like Griffey's ball.
Scheinman: He's hitting off a batting practice pitcher [Paulson], but it's live, and he's hitting these — just ropes. But he can't get it over the fence.
Busfield: Andy Scheinman comes out, I can't remember what section it is, but he goes, "I need you to hit it up in section 212 (or whatever it is) over the baggie."
Hanley: They wanted him to hit the Coca-Cola sign; I think it was a Coca-Cola sign.
Paulson: [Griffey] came out to the mound to talk to me, and I'll never forget it. He said, "Keep it knee high, inside, and if you have to hit me, hit me. But if you keep it inside, I'll get it out of here."
Scheinman: John Minch was the catcher. Andy goes, "OK, John, just set up inside." Not trying to be funny, Minch says, ''There's no way I'm setting up inside on Griffey in a 0-0 game in the sixth inning." That's the level that these guys were taking it.
Paulson: I told Griffey, I'm not going to hit you. There I am — I have my three baseballs in my left hand and one in my right hand, and I'm throwing fairly hard, and the object is to throw the pitch that Griffey likes so he can hit a home run. It's not your usual Sunday morning batting practice. They had probably 1,000 people up in the stands. So, the director yells "Camera, crowd, action." The people out there were starting to make noise. It's up to me now to throw it down where he wants it to get it out.
Busfield: So, he hits the ball. He takes the first pitch, and he hits it up in the upper deck. Are you kidding me? It was a live pitch and he hit it like it was fungo and he was standing still.
Todd: The bombs that Ken Griffey Jr. was hitting at the Metrodome? They're still going!
Busfield: The [production team] comes around home plate, and they're talking to him. I run down and say what was wrong with that? That was perfect! Andy Scheinman says, "It exited frame. The way the camera was lined up, we didn't see it land." And [Griffey] goes, "OK, no problem." He takes the bat and taps it upside down on the plate to see if it's broken. The AD [assistant director] starts yelling, "We gotta go, we gotta go, we gotta go." And Griffey, not being [experienced] on a movie set, he panics and says "OK, we gotta go." And I could see there was a little hairline crack in the bat. I go, you need another bat! And he says, "No, that's ok."
Paulson: On the second pitch, he bombed one into the right-field stands.
Busfield: And action! He hits the next pitch out with a broken bat in the right section, exactly where the director wanted it. Two swings, two balls in the upper deck. Literally, like he was playing pepper. He had that kind of control. It was stupid.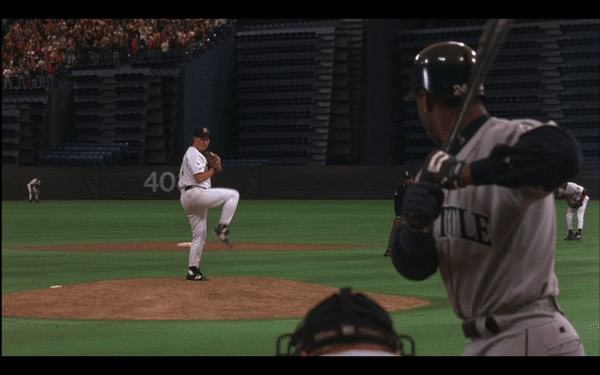 Paulson: I cautiously got some autographs. Griffey, just a class act from start to finish, as we're up on the mound talking, I think he said, "What can I do for you?" And he signed four baseballs for me. I gave one to my son. He was a great guy. I was in seventh heaven.
Minch: Since I was a catcher, I'd talk to him a bit here and there. At that point of time, the bats he was using were double dipped in the clear lacquer finish. Every other bat up to that point, once they finished it, if they had the clear on it, they would just dip it once and that was that. He wanted to double dip because that made it a little harder. I asked him about that, and he said, "Oh, I've got a box in my trailer." He said, "I'll give you one; come on by afterwards and I'll give you one." So, he gave me one of his bats. I've still got it.
Scheinman: He makes the [game-winning] catch at the end. My brother goes, "You want fans jumping trying to get the ball? That may be hard!" Griffey holds his glove and it says "Gold Glove" on it. He goes, "Just throw it. I'll catch it." Minch was out there with a cup of coffee in one hand, throwing it [to Griffey] and was just dead on every time. My brother's going, "Every day, John Minch. Whatever you need."
Edwards: Ken was around for a couple of days. I kind of got to hang out with him more [than other players]. He actually did a funny thing. There was a local TV station that was doing an interview about the shooting of the movie on the day that he was there. He came by and he — I guess they do this to rookies where they shove shaving cream pie to the face. So, I got one of those. That was kind of neat. He was the nicest guy.
Minch: Ken was just as he is. He was a big kid. He enjoyed everything; he was open to everything. He went along with everything. He was just having fun like he always was.
5TH INNING: RANDY JOHNSON, THE BIG UNIT
Behind Griffey, the second-biggest star in the movie is Johnson, the intimidating 6-foot-10 Hall of Fame left-hander. In 1993, Johnson was 29 years old and was coming off his second career All-Star appearance, as he led MLB in strikeouts (308) and hits per nine innings (6.5). Johnson makes his "Little Big League" cameo with a surprise relief appearance out of the Mariners' bullpen in the bottom of the 10th with two outs. His task? To get Lou Collins out and end the game — and the Twins' season. (For the record, Johnson appeared as a reliever in three playoff games over his 22-year career, including Game 7 of the 2001 World Series.)
Edwards: Randy Johnson, not that he was a mean guy at all, but he was really intimidating in person. He's an intimidating personality. He's huge. He was really quiet and didn't say much and when he said stuff, it was kind of grumbly.
Busfield: Randy came to shoot the scene where he's pitching the ball to Lou. He gets on the mound and he calls Andy Scheinman out to the mound. And he says, "I don't get it. [Wade] Boggs and [Don] Mattingly are taking themselves out of the game when I come to New York. And Busfield is gonna hit me?"
Papajohn: Randy Johnson, man.
Busfield: I couldn't hit him at all. It was a nightmare. I went up there. It was one of the most embarrassing days of my life. Nobody really knew I wasn't left-handed except for maybe some of the ballplayers.
Bodison: You really don't get a sense of it watching it on TV. But being right there along the side, Randy would rip through the thing and whoosh!
Busfield: The first ball he threw, I think it's in the movie. And it was right under my chin! I was like, what the — what is that? All I can remember is John Kruk against him. That's the worst thing I've ever seen.
Busfield: I knew he wasn't airing it out. He wasn't going to throw it 100. But it was truly intimidating. You could see why nobody could hit him. First of all, the mound is 10 inches. And then he's like 6-10. He let go of it behind my head. You have to be like the girl in "The Exorcist" to get your neck around far enough to be able to see it with two eyes because he's so big. So, you could see why — lefties, just forget it.
Bodison: And I'm like I'm glad I'm not Busfield right now. Because it's just incredible.
Busfield: I couldn't touch it. I went to Randy, walked out there and I said, do you have four-seamers in the 70s? Can you give me three of those? And he goes, "I don't know how to do that."
Papajohn: He had to tone it down. I remember the director said, "Hey, you can't throw that hard."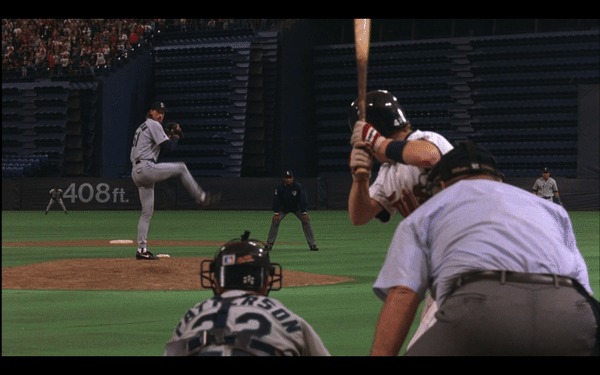 Busfield: So eventually, I finally caught up to something. It was a ground ball.
Papajohn: What's great about Hollywood ball — I call it Hollywood ball — if you swing and miss, you get another chance to do it again.
Busfield: And then Papajohn was throwing me the ball I hit in the movie, from maybe 15 feet away. He's just soft-tossing me that. So, the ball I actually hit and the big swing I take is off Papajohn.
6TH INNING: "THE BEST BASEBALL OF ANY MOVIE, HANDS DOWN"
With a cast bursting with talent and more Hall of Fame cameos than the annual MLB All-Star weekend, the baseball in "Little Big League" rises above its competition. Even the most obscure of plays were all real. For example, in the opening scene of the film, three players on Heywood's little league team ended up standing together on third base after an extra-base hit. That actually happened in a major-league game between the Boston Braves and the Brooklyn Dodgers (then dubbed the Robins) on Aug. 15, 1926 when Babe Herman tried to stretch a two-bagger into a triple with the bases loaded. Chick Fewster advanced from first to third but stopped there, and Dazzy Vance sprinted back to third base after getting caught in a rundown at the plate. Odd, sure. But real? Absolutely. No convenient cutaways, no CGI animation, no fictional, wild plays — just pure baseball.
Gordon: Many, many people that I talked to said, "Boy, where did these guys get the ideas for these baseball scenes, and how did they pull them off?"
Scheinman: All I did was read baseball books when I was little. So, I did zero research for this. It was just stuff that I knew off the top of my head.
Papajohn: The University of Miami did a pickoff play in the 1982 College World Series.
Scheinman: I heard about the play. There was a guy who ended up with the [Chicago] Cubs named Phil Stephenson. [Stephenson, who played for Wichita State from 1979-82, led the nation with 87 stolen bases in 1982.] He was picked off on the play.
Papajohn: Skip Bertman, my head coach, pulled off that pickoff play in the College World Series against Wichita State. [Bertman was the associate head coach at Miami from 1976-83 and coached at LSU from 1984-2001].
Scheinman: That's where I got that from.
Papajohn: They did it at the University of Miami, and they did it as the Minnesota Twins in "Little Big League."
Minch: I just gave the sign at the beginning. They wanted me to do something different, because normally as the catcher you go out there and give the sign, maybe tap your forehead, your chin, your chest, your leg. Something like that. But they said do something different to make it look like there's something going on besides a basic play. So, that's when I figured I'd take my helmet off and spin it, and put it back on. That's something different. So that's how that came about.
Scheinman: It was funny because that pickoff play, people will call me and they go, "I saw the thing! It's illegal!" No, no, he breaks with the rubber — we just didn't show it. That was the only thing that frustrated me. Because Dick Such was the pitching coach of the Twins [in 1993], and he was working with Jonathan Silverman [who played pitcher Jim Bowers]. I kept saying you've got to break with the rubber before you throw to first. And then it's not a balk. So, he did, but you can't see it in the movie.
Elster: Something happened with the dailies [of the pickoff scene when Elster winks at Griffey]. It was too dark or something like that.
Scheinman: Andy, my brother, goes, "Dammit. I wish we had that wink from Kevin Elster. We don't have it." They said to Griffey, "Any chance you'd come back?" He goes, "Yeah, I've got my guys!" Griffey was just with friends driving cross-country back to Cincinnati from Seattle. They drove back to Minneapolis just to hang out.
Elster: I remember Griffey had to come back and we had to reshoot it. We had to double take that. So, I always said my first wink was better and you guys ruined it!
Pincus: There were a lot of baseball movies in that period of time. And I think that the thing that stands out about "Little Big League" is the footage. The actual game play. The love of the game itself.
Gordon: The actual baseball footage that they got was probably some of the best baseball footage that has ever been produced in baseball films. I would agree with that.
Busfield: We had the best baseball of any baseball movie, hands down.
Bodison: This was a year or two after the Charlie Sheen movie "Major League" and you know, we started talking it up. Ahh, man, we should get them together and play them in a game. We took a lot of pride in that being the case in the movie.
Hanley: The Scheinmans were big, big baseball fans. Everybody that was involved in it wanted to get it right. That I think is, when you have that you're going to have the chance to do the right thing – get what's on film as authentic as possible.
Elster: It was really important to Andy. That's what they wanted. That's why they brought in all the players and that's half the reason, let's face it, that's mostly the reason I got the part because I could actually play and I could speak a few lines. They wanted to get those ultra-slow-motion shots of me flipping the ball and things like that. They really wanted the baseball to be real. I think they really achieved it.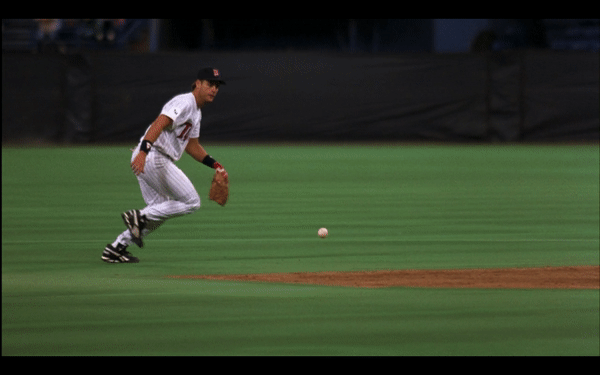 Todd: At third base you had Troy Startoni – he played in the [Cleveland Indians] organization. You had Kevin Elster at short. He played for the Dodgers and Mets. Me at second. Timothy Busfield – he was a great athlete. You had [Michael] Papajohn in right field — he played at LSU and in the College World Series. Joe Latimore played center field – he played college football and baseball. We wanted guys that could play the part and look the part. You can see there's no cutaways. When Troy's throwing the ball, you can see his hose from third to first.
Busfield: I was the worst ballplayer on the team, and I could play a little bit.
Papajohn: When you have that level of talent on the field, you don't really need a technical advisor. The director and producers and film makers were so open and fun, the players would chime in. We'd first talk about it, then rehearse it. Things came really easy for us in that movie because of our baseball experience. We could put together things really fast.
Todd: Kevin Elster — we would just come up with stuff all the time. "Ok, I'm gonna go in the hole, I'll pick it up with one hand and toss it over there." We had three brains to just make up stuff athletically for the director. And they can just pull the best stuff they were able to get. So, all that stuff happened in the movie.
Paulson: One of the reasons they hired me was because I did most of the batting practice pitching. Most all of the stuff that's hit — a lot of the stuff, anyway, is off me. No [pitching] machines, no machines at all. I don't know if I was humming it in there, but it was certainly fun to pitch.
Scheinman: These guys were into it. I particularly remember Elster going, "What's the count here? And how many outs?" And then he'd position himself. My brother goes, "Do you think they had these discussions in 'Rookie of the Year?'" Because Elster is moving like two feet to his left.
Elster: Yeah, I remember that. There was one scene where I had to hit a ball to right field. It's in the movie where I hit a ball to right field and Dave Magadan dives and catches it. When we shot it, we had a camera set up with a big plexiglass thing in front of it. I had to pretty much hit it right into the camera because that's how it shows on the movie. I think they were shooting it in high-speed camera, which shoots all this film per second. It's expensive. You can hear that motor running and all I'm hearing is dollar bills flying through that thing. And I've got to get this right. I must have swung 10 or 12 times trying to hit the ball to right field. Andy said, "Well we've got to get the shot, I don't care how long it takes." So, I just feel the pressure. And finally, I hit one right at the camera. And I didn't run. And they're like, "Kevin you've got to run!" And I was like, shit! So, I did it again the next shot so it looked real.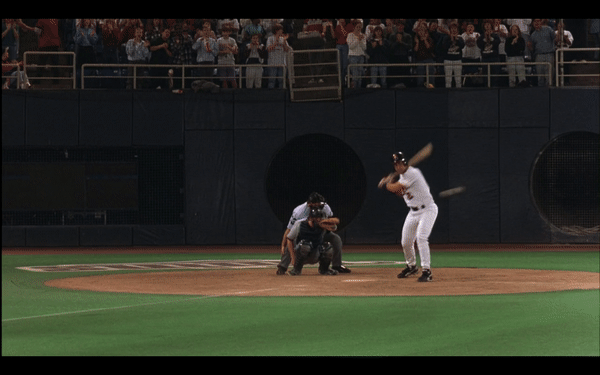 Paulson: When we got to Chicago in late September, one of the days it snowed. It was bitterly cold in Chicago.
Papajohn: It was 20 degrees [outside]. I've got very vivid memories of it. I've got chill bumps right now. I was eating oatmeal at 6:30 a.m. at Comiskey Park. I hear the AD on the walkie talkie saying, "Papajohn is up first." They had changed the whole shooting schedule. [The scene of Tucker Kain making a catch at the wall would be shot first that day.]
Hanley: He hits the wall, and you can see his face hit the wall when they did it in slow motion. We were jumping up and down for him because he just went for it.
Papajohn: I think we got that shot, I want to say the first time. We did that one time. It all starts with the person throwing the ball off camera. So, if the person off camera doesn't throw the ball and lead me while I'm running, and for me to make the catch – there's no acting there, I really had to hit the wall. I'm proud of that moment and proud of it that we did it one time. I couldn't do that now, that's for sure.
Hanley: When Papajohn came in, I don't think that character had two lines. I don't know if he had any lines. And he ends up in the trailer — in at least two big pieces of the trailer. That's Papajohn in a nut shell.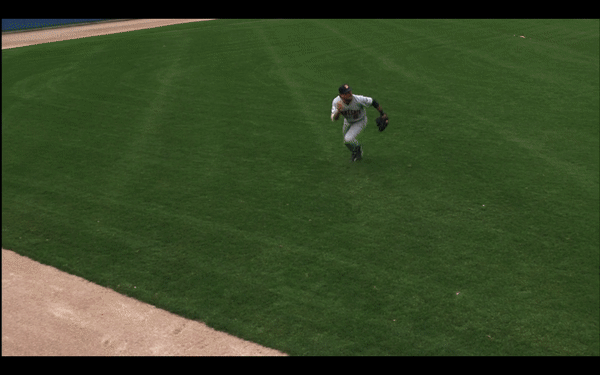 7TH INNING: CLUBHOUSE COMRADERY AND THE LOON CAFE
While the level of play was strong on the field, it was even stronger off of it. The cast portrayed big-league players for 10-12 hours per day while shooting scenes on the field. After the work was complete, they'd burst through the air-pressured Metrodome revolving doors and continue to live the big-league life away from the set. The actors formed a tight bond downing drinks, pulling pranks and racking up receipts at the Loon Cafe.
Elster: I was there for three months. It was the best three months of my life. We had so much fun doing it.
Papajohn: Our team went out a lot, I'm just going to be honest with you. Kevin Elster leading the way.
Elster: Man, we just pulled jokes and got along so well. To me, it was a big party. Coming from playing baseball, which is so disciplined and regimented, this was more of a fun atmosphere, a creative atmosphere.
Papajohn: Sometimes we didn't get enough sleep. So, if we weren't in a shot, we would find places to sleep in the locker room or in the dugout.
Bodison: Just like in baseball, you get to sitting around [while filming] and you start to get into practical jokes and stuff. [Papajohn] was sleeping in between shots, taking a nap. He had taken his shoes off.
Papajohn: I remember sleeping and having a jacket over my head. Then, my name was called, and I had my shoes off. "PAPAJOHN! WE NEED YOU IN THE OUTFIELD!" Of course, you don't want production to ever wait for you.
Bodison: Michael goes and puts his cleats on and SQUISH.
Papajohn: I'm hurrying and I put my two cleats on — and mayonnaise just squirted out my shoes. Wolfgang Bodison and a couple other guys filled my shoes up with mayonnaise, and I had to run out to right field and work the rest of the afternoon with mayonnaise in my cleats.
Bodison: It's the shot when he makes that diving catch in right field. Every time I watch that, I think yeah, he's got [mayo] in his shoes in that shot.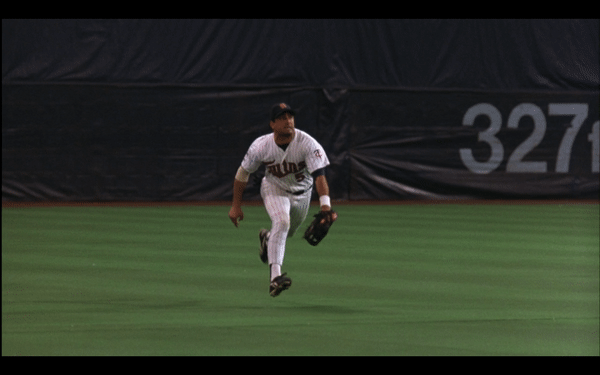 Papajohn: I never ate mayonnaise since then because my toes, by the end of the night, they smelled and they were all shriveled up. My cleats were full of mayonnaise. I couldn't take them off because I was in the shot, and I didn't have a backup pair. Whenever someone says something about mayonnaise being on a sandwich, I swear I go to the Metrodome and that memory. I go, no, no thanks, no mayo, just mustard. I remember sticking my foot in my cleat, and the white mayonnaise squirting through the shoelace holes. I remember Wolfgang laughing. Wolfgang, he spearheaded that.
Minch: One thing they told us is to decorate our lockers as we normally would.
Papajohn: I decided Tucker Kain wears boots. Snakeskin boots. He's a Southern guy and he loves bass fishing. So, mandammit, I've never told this in an interview, but I took a bass that I caught in Birmingham, Alabama — a mounted bass — and I got it sent to Minneapolis. If you look at a scene in that movie, you can see it. They showed my locker a couple times, and there's a mounted bass in my locker from Alabama.
Minch: A buddy of mine at the time, Dann Howitt, who was with the A's, had just had another baby. I think that was his second or third. I just put up his [baseball] card and a little sign that said "Dann Howitt has reproduced," and then in red letters, "AGAIN!" We would put stupid stuff in our lockers to keep us loose and keep the day light.
Scheinman: Later on, [Howitt] said, "I'm getting phone calls all over the place!" None of us had any idea, but on the big screen you could see it clear as a bell.
Elster: The Loon Cafe. I think we set up shop there, man.
Papajohn: I've got a tab still running at the Loon Cafe.
Elster: I used to send my mail there, as a matter of fact.
Papajohn: I'll never forget Jonathan Silverman coming over to me [at the Loon Cafe] and going, "Papajohn, what are you drinking beer for?" And I said what? I love beer! He goes, "No man, you've gotta drink hard liquor. Like scotch on the rocks. Because your face doesn't get as puffy on camera." He's coaching me as an actor that if you drink hard whiskey, your face won't be as puffy on camera. He was dead serious. "You don't want to drink beer! Drink the hard stuff on the rocks!"
Elster: I had a bookie that I worked with out in California. Brad Lesley was the big football gambler, so he turned us on to gambling on football. We'd go to the Loon Cafe and just sit there all day long on Sunday and watch football. And then go back to the hotel, and make our way back to our room at some point and have a 6 a.m. call the next morning.
Todd: Remember the wig I had on in the dugout just dancing around? Let me tell you how that happened. At the Dome in between takes, we just have music playing. Ashley Crow's stand-in — that was her wig. So, I took the wig off of her. They had some music playing, I think Michael Jackson or something. And you can see Papajohn and I just dancing around. The guys said, "Hey, you guys should do that in the scene." I don't know how to moonwalk, but I tried it, and it made it in the movie.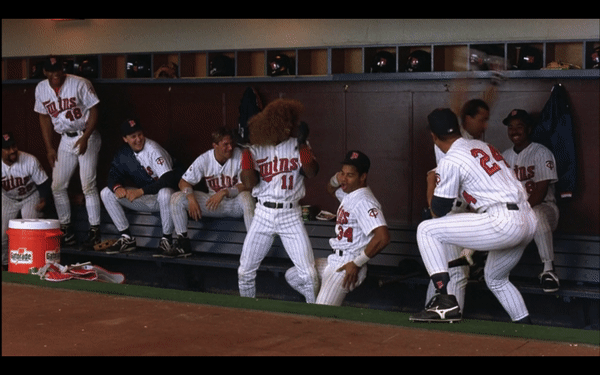 Papajohn: Putting the glasses on when I said, "Put me in coach, I can throw strikes!" with some big bottle cap glasses, that was all improv. I pulled a lot of that stuff from LSU. To bring that stuff to my character Tucker Kain, and for it to actually stay in the film, I was really proud of it. It was fun. That's all improvisation.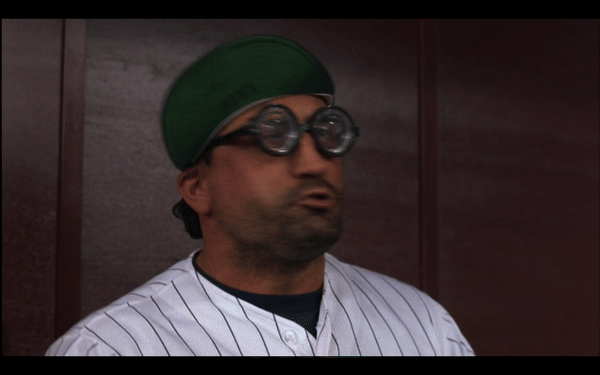 Elster: We started doing riddles and things like that in our down time. I did the "Cowboy rides into town [on Friday], stays for three days and leaves on Friday. How did he do it?" Me and Jonathan Silverman were doing these kinds of things. I think Andy overheard us one time and he said we got to get that in the movie.
Minch: Silverman solved the riddle [at the end of the movie], but that was my line. We were shooting when they were going to pan the dugout. And they said, "OK, we're going to pause on you. Think of something to say to the next guy." We only had about 20 minutes, so I was racking my brain. I couldn't come up with anything. I was just going to throw out some Steely Dan lyrics or something like that. John Ashton's stand-in, Marvin Moskowitz [was nearby]. I go, hey Marvin, I can't really come up with anything good. And he goes, "Oh, I've got something for you." So, he gave me the cowboy thing. So that's what I used, and then they ran it a couple of other times.
Elster: I started the riddle. Andy liked it when he heard us talk about it, and he put it in the movie. It worked out great. I always tell people I got that in the movie.
Minch: At the end, Silverman solves the riddle. [The horse's name is Friday.]
8TH INNING: REMEMBERING BRAD "THE ANIMAL" LESLEY
Brad "The Animal" Lesley was actually drafted by the Twins as a seventh-round pick in 1977, but he opted to go back to Merced College (Calif.) instead and was a first-round selection by Cincinnati the next year. Lesley pitched four seasons in the big leagues (1982-85) before jumping across the pond to play in Japan for another two years. It was there where he launched a second career in acting. Lesley played the role of Niven in the 1992 film "Mr. Baseball." He starred as John "Blackout" Gatling in "Little Big League," playing a grumpy reliever who "hated fun" but loved tobacco. Tragically, Lesley passed away in 2013 due to a kidney failure. He was 54.
Elster: Brad was a dear friend of mine. He died a few years back now, so that makes me sad. He was larger than life.
Papajohn: I remember how down-to-earth he was. And how much he loved life and his teammates around him. I've never seen someone chew tobacco like him. Or laugh like him. I loved his laugh. That's one thing about "The Animal" — he had a one-of-a-kind laugh. Once you heard it, you'd never forget it.
Minch: He was great to work with. Actually, in the hotel — we stayed at the Marquette — we had adjoining rooms. We got along so well we just left the door in the middle open. So, the entire time, we'd just go back and forth. The door was open pretty much 24/7 to come and go. We got along great.
Edwards: He was the most entertaining guy. He had stories and stories and stories for days. Some of the stuff in the movie that he does, that's him! The big ass ball of chewing tobacco with gum wrapped around it, that was his thing! That was a thing he actually did. That's so bananas.
Scheinman: He was such a good guy, a great guy. I saw him putting the bubble gum around the wad of tobacco. And I go, well, that's got to be in the movie!
Papajohn: I remember kissing him on the cheek in the dugout. He had a big ol' wad of chew and bubble gum. And he was like, "What the hell are you doing, Papajohn?" I don't know why I'm telling you that story, but that's what I did.
Bodison: He was a character. Who you saw in the movie was him. He was just like big bear. Funny guy, very personable, good player. Overall, just a good dude.
Scheinman: In the movie, he does his thing where he strikes out a guy and goes "YEAHHH!"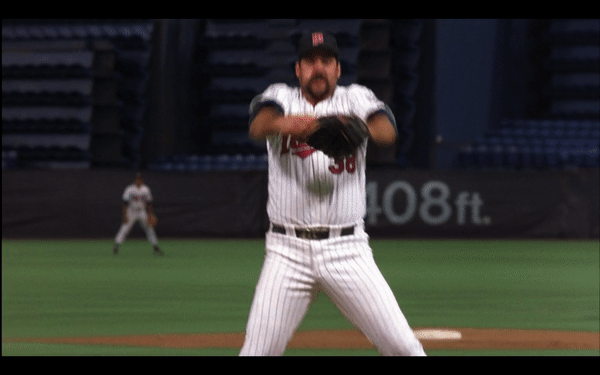 Scheinman: He used to do that in the majors, too. Apparently, he did when [the Reds] were playing the [Houston] Astros, so he was pitching against Nolan Ryan. [Lesley] had come in relief but Ryan was still pitching. Ryan got pissed off at him and struck out the side, walked up to their dugout and did that move to him.
Elster: He was huge in Japan — a big star in Japan. What a genuine, big-hearted soul brother. Just a wonderful guy. He's "The Animal," man. One of a kind — they broke the mold with him.
9TH INNING: DOME SWEET DOME
As the lead actor, Timothy Busfield had the opportunity to train with Kent Hrbek, Tom Kelly and the 1993 Twins at the Hubert H. Humphrey Metrodome, which was just over 11 years old at the time "Little Big League" was filmed. For three months, Busfield and the rest of the cast and crew called it home. These days, now that U.S. Bank Stadium stands in its place, the "Little Big League" scenes at the Metrodome serve as a time capsule back to the days of troughs, Dome Dogs, AstroTurf and big baggie walls.
Todd: Being an ex-athlete, you can't believe it. I'm getting paid to do this? And I'm in the Dome? It was a dream come true. You can get where I'm coming from — just being able to play on a major-league field and pretend like you're a big-leaguer.
Busfield: I hit batting practice with the Twins for the last month of the [1993] season. For all the home games, I was in a rotation with [Kent] Hrbek. And I was learning to hit left-handed. [Former Twins manager] Tom Kelly would not let me hit right-handed.
Hanley: I remember that it's like Vegas. You never know what time it is. You're inside the whole time and it never changes.
Busfield: I had a brand-new first baseman's glove. I showed it to Hrbek and I said hey, how do you break in a glove? And he took it, threw it on the ground and just jumped up and down on it. I was like, ok, I've never quite seen that before.
Elster: We spent so much time in there, so much down time. We just started making up things to do. I remember just walking around the entire stadium, upper deck, just going through every door that was open, trying to get lost in there.
Busfield:  I had a locker between [Kirby] Puckett and [Dave] Winfield. They were really great. I did finally hit one and Puckett let it hit the baggie. He backed up and then he stepped off to the side and he let it hit about head-high [off the baggie]. It would've been an out. But he gave me the satisfaction of hitting it off that.
Minch: The funny thing was the Dome, everybody heard, "Ahh, you can't see from the ceiling." The roof made it hard to see the ball. I was in center field, shagging balls, and somebody hit a fly ball where I went back towards the fence. I took my eye off the ball to find the fence. I looked back up to see if I could find the ball and there was nothing there. I was about ready to duck, and then all of a sudden the ball emerged out of the ceiling and I was able to catch it. But I would've gotten smoked if I hadn't seen it coming.
Scheinman: The one thing I regret, and I regret it unbelievably. We would finish shooting and then go look at dailies — the film from the previous day. Little did I know, every night they were playing baseball, playing pickup games in the Metrodome.
Hanley: The crew played baseball after we would shoot. The props guys would stay and a bunch of us would stay and play baseball at night and have the whole Dome to ourselves, which was really fun.
Paulson: They left the lights on for us. I would just throw these guys batting practice until they couldn't hit the baseballs anymore.
Bodison: First off, we tried not to hurt ourselves – especially for the filming. So, you kind of just gave three-quarter effort. I think I tweaked my hammy [one night] just because you start to stride it out a little bit too much. Or even like a BP, hitting one out — barely. Just having fun doing that kind of stuff. Of course we're all former athletes, so we're all competitive. So even though it's kind of a loose pickup game, guys want to win.
Edwards: It's awesome. We had total freedom in that place. That was one of the most fun experiences, for me, being a kid. You get to just run around this huge stadium. You get to go to all of the places where you're not normally allowed to go. We had these vehicles you could ride around in. They would use those to get around the stadium because it's so huge. So, we would ride around in those all over the place. It was super fun.
Minch: My aunt lives in Minneapolis. In '87, she got us World Series tickets and we came in and went to a couple of games. I was there and still have a Homer Hanky hanging up. But, you know, being in the Dome was a thrill because you've heard so much about it and the noise, the whole deal.
Hanley: I remember shooting with a crowd after one of the Twins games. We were with the character Billy. We were with him right before he went out to the mound. When he lifted his hands up, the whole place went nuts. It was great. The crowd really participated. That helped a lot. And he was good in it.
Scheinman: Thankfully, the Twins had some kind of promotion and they packed it. It might have been Fan Appreciation Night. That was real. I remember Luke Edwards was floored. That's a really weird experience to have that many people screaming. It's bizarre when you're down there. Anyways, that was what made that work.
Elster: It's funny — in '96 I go back with Texas and we went into Minnesota and I remember telling all of the guys I've spent three months here, every day in this godforsaken Metrodome. It got to be tiresome — 12 hours per day. Going back there as an actual player was awesome. It was kind of a cool feeling.
Scheinman: They had a premiere there in L.A. And it was ok. But then they had the premiere in Minnesota. I didn't go, but Andy did. And he said, "It was insane! They were going crazy. The shot of the Metrodome comes up and it almost got a standing ovation. I've been to a lot of screenings and it was unbelievable how fired up people were in Minnesota."
EXTRA INNINGS: STAYING POWER OF "LITTLE BIG LEAGUE"
Unfortunately, the movie wasn't exactly a box office smash. Released on July 1, 1994, "Little Big League" cashed in just $12 million as it took a backseat to a flurry of 1990s family-friendly baseball movies like "The Sandlot" (1993), "Rookie of the Year" (1993) and "Angels in the Outfield" (1994). However, the film has taken on a second life of its own. It's played constantly on MLB Network. A cardboard cutout of Billy Heywood was seen behind home plate at Target Field during the fan-less MLB season of 2020. And the son of Ashley Crow (who played Jenny Heywood), Pete Crow-Armstrong, was the 19th overall pick in the 2020 by the New York Mets. Call it a cult classic, call it whatever you'd like, but "Little Big League" has found legs to stick around.
Pincus: The movie was not a big success out of the box. Maybe it was the baseball strike [of 1994], maybe it was the timing of other baseball movies coming out. Who knows? You never know why a movie doesn't [take off].
Todd: The reason why the movie came out when it did was because "Little Big League" tested higher than any movie in Castle Rock.
Scheinman: They tested the movie. Everybody [in the audience] is given cards. The top two boxes [typically labeled "excellent" and "very good"] are what they're interested in. If you get a 70% score, they're really happy. "Little Big League" got 100%. Castle Rock did "A Few Good Men," they did "City Slickers" — no movie got 100%. So, they tested again, it got 100%. They tested again, it got a 98% or something. But it definitely scored more than one 100%. So, they go, well this is going to be huge.
Todd: People thought it was great. They said, "Ahh, man, we have something here so let's get it out sooner than later."
Scheinman: It was also was very tough to market. Because the assumption was it's a kid's movie and that's the only people that are going to like it. Where as it turns out, adults liked it, too. The biggest weekend, I think it was July 4. Disney had [recently released] a movie for the little kids. It was "Lion King." At the end of the year, Siskel and Ebert had "Little Big League" as one of their two or three most overlooked films of the year. Ebert liked it quite a bit.
Papajohn: For a movie that didn't do that well in the box office, "Little Big League" has had a shelf life.
Minch: There's a quote I heard from Darren McGavin, the old man on "A Christmas Story." They asked him what he thought about its longevity and how it's become more popular than when it was released. His response was "It lives!" It made me think of "Little Big League" to some extent.
Edwards: Afterwards, it has developed maybe what you would call a cult following. There's a lot of people out in the world, I have gathered, that really appreciate it. That's been really nice. That's felt really good. Even though it's this really outlandish kids' story, we always treated the baseball stuff with a lot of reverence and something approaching realism. I think a lot of people appreciate that. And so, I love that.
Todd: "Black Panther" was the second-best experience on set. The best experience was being a part of "Little Big League."
Elster: I'm proud of it. I'm so thankful and proud that I was a part of it. It fills me with joy. It brings back unbelievably great memories.
Edwards: For me, it's kind of my biggest accomplishment as an actor. It's meaningful to me in that way. It's definitely the hardest I ever had to work. I put in the longest hours for the longest amount of time for that job, just because my character is there for almost every shot.
Busfield: It's a dream come true, really. Even in "Field of Dreams," I didn't have to play ball. To be able to work out with a major-league team after spending my childhood wanting to play Major League Baseball, and realizing I just wasn't good enough, to have that opportunity to play ball and to be at a pivotal moment in a movie that still plays, was a great experience.
Papajohn: I loved "Little Big League." I think about the relationships and how much fun we had. The two funnest movies I've ever worked on is "Little Big League" and "The Longest Yard." In every movie I've worked on, it's kind of a different story. But those two were fun.
Crow: I remember I was sitting in Dodger Stadium one year. I was at a game. And sometimes they play games with fans in the crowd and with players on the [Jumbotron]. They'll ask a player a question and they'll ask a fan the same question. And the question had something to do with name the top six or seven baseball movies. And a couple of those players named "Little Big League." First of all, I remember going, wow I'm old! That's amazing to me. It made me super happy.
Papajohn: Ashley Crow — her son [Pete Crow-Armstrong] was a first-round pick in this latest [2020] draft. I got chill bumps just thinking about it.
Crow: I think [Pete] appreciates [the movie]. I think more than anything, he probably loves the baseball in it. He's a student of the game; he loves what he does. He's very passionate about it. Any time anybody asks him who he looks to, who he admires — what players strike you and serve as inspiration in your life — he always names Ken Griffey Jr., Javy Baez, Joey Votto. I'm sure he's much more taken by that than the fact that his mom is in it.
Pincus: For me, what it means to me is that I was right that it was a good idea. That's nice. And wow, how amazingly lucky to be a part of something like that. It's a wonderful thing, and I love the fact that the fans in Minnesota have embraced it and that it's part of the team lore.
Busfield: "GO TWINKIES!"