Yzerman, Crosby among six NHL stars to appear on Canadian stamp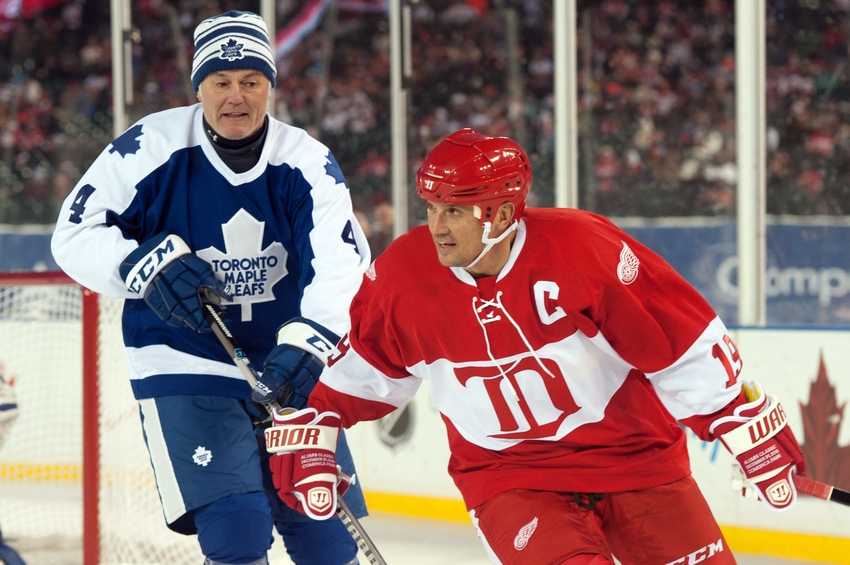 Steve Yzerman, and several other NHL stars may just be coming to a mailbox near you.
Former Red Wings great Steve Yzerman, along with Sidney Crosby and four other former Canadian hockey greats are being immortalized on their own postage stamps.
According to a Detroit News report, the Canada Post unveiled the fourth issue in its five-year NHL stamp series Friday at the Hockey Hall of Fame. This year's stars that will appear on Canadian post stamps are Pittsburgh Penguins star Sidney Crosby, Hall of Famers Phil Esposito, Darryl Sittler, Mark Messier, Guy Lafleur and "The Captian" himself, Steve Yzerman.
Canada Post President and CEO Deepak Chopra was thrilled with every choice.
"This talented group of star forwards has contributed to our national story beyond the goals they've scored and the trophies they've won," Canada Post President and CEO Deepak Chopra said. "They are heroes for what they stand for. They are men of honor and character and represent the best of who we are as Canadians."
While Crosby is the only active player to get this honor, he will no doubt one day also be in the Hockey Hall of Fame. Sure, he has led the Pens to Stanley Cup titles, but right now he has helped lead Canada to the World Cup of Hockey semifinals against Russia – and for Canadian hockey fans, leading Team Canada to a World Cup of Hockey title is a huge deal!
Yzerman played 19 seasons in the NHL, all with the Detroit Red Wings. He scored 692 goals and had 1,063 assists in his great career, and was inducted to the Hockey Hall of Fame in 2009.
In case you want to get your hands on an Yzerman stamp, or any of the players in the series, they will cost $1.80 each in Canadian money.
More from Octopus Thrower
This article originally appeared on