World Cup of Hockey 2016 preview: Team Russia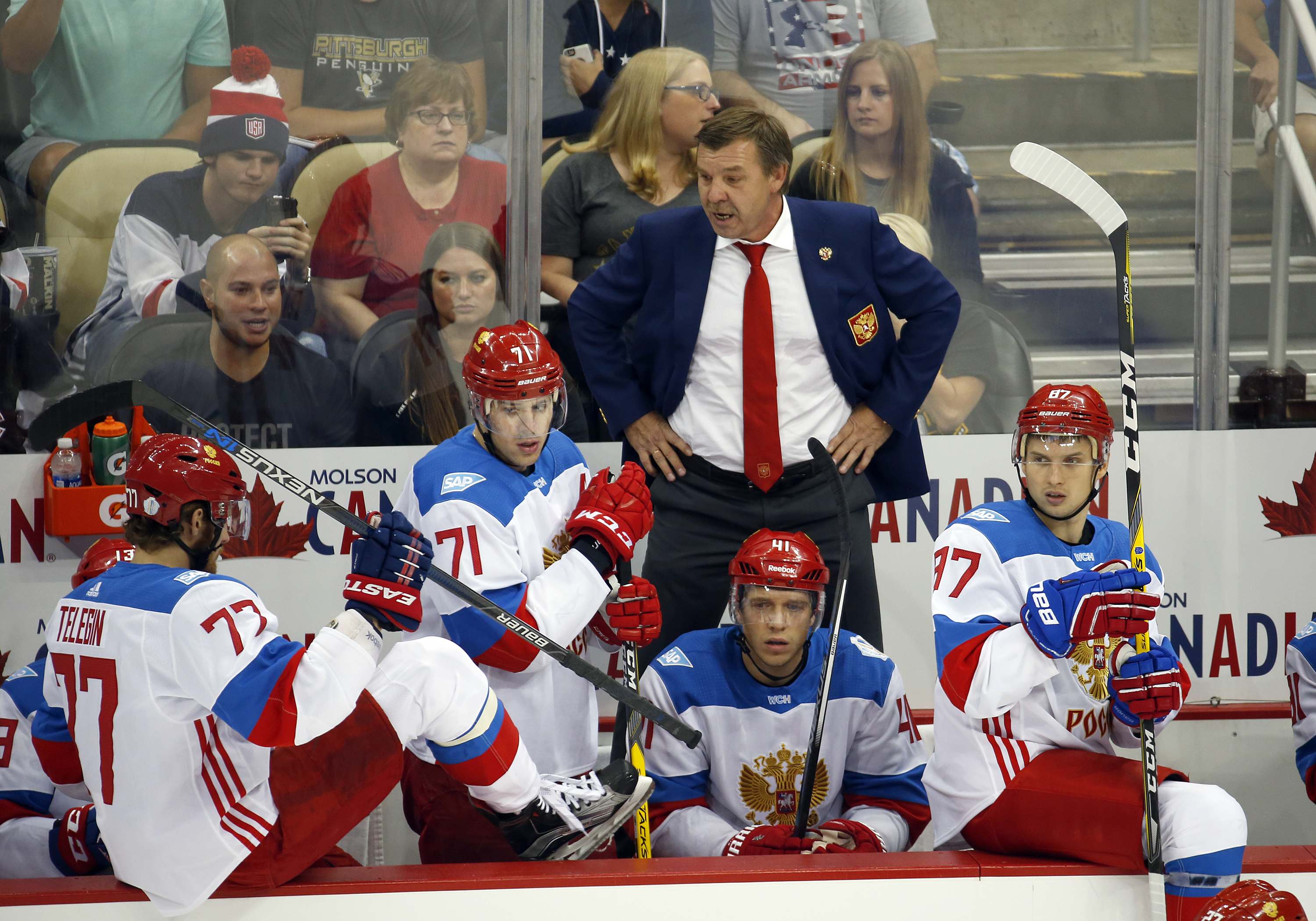 Can Team Russia's dynamic offense carry them to victory at the World Cup of Hockey? 
Russia has been quickly rising in the world of hockey. Thanks to the NHL success of Alex Ovechkin, Evgeni Malkin, Pavel Datsyuk, and Vladimir Tarasenko, Russia has quickly become one of hockey's greatest breeding grounds. They are no strangers to international tournaments, winning four gold medals at the World Championships since 2008.  In order to cement their dominance in the hockey world, they must start winning more international tournaments — the 2016 World Cup of Hockey would be a great start.
Forwards
Team Russia will be led by their dynamic forwards that have the ability to score at will. It all starts with captain Alex Ovechkin, this generation's greatest goal scorer. Coming off a tough loss to the Pittsburgh Penguins in the playoffs, Ovechkin should be motivated and dangerous. Center Pavel Datsyuk (49 points in 66 games last season) will lead the team down the middle as their best defensive center.
Washington Capitals center Evgeny Kuznetsov (77 points in 82 games) is a dangerous offensive weapon who is a wizard when he has the puck. St. Louis Blues forward Vladimir Tarasenko (40 goals in 80 games) will assist in Ovechkin and Kuznetsov in providing highlight reel plays. Pittsburgh Penguins center Evgeni Malkin (58 points in 57 games) is an extremely efficient offensive threat when he's healthy. Chicago Blackhawks forward Artemi Panarin (77 points in 80 games) provides Team Russia with yet another versatile threat.
Tampa Bay Lightning forward Nikita Kucherov (66 points in 77 games) is playing for a new contract, so watch out for him. Blackhawks center Artem Anisimov (42 points in 77 games) is a strong third line center on a team that features two elite centers up front. New York Islanders forward Nikolai Kulemin (22 points in 81 games) has 15 points in his last 19 World Championship games. Lightning center Vladislav Namestnikov (35 points in 80 games) provides Russia with a versatile center who can score and play well defensively.
KHL stars Ivan Telegin, Vadim Shipachyov, and former Florida Panthers forward Evgeny Dadonov round up an impressive forward group. Team Russia will have no problem scoring at the World Cup of Hockey.
Defensemen
Russia struggles to produce defensemen. Their lack of an elite defenseman has hurt them before and it could hurt them at the World Cup. Capitals defenseman Dmitry Orlov (29 points in 82 games) is better suited in a second pairing role, but he has been paying big minutes for Russia recently. Montreal Canadiens defensemen Alexei Emelin (12 points in 72 games) and Andrei Markov (44 points in 82 games) are arguably the two most experienced defensemen on the team.
Buffalo Sabres defenseman Dmitry Kulikov (17 points in 74 games) provides a more physical option for Team Russia. Detroit Red Wings defenseman Alexey Marchenko (11 points in 66 games) is playing in his first international tournament as an NHL player. Lightning defenseman Nikita Nesterov (nine points in 57 games) will likely rotate with other defensemen, including Toronto Maple Leafs defenseman Nikita Zaitsev.
Goaltending
Russia should have strong goaltending, which could overcome their defensive deficiencies. Columbus Blue Jackets goaltender Sergei Bobrovsky will be getting most of the starts after an impressive exhibition schedule. He stopped 74 of the 80 shots that he faced in that stretch. Bobrovsky is a Vezina Torphy winner (2012-13).
Colorado Avalanche goaltender Semyon Varlamov will serve as the backup. He played well on Sept. 10 against the Czech Republic, only allowing one goal on 34 shots. Lightning goaltender Andrei Vasilevskiy should serve as a quality third-string goaltender. He has a lot of playoff experience despite his young age.
Overall Outlook
After going 1-0-2 during the exhibition schedule, Russia will struggle to win the World Cup of Hockey. Their offense certainly won't be an issue because they can get consistent scoring chances. However, their defense has been a mess, to say the least. Still, they can be encouraged that they played well against Canada, losing to them 3-2 in overtime.
Bobrovsky will need to be at his best in order for Russia to have a chance of winning the tournament. They will play Sweden on Sunday Sept. 18 at 3:00 PM EST. On Monday, they will play the North America at 8:00 PM. They will finish the first round by playing Finland at 3:00 PM on Thursday Sept. 22.
More from FanSided
This article originally appeared on