World Cup Hockey Predictions: Finland/Sweden, Canada/USA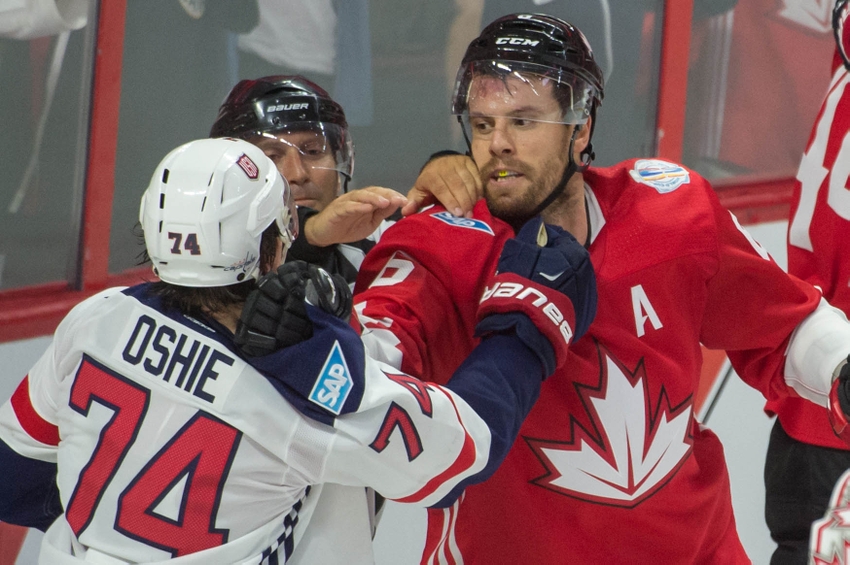 World Cup Hockey: Day Four Predictions (Team Sweden vs. Team Finland and Team Canada vs. Team USA)
World Cup Hockey action continued on Monday as the surprises continue to mount. Who would have predicted Team Europe winning their first two games? That leaves the American squad in a very dangerous position with a must-win game on Tuesday.
Round robin competition continues today with a pair of epic rivalries. Scandinavian powerhouses Sweden and Finland square off, while North American juggernauts clash later on as Canada faces off against the United States.
Make sure to follow us here at Puck Prose all the way through Thursday (Sept.22) for daily tournament predictions during the preliminary round. We'll follow it up with a semifinals prediction for action next Saturday/Sunday (Sept.24-25), and then closed out with our best of three final predictions.
Day Four Action:
Sweden vs. Finland (3:00PM EST) – ESPN in USA, Sportsnet in Canada
Canada vs. USA (8:00PM EST) – ESPN in USA, Sportsnet in Canada
World Cup Hockey: Day Four Predictions
Sweden/Finland Goaltenders Steal the Show
Does Finland stick with Pekka Rinne or turn to Tuukka Rask? Either way, this team can feel comfortable with either in goal. Truth be told, the goaltending isn't the problem, it's the defense, and veteran leaders up front. Expect whoever is between the pipes for Finland to give this team a chance to win.
The Swedish side is somewhat unclear as well after Henrik Lundqvist missed the opener with an illness. Canucks netminder Jacob Markstrom looked excellent in relief, giving the Swedes a pair of quality options as well. Expect this one to be a goaltending clinic.
Time for Pair of Swedish Blue Liners to Stand Out
Erik Karlsson and Oliver Ekman-Larsson are two of the NHL's most potent offensive defenders. The pair has had a solid start to the tournament thus far, but there's more left in the tank for both. This is a big rivalry for Sweden/Finland, so don't be surprised if Karlsson and OEL find a little extra motivation to raise the level of their game. The offense has to start somewhere, and these two guys could be major x-factors in helping break down a weak Finnish defensive group.
Canada/USA is a War 
Tuesday night features one of the biggest rivalries in international hockey. These two met up for a home-and-home series during the pre-tournament in what can only be described as an all-out war. Intensity levels were through the roof, making for a very entertaining precursor to this round robin match-up.
This promised to be an epic tilt even before official competition got underway on Saturday. Now, four days in, Team Europe has a 2-0 record and the Americans are playing desperate hockey against the tournament favorite. Long story short, this is a game you will not want to miss folks.
Crosby Wins Head-to-Head Battle with Kane
Get the FanSided App
After Chicago Blackhawks forward Patrick Kane stole the show in 2015-16, a debate has surfaced in the hockey community. Fans have begun proposing the question, which one is better, Crosby or Kane?
Those south of the border tend to lean towards the latest Art Ross Trophy winner, while those north of the border favor the NHL's most recent Cup winning captain. It has become almost a nationalistic biased debate. The good news? We might get an answer on Tuesday night. Given the landscape of this game and what it means to both sides, it will be interesting to see which superstar can rise above to carry their team. You need these types of players to step up in big moments like this.
Results Prediction:
Team Sweden (3)
Team Finland (2)
G – Forsberg, Soderberg, Karlsson
G – Barkov, Granlund
Team Canada (4)
Team USA (2)
G – Stamkos, Crosby, Tavares, Burns
G – Oshie, Wheeler
This article originally appeared on