Winnipeg Jets: We Need to Remember Patrik Laine is a Teenager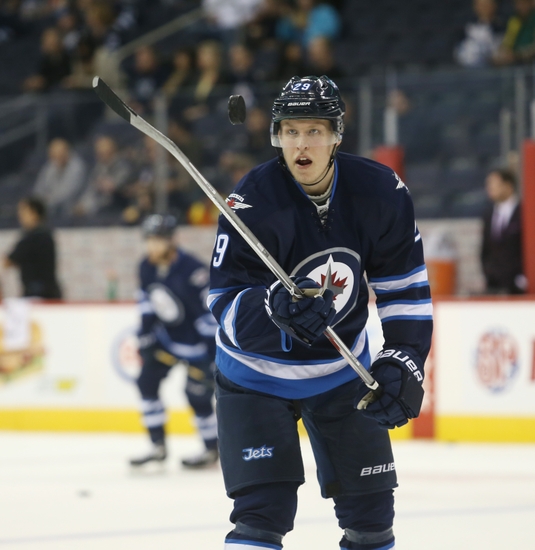 Oh no, it's been three entire games, almost four whole days, and Patrik Laine hasn't scored a goal…
Let's remember how Patrik Laine was perceived before training camp. A huge Finnish winger who can shoot the puck faster than anyone in the league, and deliver dreadful hits. His downsides must've been his skating, and presumable defensive zone work just because of his offensive nature. Once the season started though, everything was different. Laine is considered the Winnipeg Jets most dangerous weapon, and is relied upon in every situation the Jets need.
Throughout the last few games, defenses have figured him out. They've found out how to get into the shooting and passing lanes of his plays, and ultimately stop his attack entirely. His power line with Nikolaj Ehlers, and Mark Scheifele not only got split up for the last four periods of play, but has also been a second-tier scoring line. Laine may have given up more pucks, creating turnovers, then scoring chances. He took what seemed like a stupid penalty with time dwindling in three-on-three overtime.
All that is fact, but we have to remember that this guy is a teenager, playing in the most competitive sports league that exists. Not only is he playing in this league, but he also leads it in goals. That won't go away even if he coughs up some turnovers, and we have to remember that. He's going through a learning phase where he's going to have to adjust playing against top defensemen every night, whether it be Drew Doughty in Los Angeles today, or Duncan Keith on Tuesday when the Jets clash against the Blackhawks.
So as Patrik Laine steps on the ice with the Jets once again, lets remember how special a player he is. He's the first Winnipeg Jet to ever lead the league in goals! That's something to cheer about.
When will his drought end?
Someone who's started the season so well, and has so much skill is sure to have a point in Tuesday's game, and capture his 12th goal of the season within two games. Every time he shoots the puck it has a chance of crossing the line. A few more chances and one will be buried.
This article originally appeared on