Winnipeg Jets: Start to Road Trip Could've Gone Better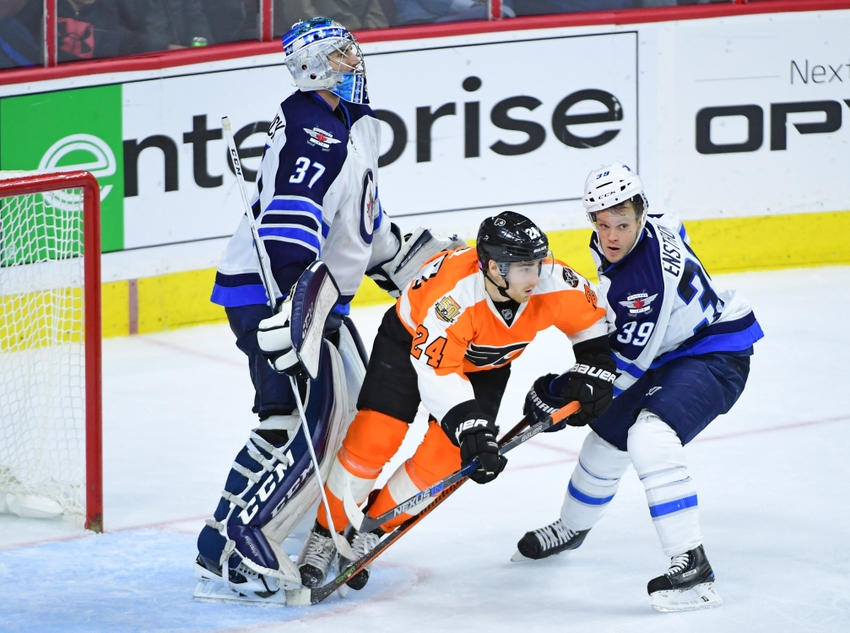 The Winnipeg Jets got brutally outscored against the Philadelphia Flyers, and a 5-2 deficit really doesn't look that good. In reality, this is a game that easily could've gone the Winnipeg Jets way. Here's how:
The fifth goal is easy to get rid of for the Jets. If they are leading, or in a tie game, of course Brandon Manning isn't going to score an empty net goal with time dwindling. The Jets struggled to get much going with Connor Hellebuyck on the bench, but with a two goal deficit, there wasn't huge motivation pushing the Jets.
Now the score is only 4-2. As Hellebuyck gets more comfortable in the crease, he's going to be stopping more and more of the no-doubters. Mark Streit's floater from the blueline needs to be stopped. If Connor has 99 more chances of making that save, I can guarantee you he'd make 90+
Now we have a one-goal game. This isn't where we stop. We go right back to the first few shifts. The Flyers first goal not only came off a lucky bounce that ended up on the stick of Sean Couturier, but was also illegal. Mark Scheifele was blatantly tripped, and as play-by-play broadcaster Dennis Beyak said, that non-call would be the perfect definition in the NHL rule book of exactly what tripping is.
Three times the Winnipeg Jets were robbed by Steve Mason, who had his first good game in the last dozen. Mark Scheifele nailed the post off what appeared to be a clear goal. Thorburn was robbed of back-to-back games with a goal back in the firstborn period. Mason also flashed the leather on the new Finnish Flash, as Patrik Laine couldn't find the mesh.
Want your voice heard? Join the Jets White Out team!
To see just how impressive the Winnipeg Jets were dispite coming up on the losing end of the stick, we must discover some advanced statistics. Coming into Thursday, the Philadelphia Flyers were first in the NHL as the team with the fewest shots against per game, with just over 20. The Jets peppered Mason with 32 shots, including 11, and 12, in the second and third period alone. The Flyers were also amoung the league leaders in shots for. All they couldn't muster up is 22 markers against the Jets stingy defence.
The Jets really had no holes in their game, besides Connor Hellebuyck. A .810 save percentage is what helped the Flyers, and Steve Mason's .936 save percentage win the night. Don't think the Jets strong play is coming to an end. There's nothing but goaltending the Jets could've been better at in this one.
This article originally appeared on