Winnipeg Jets: November Trade Block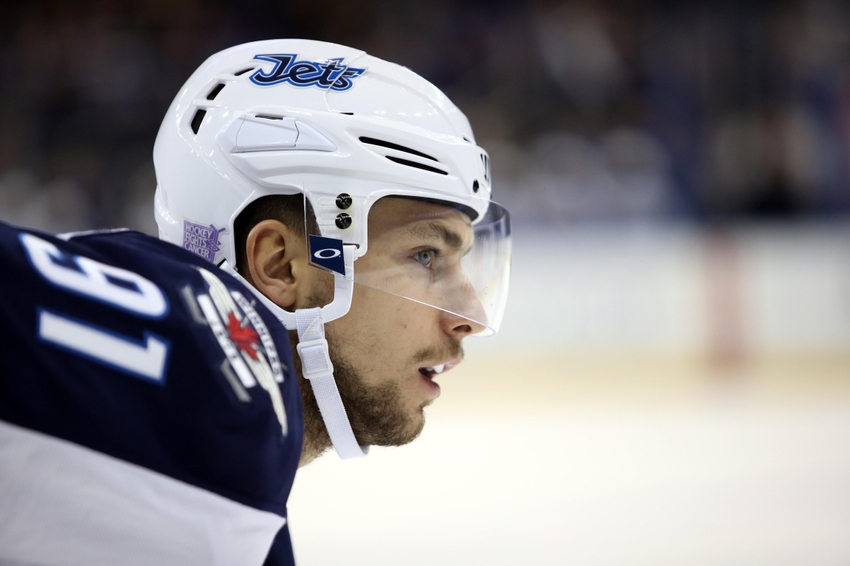 Welcome to the Winnipeg Jets trade block. Each month, we will take a look at what Kevin Cheveldayoff's trading block might look like. This brings us back to playing "NHL" video games, and assembling our trading blocks to eventually create a successful team. Here's where you'll get all the info on who the Jets have on the block, who they want, and what type of players they are interested in receiving.
Players On Trade Block:
Jacob Trouba –
Trouba has a strict asking price for what the Jets want in return for the newly re-signed defenseman. There's no rush or need to trade the 22-year-old, but contract stability will have his back. In return, the Jets would be looking for a top three defensemen, who plays the left-side.
Alex Burmistrov –
Burmistrov's return to the NHL last season was quite impressive. He played well in a top-nine role with the Jets. This year has been completely different. Burmistrov has been soft on pucks, and not playing the team system game. This has created countless numbers of turnovers and goals against. With so many injured forwards up front, the Jets may want to swap bottom-six forwards with a team that covets Burmistrov. If they're still looking to trade him when injuries aren't an issue anymore, the Jets could look for a younger fifth defenseman, or a third round pick in return.
Ondrej Pavelec –
Since Pavelec got cut from the Winnipeg Jets training camp, there's been trade rumours he'll be leaving Winnipeg. Especially with injuries to Los Angles Kings goalies, there's no reason to question his place on the trade block. The Jets will either want a second round pick, or a good fifth defenseman. Two complications have hit the Jets. The first is salary cap constraints for the buying teams. Also, the Jets aren't looking to just ship Pavelec out of Winnipeg for nothing, and they may want him to relive their young duo with the big club part ways throughout the year.
Wants:
Top Left-Shot Defenseman –
Obviously what sticks out is a reliable top-three defenseman who plays the left-side of the ice. This isn't an urgent need for the Jets, but in a few years will need a new threat besides Josh Morrissey.
Depth on Defence –
It may work for a while, but eventually having Paul Postma, Ben Chiarot, and Julian Melchiori all in lineup at once will wear out Dustin Byfuglien.
Surplus:
Depth Forwards –
They Jets have a large commodity of depth in their system on the wings. Lots of them are inching towards a place with the big club, and are valuable assets. In no means are the Jets attempting to trade them, they just have a glut of them.
More from Jets White Out
This article originally appeared on