Winnipeg Jets – New Era Ahead in net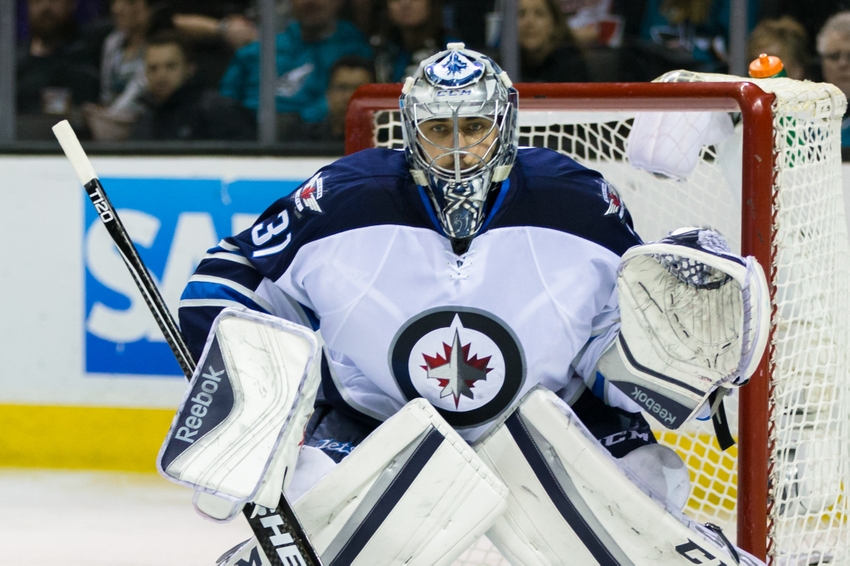 New isn't always better. New isn't always the answer. But new is a fresh start. New is another chance, and that's what the Winnipeg Jets get.
After days of speculation, and then yesterday, the calm before the storm, it's finally official, Ondrej Pavelec has been placed on waivers. This starts a new era in net, and no backup option if Connor Hellebuyck, and Michael Hutchinson struggle early. Whether he will be picked up off waivers will be decided by tomorrow afternoon.
If Pavelec isn't picked off waivers, they will most certainly look to him as an upgrade in net late in the year, so expect Pavelec to take a role with the Winnipeg Jets at some point this season. Don't think he's for sure done in Winnipeg, as he has a big cap hit for teams to take on this year, at $3.9 Million, which could throw away interest potential teams have like the Dallas Stars. At this point, the Jets want Hellebuyck to get in some NHL action, and can't get rid of Michael Hutchinson due to the NHL's expansion protection criteria, that mandates them to expose a goaltender under contract for the following season.
The Jets are simply taking a chance that their second best net minder may be lost, but that would take some salary cap relief off their hands, which could then be put towards signing Jacob Trouba. If not, they still have Pavelec for whenever they need him.
But if the likely scenario comes true, that Pavelec is picked off waivers, how will a Hutchinson/Hellebuyck combo perform?
It's hard to know for sure, but what we have is two young goalies on our hands that both know they have a chance to win a starting goaltender spot with a future Stanley Cup winning team. Hellebuyck knows why Ondrej Pavelec was sent to the AHL, so he could get starting minutes, and Hutchinson knows that too. Michael will have less pressure on him, but has a lot to prove after a dismal season. Hellebuyck knows his job is to get the Jets into playoff contention, and if he can't, either Pavelec will be recalled from the Manitoba Moose, or Hutchinson will start more games.
From Connor Hellebuyck, we could see him post 50 starts, if Pavelec is out of the equation. With a better lineup than the 50/50 one he had last year, we could expect around 27 wins. Michael Hutchinson would get in the other 32 games, winning 16 of them. That could place the Jets at around 43 wins, good for a real fight for a playoff spot.
We will see by tomorrow where Ondrej Pavelec fits in the Jets organization, but they can still win games without him.
This article originally appeared on