Why Carolina Hurricanes Resigning Cam Ward Makes Perfect Sense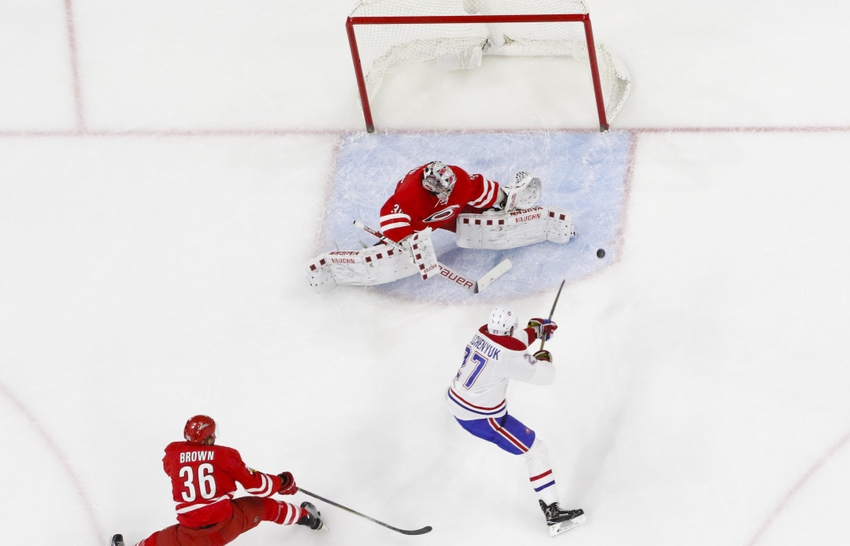 Cam Ward's new contract from the Carolina Hurricanes caused a lot of consternation among Caniacs but it really is all part of the plan.
When Cam Ward's contract ended this last offseason, Carolina Hurricanes' fans finally thought they were free.  At least they did until Ward signed a two-year contract with the Hurricanes at the start of the offseason.  It was a contract that made no sense given his past performance.  Eight of his twelve years in the league he played at replacement level goaltending  despite being paid like a top-tier goalie.  So why resign a goalie that wasn't any good to a multiyear contract?  It just didn't seem like a good idea at the time, and even now doesn't seem like a good idea.  The only way Ward's contract makes any sense is if the Hurricanes are actively trying to lose.
Want your voice heard? Join the Cardiac Cane team!
Cam Ward's career is an interesting one.  In 2006, his rookie year, Ward led the Hurricanes to the Stanley cup while winning the Conn Smythe in the process.  Many fans thought it was a harbinger of things to come for the franchise.  Alas, it was not, and except from 2008 to 2012, Ward played at or below league average.  That is a lot of years of bad goaltending.  Sure the defense in front of him leaked shots like a sieve, but the Hurricanes paid a lot of money to Cam Ward to stop pucks that weren't getting stopped.
The Plan in Action
Signing Cam Ward wasn't an outright tank job, but it is just about as close as one can get without officially packing it in.  Last years goalie market surpassed many of those in recent years in talent available.  Brian Elliot, Frederik Anderson, and James Reimer were all available, but Ron Francis didn't even wait till free agency before he resigned Ward.  If Francis really wanted to improve his goaltending, the options were out there.
Ward's latest string of games shows he sometimes plays well enough to keep the team in games, but never well enough to steal them outright.  See the Hurricanes have a lot of young talent on the team, but they aren't quite there when it comes to competing with the rest of the NHL night in and out.  Having Ward in net allows Francis to bring in skilled skaters without being afraid of them winning too many games.
Why this year?
Why this draft of all drafts?  The last two were stocked with much more talent according to analysts.  Well, there are a couple of reasons.  One, this draft will have a lot less competition for the number one pick than those others.  Sure Vegas is in the mix, but no team is actively trying to tank this year or at least they weren't to start the season.  Nolan Patrick is the consensus number one so far, and although he isn't touted as being good as Connor McDavid or Auston Matthews he is still being described as a franchise center.
The second reason was Francis's inability to gut the team like the Maple Leafs and Sabres.  Nobody was taking on Eric Staal's contract before they absolutely had to, and the same is probably true for his brother Jordan.  In addition, Jeff Skinner and Justin Faulk have enough talent to win games themselves, but getting rid of them would defeat the whole purpose of rebuilding in the first place.  Both scenarios combined kept enough talent on the team to make an all out tank an impossibility
So what now?
Well, I would get used to even more losing.  It takes a lot of losing to build a perennial cup contender through the draft.  In an earlier article, I looked at some other NHL teams' rebuilds and discovered that it took at least four years to get to the playoffs in recent history for a rebuilding team.  That's why Cam Ward's contract makes even more sense.  After his two years are up that puts the team at the end of year 5 of the rebuild.  Year 6 is the average year that teams in a rebuild start making the playoffs and winning games.  It's hard to have patience after seven years of futility but keep the faith the wins are coming.
This article originally appeared on