Which Kings will be chasing milestones in the first month of the season?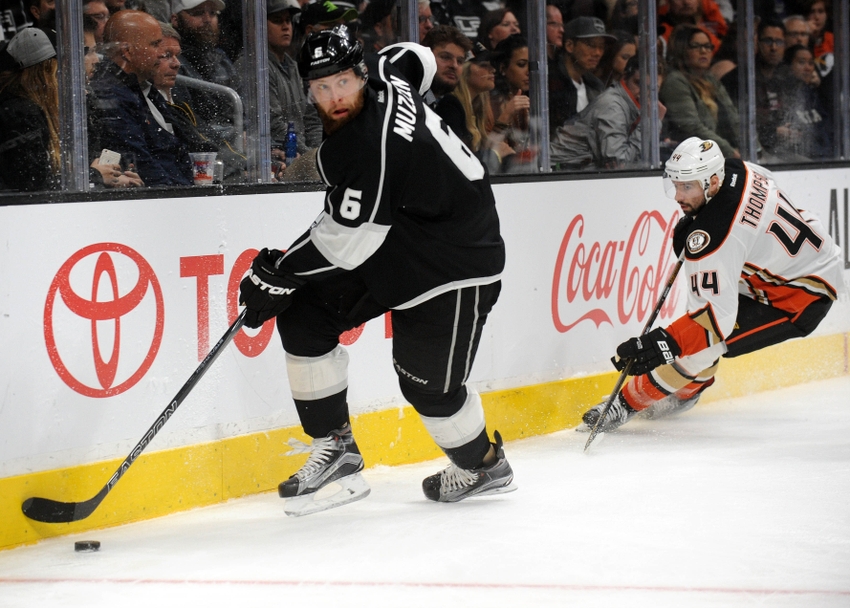 As we prepare for the preseason, the first installment of the Kings Milestone Watch looks at which Kings can reach theirs in the first month of the season.
Every season, 30 teams come to the rink with the same general mindset: "Bring home the Stanley Cup".
However, the 20-or-so players on any given team are also playing for personal achievements whether it's their first or last priority. Every year, seemingly mundane milestones are reached as well as historic leaderboards rewritten.
No matter how big or small the achievement, it's something to celebrate for a player who has given it all for your favorite team. It can also help fans pick a game to see live; who wouldn't want to be there to witness such a special moment in person?
With that being said, let's take a look at some of the upcoming Los Angeles Kings milestones:
Jeff Carter is five games away from his 800th NHL game. Barring any injuries, he should reach this at home, October 22nd vs Vancouver. He will become only the 11th player from his 2003 draft class to reach that mark (10th if he plays five games before Brent Burns plays three). Only four of those guys have recorded more points than Carter.
Jake Muzzin is ten games away from his 300th NHL game. Assuming he plays every game, he should reach this at home, November 1st vs the Ducks. The former 141st overall draft pick has greatly exceeded expectations, tallying more points than all defensmen in his draft class save for P.K. Subban, Ryan McDonagh and Kevin Shattenkirk – not bad company, especially when they all have over 100 games on Muzzin.
Muzzin is also just eight assists away from his 100th career assist. This is much harder to predict seeing as how random assists can be but since he recorded 32 assists last year, I'll say he'll be looking for his 8th assist around game #20, when the Kings visit the Ducks on November 20th.
Dwight King is just seven points away from his 100th career NHL point. King missed time with a broken foot last season, but in the two years before that, he shocked everyone by reaching 30 points and then 26 points. He's not a dangerous scorer by any means, but at a career average of .33 points per game, I'll guess King is going to be looking for his 7th point  around game #22, when the Kings host the Blackhawks on November 26th.
There will be updates to the Kings Milestone Watch every month as well as reminders when a player finally does reach their accomplishment.
This article originally appeared on