Washington Capitals Go All-In With Kevin Shattenkirk
Trin Potratz/FanSided via Puck Prose

Fansided
Washington Capitals shocked the hockey world by acquiring the biggest fish on the market in Kevin Shattenkirk. The Capitals added a strong power play quarterback to a roster that already boasts one of the best goaltenders, best offensive groups, and solid defensive corps.
The move isn't surprising in the fact that a contending team wants to add to their group for a playoff run, it was surprising because Washington Capitals GM Brian MacLellan seemed adamant about staying put with his current roster.
Last year, the Caps were once again one of the best teams in the league and instead of staying put with the roster that had them on top of the league standing, the Caps added center Mike Richards, depth defender Mike Weber and grinding forward Daniel Winnik after January. MacLellan believed the additions interrupted the team chemistry.
Looking at the Capitals defensive depth chart is jaw-dropping right now. Consider the fact that Shattenkirk will likely play on the bottom pairing due to the chemistry of the team's top four defenders.
Karl Alzner – John Carlson
Dmitri Orlov – Matt NIskanen
Brooks Orpik – Kevin Shattenkirk
Taylor Chorney – Nate Schmidt
Tom Gilbert
I'm willing to say this may be the best d-corps in the post-lockout era. Carlson, Niskanen, Orlov and Shattenkirk are solid puck moving defencemen and Alzner and Orpik are terrific stay-at-home defenders.
The addition of Tom Gilbert was a small depth move, but they always say you need eight solid d-men to go deep into the playoffs.
IS THE JUICE WORTH THE SQUEEZE?
When Ron Hainsey was acquired by the Pittsburgh Penguins for a 2nd round pick, it set the market value. Hainsey is a good depth defender in his own right, but considering a 2nd round pick was the price, everyone knew Shattenkirk was going to cost a heck of a lot more.
I was flying on a plane back from Nashville, Tennessee so when the trade was announced before knowing the entire details I guessed the Washington Capitals were going to have to give up top prospect Jakub Vrana. Instead, they only had to give up Zach Sanford, Brad Malone a 2017 1st round pick, and a 2019 conditional 2nd round pick.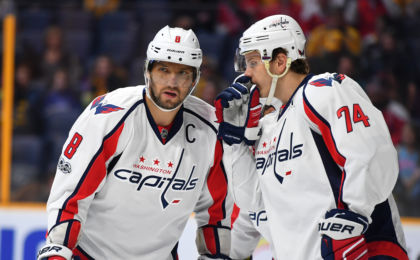 Considering this team is in Stanley Cup or bust mode, the fact that they didn't have to move their best prospect makes this a good deal.
It's hard to bet against the Washington Capitals this time around. They may have demons to exorcise, but they added the biggest piece to get them over that hump.
GM Brian MacLellan also discussed the fact that they will look at signing Kevin Shattenkirk to an extension, meaning this may not be purely a rental player.
The club has quite a few players needing new contracts, and cap space doesn't grow on trees anymore. TJ Oshie, Daniel Winnik, Karl Alzner, and Shattenkirk are all pending UFA's. Evgeny Kuznetsov, Brett Connolly Dmitry Orlov, and Nate Schmidt are pending RFA's. They definitely won't be able to keep all of those players, so you might as well go for it.
Would the Caps be better off keeping Shattenkirk over Alzner? Time will tell.
YOUR MOVE METRO DIVISION
With the Capitals upping their roster, it puts pressure on divisional foes Pittsburgh, Columbus, and NY Rangers to make a splash of their own.
The defending Stanley Cup champions may feel the pressure to go after another big fish like Matt Duchene to push them over the edge. The Rangers might need to add some defensive depth in the name of Johnny Oduya or Brendan Smith (update: Smith has since been acquired by the Rangers). Columbus may need to look at PA Parenteau to add to their roster, considering they are in cap space troubles.
Washington is all but guaranteed a berth in the second round and they will have to go through one of the three aforementioned clubs to get into the conference final. The second round will be the determining round as the weak Atlantic Division won't match up with the Metropolitan Division.
Teams make a lot of mistakes on trade deadline day based on the pressure to add to their team. Some teams overpay or end up moving a piece out that ruins their team chemistry.
By getting a head start on the trade market, the Capitals have made a statement and this gives them an advantage on their divisional rivals.
Brian MacLellan likely put himself at the top of the list for GM of the Year this season, and a Stanley Cup would solidify his personal trophy.
All the chips are on and we'll see who calls, who checks, and who comes out on top.
This article originally appeared on