Washington Capitals Expectations: Evgeny Kuznetsov's Elite Breakout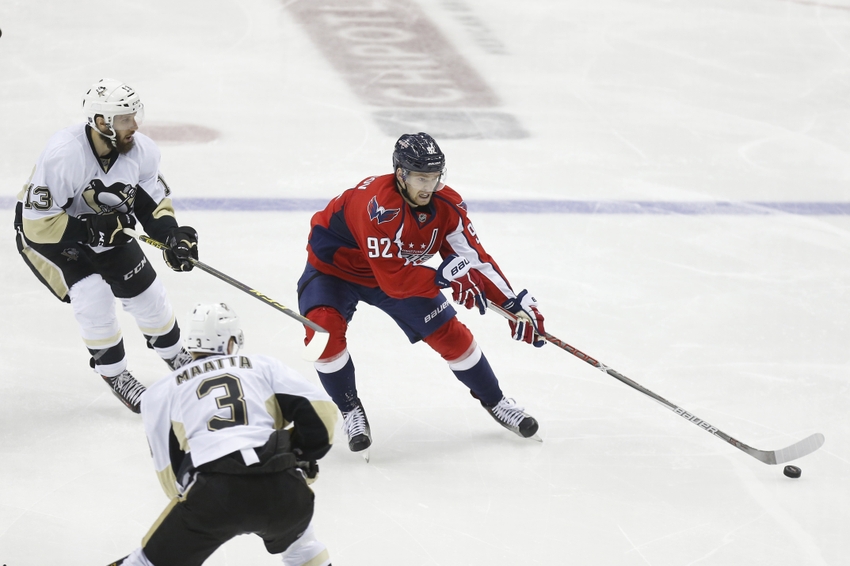 This summer we collectively watched as one of the great playmaking centers, Pavel Datsyuk, bittersweetly wound down his NHL career and retired to Russia. On the list of players most likely to pick up the baton and continue in the Magic Man's footsteps has to be the Washington Capitals' own Evgeny Kuznetsov. It might seem like an audacious comparison, but the two Russian centers already have quite a bit in common. If Kuznetsov can build on his impressive '15-'16 showing it's not out of the question.
Already an NHL All Star, Kuznetsov torched the league last season to the tune of 57 assists and 77 points, leading the Washington Capitals and topping NHL.com's breakout player list. Nicknamed Harry Potter due to his wizardly looks and on ice performance, Kuznetsov already has a signature play known as the "twister pass." Only two full seasons into his career, he has baffled seasoned NHL veterans with his trickery. But how unusual is this kind of playmaking performance by a young center, historically?
The answer is that it is indeed unusual, and truly elite. Since the start of the 2005 post-lockout era 18 centers have recorded at least 40 assists in one of their first two seasons (41 games or more). Only 8 have recorded at least 50. Surprisingly, Datsyuk himself is not one of them, having taken until his 4th season to record an incredible 59 assists and 87 points. Only four post-lockout centers bested Kuznetsov's 57 assists in their first two seasons: Backstrom, Crosby, Malkin and Spezza.
How many of those centers failed to repeat their 40 assist feat? Not many. Five of 18 centers who had at least one more chance to get 40 assists failed to do so. Of those with 50 assists only one player failed to get 50 again – Eric Staal, who still has 6 more seasons with 40+ assists. While this is a small sample, it does suggest that when a player is elite enough to get 50+ assists early in their career it's probably not a fluke.
These numbers help put into context how genuinely astounding Kuznetsov's breakout year really was. His '15-'16 performance puts him firmly in the 99th percentile of young playmaking production for the last decade. To be precise, his was the 19th best assist production by any center of any age over the last 11 years – out of 1,405 player seasons. And this was without much first unit powerplay time, ranking 7th among Washington Capitals skaters in powerplay time on ice.
Another characteristic of the Datsyukian center is elite puck possession – both in the literal sense of deking opposing players senseless, as well as outshooting the opposition. Datsyuk is one of the greatest individual possession players of the modern era, with an unbelievable 59.0% 5v5 corsi-for from '07-'16, cumulatively (via Hockey-Reference.com). Kuznetsov is no possession slouch, either. Last season the Capitals posted a 53.1% 5v5 corsi-for percentage with Kuznetsov on-ice. Individually, he was also +2.8% relative to the team without him (fourth best of Capitals forwards), suggesting that Kuznetsov helps elevate the team.
Regardless of Kuznetsov's end of season dropoff and meager production in the playoffs (just 2 points in 12 games), it is clear that his short NHL career to date really has been something special. Nobody can predict the future, but historically players with that kind of performance so early in their careers rarely drop off a cliff production-wise. We have no choice but to hold our expectations sky-high for the young wizard.
More from Stars and Sticks
This article originally appeared on