Vladimir Tarasenko scores breakaway goal on Henrik Lundqvist (Video)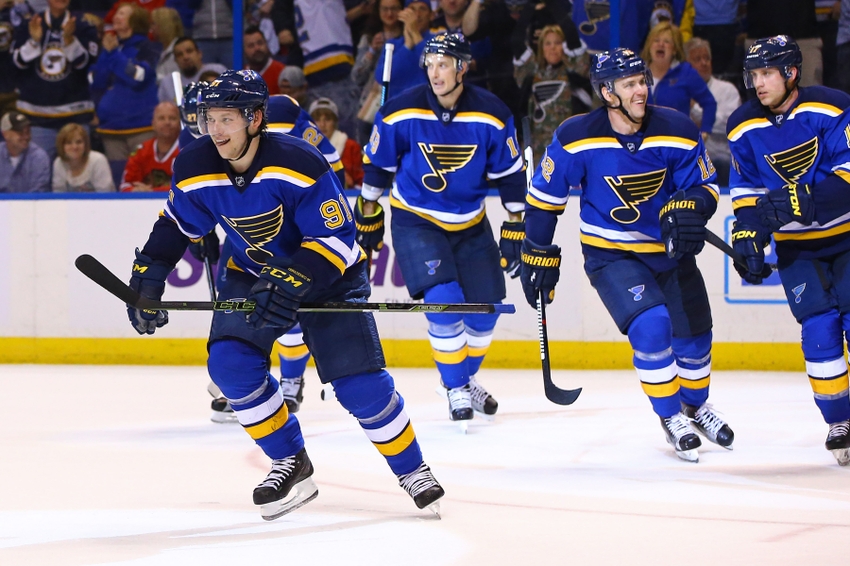 Vladimir Tarasenko scored on a breakaway against Henrik Lundqvist to give the Blues an early 1-0 lead.
The St. Louis Blues are putting a lot of faith in forward Vladimir Tarasenko. Following the losses of Troy Brouwer and David Backes in free agency, Tarasenko is now the man in St. Louis. To this point in his career, he has been productive but now he will be expected to remain as productive, if not more so, while drawing the attention of opposing teams.
He's off to a good start, as he got his third goal in his third game. Tarasenko got a breakaway early against the Rangers and made them pay.
There's not much Henrik Lundqvist can do to stop his shot there. An unfortunate sequence for the Rangers that began with J.T. Miller getting his shot blocked. After losing Tarasenko, he went past their defense and had a relatively easy goal. You can't let Tarasenko get past you because if he does, you're not catching up to him.
Credit Blues defenseman Colton Parayko for getting Tarasenko the puck. He made a beautiful stretch pass right to the tape of Tarasenko. The Rangers defense has already been showing signs of being slow. Tarasenko and the Blues took advantage of it here. The Rangers left Lundqvist out to hang on the breakaway and Tarasenko has the skill to make you pay for giving him such a juicy chance.
With Tarasenko taking a larger role, the Blues are in good hands. He has a combined 77 goals in the past two seasons, including 40 last season. Tarasenko also has 147 points over the past two seasons. He has been everything the Blues have hoped for, and more. Tarasenko was drafted with the 16th overall pick of the 2010 NHL Draft. Since being drafted, Tarasenko has 108 goals and 212 points in his first 261 points entering Saturday night's game.
This article originally appeared on