Vladimir Putin Playing Against Philadelphia Flyers Alumni?
Joel Vanderlaan/FanSided via Broad Street Buzz

Fansided
The Philadelphia Flyers Alumni are headed to Russia.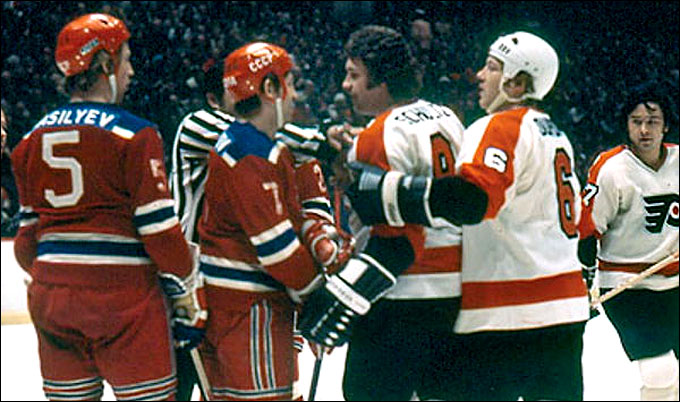 Philadelphia Flyers' alumni will play games in Kazan Feb. 16, St. Petersburg Feb. 18, and Moscow's Red Square Feb. 20 the final game of the trip will be played outdoors.
The Flyers aren't too popular in Russia, Philadelphia defeated the Red Army 4-1 in 1976. The only NHL team do so in the '76 Super Series. The New York Rangers and Boston Bruins both suffered defeat to the Red Army with the Montreal Canadians tying them 3-3.
Flyers defenseman Ed Van Impe delivered a hard hit to the Soviet star forward Valeri Kharlamov. Four years after Flyers captain Bobby Clarke broke Kharlamov ankle with a brutal slash during the 1972 Summit Series.
The Russians left the ice feeling they had been treated unfairly. Only after Flyers owner Ed Snider threatened not to pay for their services did the Russians return to the ice.
Kharlamov is considered by many as the greatest Russian hockey player of all time.
Joe Watson who organized the trip is the only Flyer to play in both the 1976 game vs. the Red Army and making the alumni trip.
Will Russian President Vladimir Putin face the Flyers that's still up in the air. He wants to but it will depend on his schedule.
"They never release Putin's schedule until 24 hours before because of security reasons, so Putin, if he's around, he wants to play the game against us."

Will he get a royal treatment from the Flyers, too?

"I don't know about that," Watson said. "He'll have to earn it from us as far as we're concerned. We may be stuck in Siberia, but what the hell? We'll have a good time
Some think the Philadelphia Flyers alumni shouldn't make the trip.
"I don't know if that's going to work against the Flyers, let's be honest," current Flyer Jake Voracek joked.

They thought it was a waste of time, but I didn't think it was a waste of time because they're excited about the Flyers coming. The Flyers are a big name in Russia." Joe Watson
Joe Watson had a difficult time putting together a roster for the Russia trip saying he reached out to 150 alumni only nine agreed to make the trip. The rest of the team is filled by three former Philadelphia Flyers currently living in Russia and former AHL goaltender Frederic Cassivi.
Many feared the current political landscape between the U.S. and Russia as the reason for not making the trip.
Alumni Roster
Joe Watson, Brad Marsh, Terry Carkner, Jeff Chychrun, Shjon Podein, Lindsay Carson, and Al Secord. Chase Watson, the son of Flyer Jimmy Watson, Dmitri Yushkevich, Danny Markov, Alexei Zhamnov and Frederic Cassivi.
More from Broad Street Buzz
This article originally appeared on