Vancouver Canucks Young Stars Tournament Recap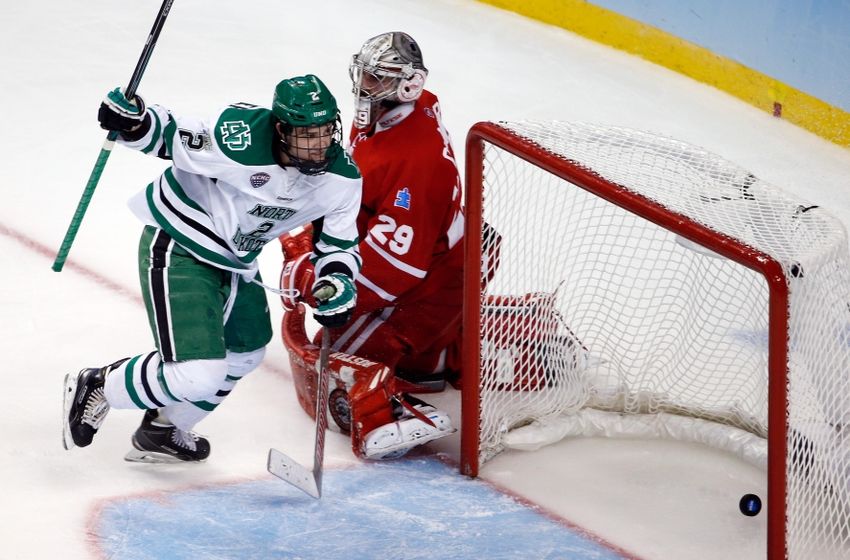 With the Young Stars Tournament in the books, it's time to engage in every Vancouver Canucks fan's favourite pastime, over-analyzing!
The Vancouver Canucks finished the 2016 Young Stars with a 1-1-1 record. But in a tournament like this, it isn't the record that matters.
This tournament is about prospects showing what they can do, and proving that they deserve to receive an invite to training camp.
From a Canucks outlook, there were players that showed they should be in the conversation for a spot in Willie Desjardins' opening night lineup. But a few players showed that they still need time in the minors or in junior hockey to develop and fine-tune their game before making the jump to the big leagues.
Let's go through, game by game, and talk about the players that impressed and the players that showed they still have areas to work on.
The tournament got kicked off with a match-up against the Edmonton Oilers and 2016 fourth-overall pick Jesse Puljujarvi.
Vancouver Canucks vs. Edmonton Oilers
The major storyline heading in to Game 1 against the Edmoton Oilers was Thatcher Demko's first game in a Vancouver Canucks uniform.
For the most part, Demko had a decent affair, making 29 saves while coming out on the losing end of a 4-1 decision. However, it was apparent he and the Canucks as a whole became overwhelmed by Oilers star prospect Puljujarvi. Puljujarvi was skating circles around the Canucks and managed to get two goals past Demko.
The other prospect Canucks fans had their eye on was defenseman Olli Juolevi, the Canucks' first-round draft pick in this year's draft. If you were watching on YouTube, like I was, you didn't see a lot of Juolevi, because he plays a style of game that doesn't lend itself well to a broadcast.
However, those in attendance, like Sportsnet Canucks columnist Thomas Drance, were convinced he was the best player on the ice throughout the game.
Olli Juolevi has flashed an impressive, sophisticated game tonight. Feels like no Oilers player has been within breathing distance of him.

— Thomas Drance (@ThomasDrance) September 17, 2016
From a YouTube viewer point of view, it looked like free-agent signing Troy Stecher was the best defenseman on the ice. He did a phenomenal job leading the breakout and moving the puck up the ice, something the Canucks sorely missed from the blue line this year. He also showed his ability on the defensive end, stealing the puck from an Oilers forward and creating an offensive chance for himself at the other end.
Up front, it was clear the Canucks didn't have the firepower to match up with the Oilers. That shouldn't be a huge worry for Canucks fans because a lot of their young forwards are already on the NHL roster.
That said, there were still forwards that impressed. Marc-Olivier Roy, a former Oilers second-round pick, had the lone goal. Curtis Valk was able to shine as well. He seemed like he was everywhere on the ice, playing the point on the first power-play unit, centre on the penalty kill and created one of the best scoring chances for the Canucks near the midway point of the second period.
Vancouver Canucks vs. Winnipeg Jets
In game one, the only player I was really left wanting more from was Cole Cassels. I'd hoped I would see Cassels shut down Jesse Puljujarvi like he had done to Connor McDavid in the OHL championship. However, that didn't happen and it's understandable why it didn't. Cassels is just returning from an injury and Puljujarvi is a truly elite talent.
However, in Game 2, Cassels had a much better game factoring in on special teams and scoring a buzzer beater with just 0.3 seconds left on the clock and finishing with three shots on goal.
After a good showing in game one from Roy, it was another invitee who shone in game two as Danny Moynihan had a solid game with a goal and solid play at both ends of the ice.
Want your voice heard? Join the The Canuck Way team!
On defense, Troy Stecher had another solid game and continued to build upon what he did in Game 1. The Canucks could have something really good with him and I'm certainly looking forward to seeing if he can compete for a spot on the main roster.
Juolevi was noticeable in this game and it wasn't good. He didn't necessarily have a bad game, but he was on the ice for both Jets goals and was directly responsible for their first goal, giving up a breakaway to Michael Spacek on a power play. However, he did start the play on Cassels' buzzer beater with a long stretch pass to Michael Carcone who got the puck over to Cassels for the goal.
Michael Garteig got the call between the pipes and was solid, making 13 saves in the first period alone, despite two goals on bad giveaways. I want to see more than just one game from Garteig before I say too much but it looks like he has the potential to blossom in to a decent NHL goalie.
Vancouver Canucks vs. Calgary Flames
Jordan Subban should not be in consideration for a position on the Canucks blue line this year. I had hoped he had improved on his defensive abilities but that isn't the case yet. He makes too many wrong decisions and is often left hanging because of it.
This was made obvious when Ryan Lomberg stripped him of the puck and went down the other way to put the Flames up 2-1. He's great on the offensive and scored a pretty goal as he flew out of the penalty box but he is too much of a defensive liability to be in the Canucks lineup this year.  Hopefully, with another year in Utica, he'll be ready next year to crack the lineup.
Subban might not be ready for the NHL, but I'm convinced that Demko is ready for the pros. Demko made three or four highlight reel saves in this game and looked stellar throughout, stopping two penalty shots from Mark Jankowski and finishing with 23 saves in 40 minutes of action. With Jacob Markstrom away at the World Cup, Demko will get plenty of preseason action this year and I'm looking forward to watching him compete against some NHLers.
Furthermore, Yan-Pavel Laplante is a player I was really impressed with in this game. He had the "Gordie Howe Hat Trick" with a goal, an assist and a spirited fight against Ryan Lomberg, who just so happened to be mic'd up for this game.
Carcone came into this tournament as somewhat of an underdog and ended it with the best play of the tournament going end to end on a give and go with Cassels and going bar-down as the kids say for a very pretty goal, earning himself an invite to NHL camp in the process.
Conclusion
All in all, the tournament has to be considered a success for the Canucks. They had the opportunity to see how their prospects stack up against three other young teams in Western Canada and although the results on the scoreboard weren't there, one had to be impressed with the Canucks performance throughout.
The future looks bright in goal and on defense, and with all the young players up front on the NHL roster, things will be good there too.
Next up for the Canucks will be their training camp.
GM Jim Benning has already confirmed that Olli Juolevi, Troy Stecher, Michael Carcone, Yan-Pavel Laplante Marc-Olivier Roy, Thatcher Demko and Michael Garteig will all be attending main camp- He also said, however, that most of the guys that played in this tournament will be at main camp, which means guys like Jordan Subban and Joseph Labate will be likely be in attendance as well.
Do any of them have a chance to actually crack the NHL roster? That's a whole different story…
This article originally appeared on