Vancouver Canucks Win vs. Flames the Perfect Intro for What Is to Come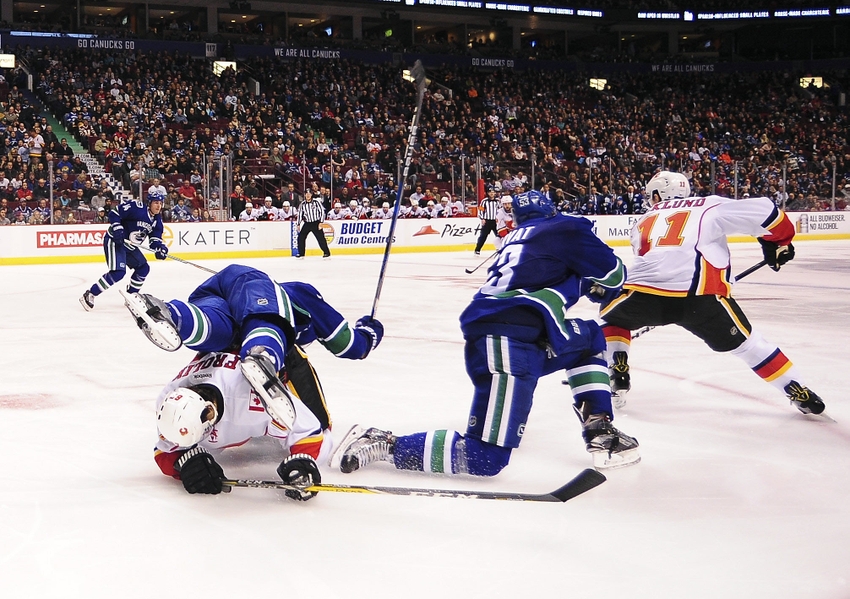 The Vancouver Canucks opened the 2016-17 season with a 2-1 shootout win against the Calgary Flames.
It was a perfect night for the Vancouver Canucks. Loui Eriksson scored, the Tre Kronor line added another goal, Brandon Sutter scored the game winner in his first game in what feels like three years, and Ryan Miller saved every shot he faced. But, the Canucks still somehow managed to make this a close game that seems like the perfect introduction into what is yet to come.
Eriksson scored, but it was into his own net.
He and Henrik Sedin assisted on the second goal of the night, scored by Daniel Sedin, but it was actually the first for the Canucks.
Miller saved every shot he faced, but was robbed of his shutout because of Eriksson's own-goal.
Sutter did score the game winner, but it was in the shootout — he still didn't look like a good second-line center who can score consistently.
A lot of what happened is what we have been seeing throughout the past few seasons, and will likely see again this year. A mix of positives and negatives, along with a great portion of bad luck.
Saying the Canucks' recent success, or rather lack thereof, is a result of bad luck would be too easy and also factually wrong. However, there have been many instances over the past years where the Canucks lost games (and a draft lottery…) because of bad luck.
An own-goal and "losing" a shutout because of it simply fits in the big picture.
Now, you may say "what are you talking about — Vancouver won" and you are totally right. That, too, seems like a great intro into the season.
In 2015-16, the Canucks finished 28th in the standings. Many, if not most, non-Canucks fans and writers predict Vancouver to finish dead-last this time around. I am still struggling to understand why.
Want your voice heard? Join the The Canuck Way team!
Last season, the Canucks struggled with injuries, scoring, and a lack of defensive depth. This time around, they have a healthy roster (for now), added a 30-goal scorer (Eriksson) to their lineup, and made several changes to a D-group that should be stronger and deeper than last season.
In other words, the Canucks should improve, and they have a shot at a playoff spot just as much as the Flames, Edmonton Oilers and Arizona Coyotes do.
There will be wins, there will be losses. There will be lucky bounces and own-goals. There will be old-school Sedinery and 2016's top Canucks scorer on the fourth line.
It will be a turmoil of emotions that will see us yelling at the TV and jumping on the couch, dancing.
The Vancouver Canucks' 2016-17 season opener was the perfect introduction for the upcoming year.
This article originally appeared on