Vancouver Canucks vs. Chicago Blackhawks: Q & A with a Hawks Writer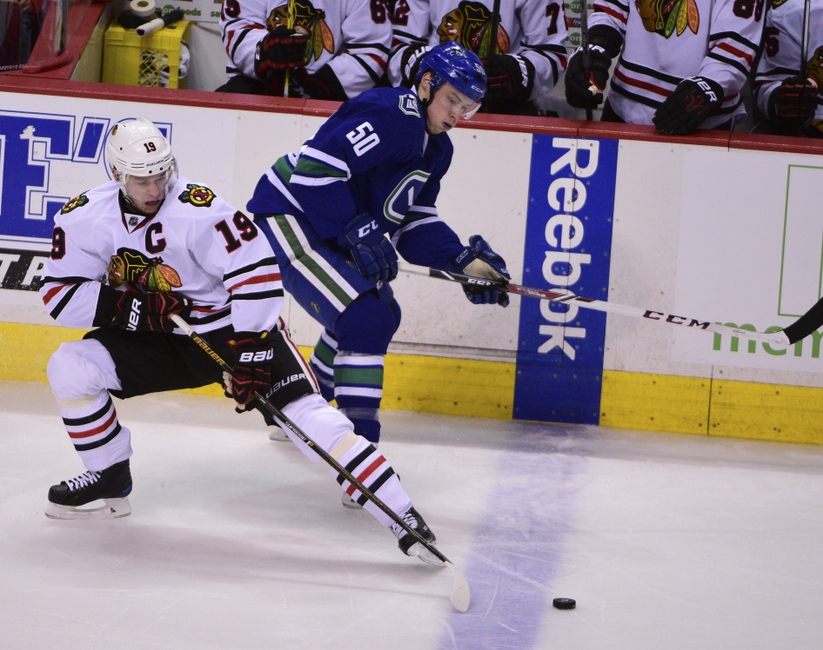 The Vancouver Canucks host the Chicago Blackhawks tonight at Rogers Arena. To preview the game, TCW did a Q & A with a writer from Blackhawk Up!
Tonight, the Vancouver Canucks will look to win two games in a row for the first time since October 20.
Yes, it's been that long.
The Chicago Blackhawks are in town. Formerly bitter playoff rivals, the Hawks still look poised to challenge for the Stanley Cup, while the Canucks have fallen from playoff grace.
However, their regular season games are always spirited affairs. In their first game against the Hawks last year, Vancouver doubled up 6-3, including a "hatless" hat trick from Daniel Sedin. Chicago responded by winning the next two 4-0 and 3-2.
To help preview tonight's game, The Canuck Way posed some questions to FanSided's Hawks site, Blackhawk Up. One of their writers, Gail Kauchak, was kind enough to answer!
Blackhawks Questions, Answered
The Canuck Way: How underrated is Corey Crawford, and just how good has been this season?
Gail Kauchak: Why does Crow get no respect?! His numbers are strong; his .928 save percentage ranks 13th in the league so far, and his goals against average of 2.17 ranks 14th. He also already boasts two shutouts. But you have to watch Corey Crawford night in and night out to really appreciate him.
He's the backbone of this team right now. He bails them out time and time again. Since the beginning of the season, Crow has been there to rescue the defense while they go through their growing pains. Even when the offense has trouble scoring, Crawford consistently makes those timely saves to keep the 'Hawks in close games, and give them a chance to win.
You guys should consider yourselves lucky. As this is the second game of back-to-backs, you will most likely see Scott Darling in goal tonight instead of Crawford. But don't get too excited; Darls is no slouch either.
TCW: How are the Blackhawks compared to your expectations this year? Better, worse, or about the same?
GK: I'm going to have to say better. With all the newcomers added to the roster this year, there was a big question mark as to how the team would gel. And how Coach Joel Quenneville would respond to them. He is notorious for having very little patience with the youngsters.
But so far, so good. A number of new players have shown they can skate with the big boys and make contributions. Combine this with the resurgence of Marian Hossa, and recent hot streaks by Richard Panik and Artem Anisimov, and this team is showing promise once again.
Wait, did I mention the core players Jonathan Toews, Patrick Kane, Duncan Keith, Brent Seabrook, and Niklas Hjalmarsson? Man, we're lucky! I'm sorry, I don't mean to rub it in.
TCW: What is the biggest concern with the Hawks so far?
GK: A left winger for the top line. Even since Brandon Saad left at the end of the 2014-15 season to go to the Columbus Blue Jackets, the Hawks have been struggling to fill his skates. According to the Chicago Sun Times' Mark Lazerus, since then center Jonathan Toews has played with 12 different left wings. Just this season alone, he's had six.
Last night rookie Ryan Hartman got promoted to this top spot midway through the game, replacing Richard Panik. I would expect him to be there again tonight. It's hard to keep up with the likes of Toews and Kane, but at some point somebody has to stick. It will be interesting to see how Hartman fares tonight.
TCW: Who has been the biggest surprise this season?
GK: The rookies. Tyler Motte and Ryan Hartman both boast three goals in 13 games. Nick Schmaltz and defenseman Gustav Forsling both have one goal. Forsling and fellow defenseman Michal Kempny have established themselves as regular players in the lineup. And Vince Hinostroza, who has dealt with healthy scratches and now a concussion, has recently shown signs that he could be a piece of things as well.
TCW: Two of the Canucks best prospects, Troy Stecher and Brock Boeser, were teammates of Nick Schmaltz at UND. How has Schmaltz looked in his first NHL season?
GK: Schmaltz has played in all 18 games for the Chicago Blackhawks this season, so this is a positive sign that the coaching staff likes him and feels he is useful. He's played mostly on the fourth and third lines, rotating between center and wing. He even had a stint on the coveted top line left wing, but he didn't do much with his opportunity.
As mentioned above, Schmaltz has one goal to his name so far in his NHL career. But in his 18 games, he hasn't recorded a shot on goal for 11 of them. He needs to keep working hard and take advantage of the opportunities he is given.
TCW: Is the Stanley Cup window for the Blackhawks still wide open, or is it starting to close?
In my opinion, the window is still wide open. Toews and Kane aren't going anywhere, and are still in the prime of their careers. General manager Stan Bowman has worked hard to make sure there are lots of complementary players around these two. Artemi Panarin and Marcus Kruger are two names that immediately come to mind.
It could be argued that Corey Crawford is also in his prime right now. And don't forget about future Hall-of-Famer Marian Hossa. His two-way play and veteran presence can never be taken for granted. Not to mention that a number of the rookies are showing great promise.
My one concern would be that the defensive corps is getting up there in age. Duncan Keith is 33 years old, and Brent Seabrook is 31. Niklas Hjalmarsson is 29, and of course Brian Campbell is 37. These are your top four defensemen. But I have faith in Stan Bowman. I believe he will keep the Chicago Blackhawks in the running for the Cup for years to come.
Bring on the Hawks
There you have it. A big thank you to Gail Kauchak and Blackhawk Up! You can also visit their site to see questions they asked TCW, and the answers we gave.
The Vancouver Canucks and Chicago Blackhawks drop the puck at 7 PM PST at Rogers Arena.
This article originally appeared on