Vancouver Canucks Training Camp Lines Suggest Virtanen Is out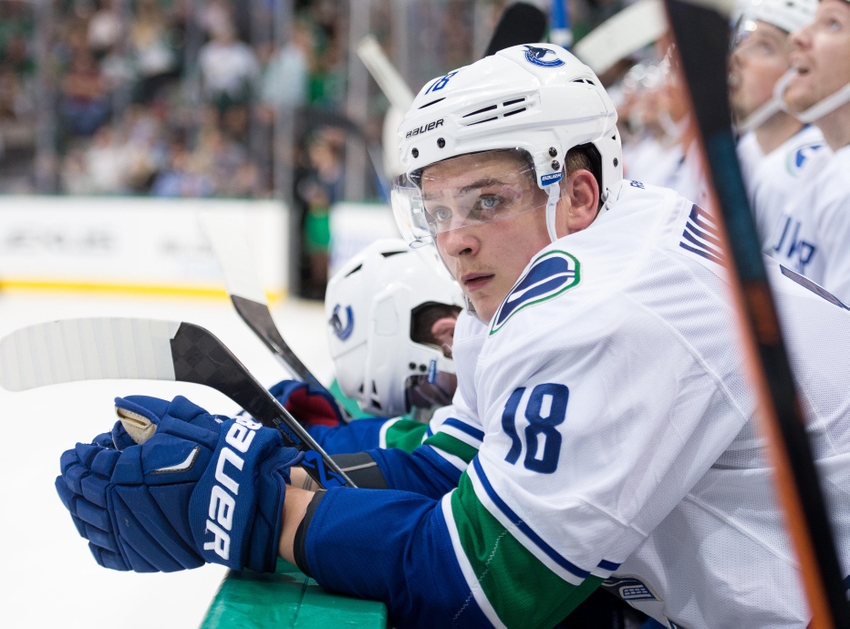 Vancouver Canucks sophomore forward Jake Virtanen looks like the odd man out at the start of training camp.
The Vancouver Canucks are facing tough roster decisions. In all likelihood, 13 forwards will make the final cut, but the team has several more that are waiver-eligible and on one-way contracts. Because of that, as well as Jake Virtanen's low-scoring rookie season, many expected Virtanen to start the year with the AHL Utica Comets.
That might actually be happening.
On the first day of training camp, Virtanen played right wing to center Cole Cassels and left wing Mike Zalewski. That sounds a lot like AHL top line, not NHL.
The Positives
In 2015-16, Zalewski was arguably the Comets' best player. He had 16 goals and 33 points in 58 games while playing a strong two-way game. As a reward, Zalewski was called up for three NHL games, where he recorded one assist.
For Cassels, things didn't go quite as well. After a strong Memorial Cup run that saw him battle through an abdominal injury, he needed time to recover and couldn't use the 2015 summer to train. That might not be the only reason, but it was certainly a contributing factor to a two-goal, seven-point AHL rookie season.
Combining Utica's top forward with one of their weakest point producers, who is hoping to recover his scoring abilities, and a youngster with a whole NHL season under his belt just makes sense.
None of the three were top point producers last season. But together, they could be a great AHL line and all develop into full-time NHL players together.
Plus, of course, Virtanen is waiver-exempt and has a two-way contract — perfect circumstances to send him down.
The Negatives
There are really just two minor negatives; one for the club and one for the player.
From Virtanen's point of view, playing in the AHL obviously isn't great. He played a full year in the NHL and was one of the Canucks' best defensive players. All that's missing is his goal scoring, but that is to be expected when he plays 10 minutes per game with line mates like Derek Dorsett and Brandon Prust.
Instead of demoting him to the AHL, letting him play with Bo Horvat and Sven Baertschi could work just as well, perhaps even better. Horvat and Baertschi will likely play with Jannik Hansen once he is back from the World Cup of Hockey, but Virtanen wouldn't be a worse option.
For the Canucks, losing Virtanen's defensive abilities could hurt. Virtanen has the intangibles Jim Benning loves and the analytics community says don't exist.
He is the only forward on the Canucks who really plays with grit and physicality. Dorsett is the "official" gritty fourth liner, but he doesn't hit like Virtanen. Virtanen is the kind of player that can scare opponents just by racing towards them.
Well, in theory. We don't know if any of this has an effect on the outcome of a game, but it is stuff coaches and GMs consider.
Outlook
With all that said, Virtanen isn't in the AHL yet, and he might never end up there.
It's the second day of training camp, with 21 days left before the season starts. You have to have some kind of lines to begin with, but nothing — really nothing — is set in stone yet.
For all we know, Cassels and Zalewski could be locks for the AHL and Virtanen is only playing with them until the Sedins return from the World Cup, so that we can get a Sedin-Sedin-Virtanen line. It's unlikely, but it could happen.
Even if that's not the case, if Virtanen is pencilled in for the Comets, a strong training camp could change everything. Training camp and the preseason are long, and a few good games are all it takes.
Virtanen's fate is in his own hands.
This article originally appeared on