Vancouver Canucks: Still No Timeline for Anton Rodin Return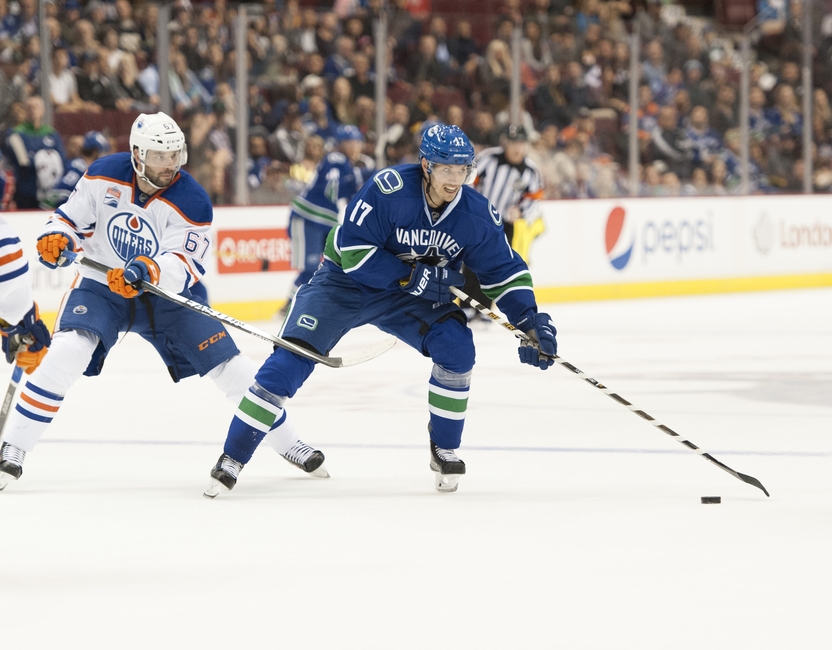 Vancouver Canucks forward Anton Rodin was one of the most pleasant preseason surprises but is recovering from a long-term knee injury.
The Vancouver Canucks are 3-0 to start the season and actually played good hockey to get there. However, they could still use an extra scorer who can improve the bottom nine's production. Swedish winger Anton Rodin could be exactly that guy, but it will be another while before he is ready to make his debut.
In four preseason contests, Rodin had two goals and three assists for five points. No matter where the Canucks decide to put him in the lineup when he returns, Rodin should certainly help. The question is when he will be ready.
Today, he was back on the ice, but there is still no timeline for his return.
Rodin is recovering from a knee injury he suffered in Sweden last season. The injury limited him to 32 games in the 2015-16 campaign, but he still managed to record 16 goals and 37 points, before being named SHL MVP.
Despite his success in Sweden and in preseason, there are obviously no guarantees for him to work out. Rodin's last stint in North America lasted just two seasons in the American Hockey League, where the speedy winger failed to make a name for himself. In 111 games, he recorded 14 goals and 41 points.
Want your voice heard? Join the The Canuck Way team!
However, Rodin should give the Canucks some much-needed flexibility this time around. Whether it is on the right wing of Henrik and Daniel Sedin, the left wing of Brandon Sutter or the right wing of Bo Horvat — the Canucks can make room for him.
But, Rodin's return will bring some complications as well. With him on injured reserve, the Canucks are already at the 23-man roster limit. Once Rodin returns, they will likely send one of Jake Virtanen and Brendan Gaunce to the AHL Utica Comets. At this point, my guess would be that Virtanen goes down.
On the bright side, Markus Granlund is emerging as a reliable winger alongside Sutter, so the Canucks are fine for now. But no matter what Granlund does, Rodin's debut should be exciting — whenever it happens.
This article originally appeared on