Vancouver Canucks Should Try Trading G Ryan Miller Soon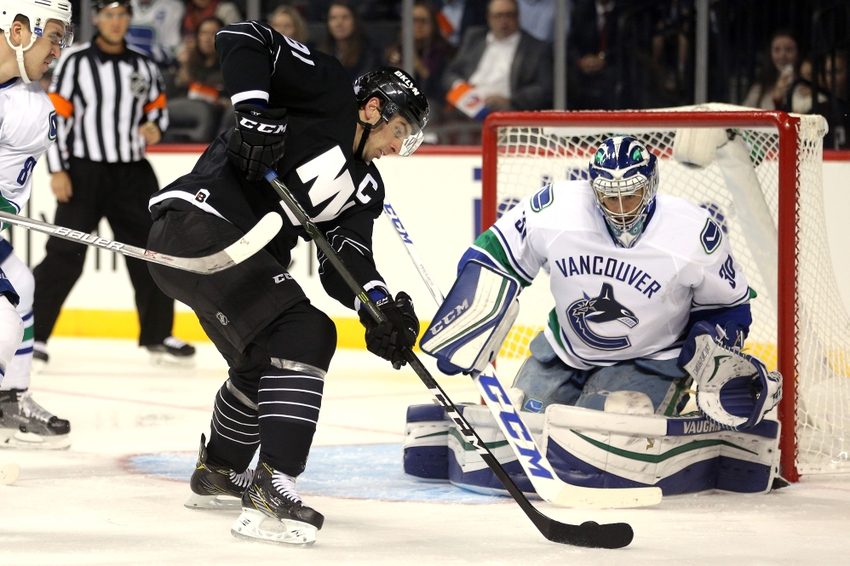 Vancouver Canucks goaltender Ryan Miller has played well despite his record. It may be best for the team to trade him now.
The Vancouver Canucks may have lost nine of their last 10 games, but their goaltending has still been excellent.
Ryan Miller and Jacob Markstrom have both kept their team within a goal to enter the third period of almost every game.
While Miller has only been in net for one of the team's five wins, he has still been competent, and at times brilliant. He may be 36, but he is still a quality starting goalie.
His time working with the goaltending coaches in Vancouver has clearly benefitted him. He is still by nature an aggressive goaltender who relies on his reads. But lately he has added to his repertoire by sometimes playing deeper in his crease.
Canucks general manager Jim Benning signed Miller to a $6 Million-per-year contact early in his tenure. The goaltender is a poster-child for the Canucks' refusal to rebuild their team.
Yet, while you can criticize Benning for trying to keep his aging team competitive, you cannot deny the Miller still has what it takes to carry a team. The Canucks have looked bad at times this season, but rarely has their goaltender let them down.
Miller has been good. But it may be wise to look at trading him sooner rather than later.
An Early Trade Deadline
It is clear that the Canucks will not re-sign Miller after this season. But in the meantime, Jim Benning still considers Miller his number one goaltender, despite the emergence of Jacob Markstrom.
Benning might still believe his team can compete. If the Canucks' recent struggles continue, though, he will have to reevaluate.
Should it turn out that Vancouver cannot make the playoffs this season, it may be best to try to trade Ryan Miller now, rather than wait until the trade deadline.
For one thing, Miller's trade value should be fairly high right now. He has kept the hamstrung Canucks in games, despite getting little goal support.
For another, there are a few good teams which are going through goaltending struggles right now:
The Los Angeles Kings have lost Jonathan Quick for an extended period of time. L.A is one point out of the last wild card spot in the Western Conference.
The Dallas Stars have two expensive goaltenders with save-percentages below .900. They are holding down the last wild card spot, but they've allowed 50 goals in 15 games this season.
The Nashville Predators are still digging themselves out of the hole they made early in the year. They are only 4-3-3 in their last ten games. Pekka Rinne appears to be in fine form, but struggled with consistency last year.
All of these teams expect to make the playoffs and go on a deep run. If they continue to struggle, any of them might look to improve their goaltending. With only this year left on his contract, Miller could be the perfect rental.
Looking Forward
Benning may not want to accept defeat on this season, but with Markstrom still around there is no immediate concern in the Canucks' crease. The GM should be forward-looking and try to get full value for Miller as soon as he can.
With Miller's cap hit he may have to retain salary or take on a bad contract in return. If he does this, he could reap an extra draft pick and a prospect, both of which the Canucks desperately need going forward.
Canucks management may not want to give up on this season too quickly. But trading their veteran goalie would be a forward-looking move that could help the team build for the future.
It might also buy him some goodwill with fans, and that is hard enough to come by in Vancouver these days.
The Vancouver Canucks don't have many tradeable assets. Ryan Miller is one of them, and they should try to get maximum value for him.
That might mean trading him sooner rather than later.
This article originally appeared on