Vancouver Canucks Rookie Troy Stecher Bumped to First Pairing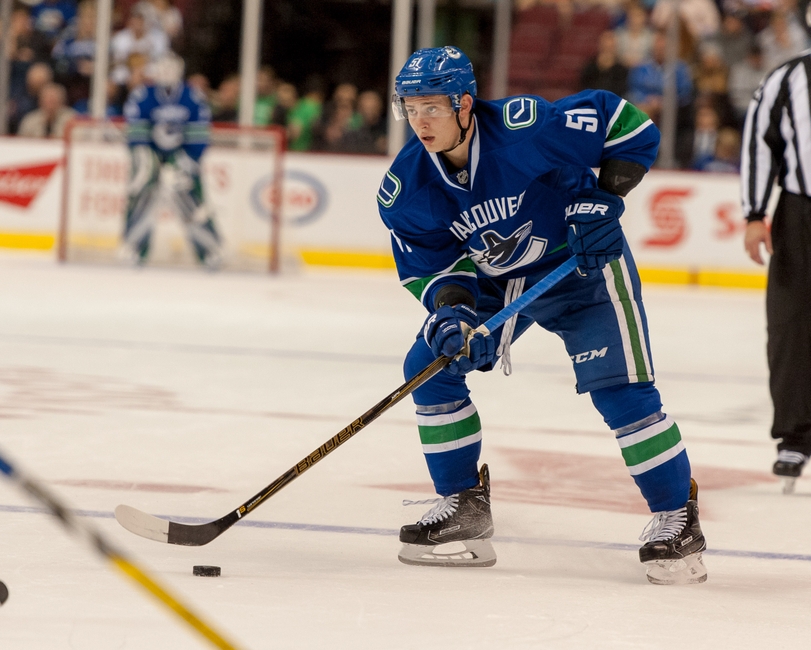 With Vancouver Canucks top defender Alex Edler out for a significant amount of time, head coach Wille Desjardins has decided to bump up rookie Troy Stecher to the first pairing. What has the 22-year-old Stecher done to boost his stock this season?
With all the misery the Vancouver Canucks fan base has been through (and will continue to experience), it's good to know there are at least a couple of bright spots on a team that is projected to contend for the first overall pick this June.
One of these bright spots on a dwindling Canucks squad comes in the form of a young defender and hometown boy, Troy Stecher. Stecher was a free agent signing out of the NCAA by Vancouver this summer, one of the rare good moves GM Jim Benning has made in his tenure.
After impressing with 29 points in 43 college games (not to mention a plus-26 +/- rating) for the NCAA champs in North Dakota, Stecher was inked to a two-year entry-level contract by the Vancouver Canucks and quickly rose up the ranks.
After starting the campaign in the AHL, Stecher was recalled after just four games and scored his first NHL goal a little more than two weeks after.
Three points in 13 games isn't exactly spectacular for a rookie defender, nor is it anything to laugh at. But it's not just Stecher's offensive play that has earned praise from head coach Willie Desjardins.
Stecher plays a persistent, gritty game in his own end that his earning kudos from his head coach and teammates:
"He shouldn't be playing that kind of ice time," Desjardins said Saturday. "But he's so competitive, eh? He just finds a way. He was so good in the third period. It's pretty amazing what he's doing. We found a guy we didn't expect to be where he's at right now. We're lucky that he's here."
Even Stecher's colleagues in Vancouver are surprised.
"When I first saw him," defender Luca Sbisa said, "I was like: 'Is this the new guy we signed? He's pretty small — he better have some skill.' Whew, has he surprised me. He's been unreal for us.
"Usually, new guys can come in play well, but after the first little while, they hit that bump in the road. Sometimes a guy kind of realizes where he is. Not with him. Hopefully, he keeps going. He wants the puck; he's got all the confidence in the world." (Quotes via National Post)
So there you go, Canucks fans. Finally, something (or somebody) you can cheer for.
This article originally appeared on