Vancouver Canucks: Nolan Patrick isn't the Only Reason to Tank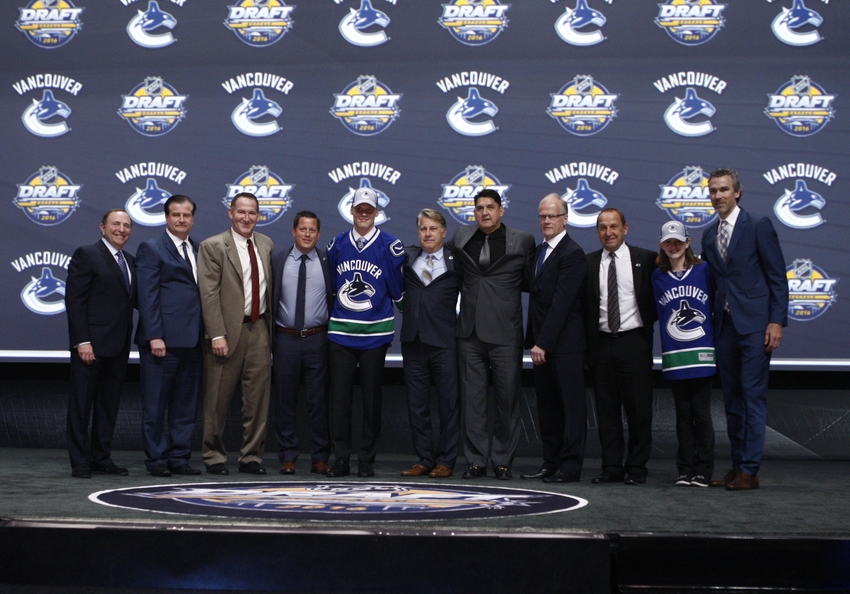 Some people believe Nolan Patrick is not worth the Vancouver Canucks tanking for. But Patrick isn't the only thing at stake in the draft.
The futility continues for the Vancouver Canucks.
With the team losing nine of their last 10 games, many fans are turning their attention to the 2017 Draft.
Yet, there is some debate about whether Vancouver should sell assets and "tank" in order to secure a high draft pick.
For one thing, with the current lottery format, there is no guarantee. The 30th-place team has only a 20% chance of picking first overall, and a 52.5% chance of picking in the top-3. So, anti-draftists argue, why give up hope on a season when there is no guarantee of getting the top spot?
Tanking is a Process, Not a Goal
No one is suggesting that tanking this season is a magic bullet, or a cure-all. The Canucks should not pursue the first-overall pick as their single goal.
Rather, tanking is about a process. The team would attempt to be bad enough to finish 30th overall. But in order to do that, they would first sell off some assets to obtain more draft picks.
Trading away valuable NHL players makes the team worse in the short term, which helps get the best lottery odds. At the same time, those trades will net the Canucks young prospects and/or more draft picks.
Right now, the Canucks only have five picks in the 2017 Draft. They traded away their 6th round pick (and Nicklas Jensen) to acquire Emerson Etem; and they traded their 5th rounder for the rights to Philip Larsen.
In order to build for the future, the Canucks must recoup those picks, and more.
Draft Early, Draft Often
A rebuild is never about one player. No young player is guaranteed to succeed at the NHL level. So, in order to increase your team's odds of adding future NHLers, you must draft as many players as possible.
The other thing which increases a team's odds is picking relatively high. And that's why finishing 30th is so valuable. True, if the Canucks finish last they may pick as low as No. 4. But they are guaranteed to pick at 32, 63, and so forth. (Remember, the new Las Vegas team makes for 31 selections in each round).
Picking relatively higher in each round increases the chances of draft success.
Some argue that the 2017 draft class is not deep enough to justify deliberately losing. However, this is all relative. There may not be a  Connor McDavid, Jack Eichel, Auston Matthews or a Patrick Laine in this year's draft. But again, it's never about one player.
Currently, the Canucks only have two top-tier skater prospects: Brock Boeser and Olli Juolevi. It will take more than one top-six forward and one top-four defenseman to build a winning team.
Recently, I asked Satiar Shah and J.D Burke of Canucks Army how many more top-flight prospects the Canucks need in order to rebuild. They estimated that Vancouver is short two top-four D, and — get this — five top-six forwards.
If that's true, the Canucks have a lot of ground to make up to deepen their prospect pool. One pick, no matter how high, won't make the difference. To rebuild, they need to draft as many players as they can, as high as they can.
How Good is Nolan Patrick?
Nolan Patrick is clearly not the next McDavid or Matthews. The question is, how good is he?
One player whom Patrick is often being compared to is Anaheim Ducks' captain Ryan Getzlaf.
That puts things into perspective. Is Getzlaf the most purely talented player around? No. Is he a generational player who will forever change the face of a franchise? Probably not.
Is he a bonafide NHL number one center whom a team can build around? Absolutely, yes.
Nolan Patrick looks like a cornerstone player who will instantly improve the future of whoever drafts him. In other words, he's exactly the sort of player Vancouver needs to draft.
He doesn't ever have to be the best in the NHL at his position. Trevor Linden was not the best player at his position at any point in his career. Yet the Canucks built a team around him and nearly won a Stanley Cup.
Why couldn't they do the same with Nolan Patrick?
More at Stake than Just First-Overall
Finishing in 30th place will not guarantee the Canucks draft success. There is no way to guarantee success in the NHL.
At the same time, it's a mistake to avoid making a good decision because it isn't guaranteed to work.
To give themselves the best chance of success, the Vancouver Canucks should choose the best option available to them. Right now, tanking seems like the best option.
This article originally appeared on