Vancouver Canucks Need to Consider Trading the Sedins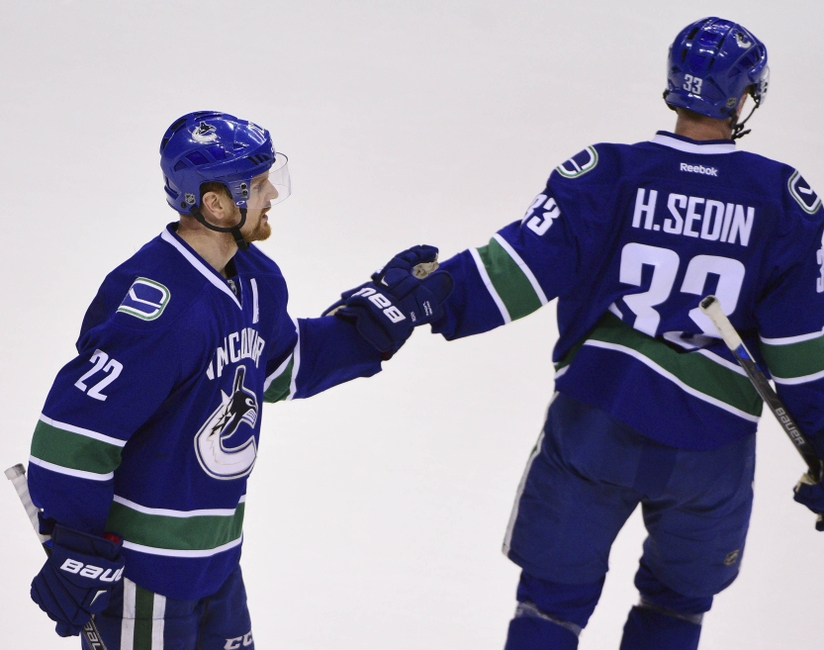 With the Vancouver Canucks off to a frustrating start, it's time to go on a full-scale rebuild and think about tradings their franchise players.
The Vancouver Canucks lost their eighth-straight game on Saturday, this time a disappointing 6-3 defeat to the young Toronto Maple Leafs.
It's now evident that their 4-0 start was simply a mirage, not an indication of another renaissance.
This team had a chance to go on a rebuild during the offseason after finishing with the NHL's third-worst record last year. Instead, Jim Benning stuck to the plan of rebuilding on the fly. They tried getting younger for the most part, but they wanted to aim for the playoffs as well.
So they drafted Olli Juolevi with the fifth-overall pick, traded young center Jared McCann in a package deal for towering defenseman Erik Gudbranson and signed Loui Eriksson to a six-year deal worth $36 million.
Benning also had a chance to buy out Alexandre Burrows, a fan-favorite who is now a shell of his former self. They could have looked to move on from veteran Ryan Miller, who had one year left on his deal. The Canucks opted to keep both. And right now, it's all blowing up in their faces.
They haven't shown enough signs of turning it around. If it's to be the third non-playoff season in four years for Vancouver, then it's time to do the unthinkable.
It's time to think about trading Daniel and Henrik Sedin.
Trade the Twins?
It sounds crazy on paper. But you have to look at the big picture. The Canucks will eventually commit to a long-term rebuild, it's inevitable. What good is it to keep around a pair of 36-year-olds who don't have the gas at this point to completely turn this team around?
Obviously, moving them is easier said than done. After this season, they each have one more year left on their deals that'll pay them $7 million. It's not going to be easy for anyone to take on $14 million in cap space. But it can be done.
Let's picture what the Canucks could get. You're easily looking at one or two first-round selections, at least one elite prospect and hopefully another NHL-ready player who's 25 or younger. Those are guys you want to rebuild with, not a pair of fading stars who'll be lucky to put up 60 points again in their careers.
Where could they end up?
For the Canucks to make a trade work, they'd either have to take on a large portion of each twin's salary, or take back a toxic contract in return.
The Dallas Stars have a problem in net with Kari Lehtonen and Antti Niemi, whose cap hits are $5.9 and $4.5 million, respectively. Both of them are free agents in 2018, like the Sedins. Imagine if the Canucks take on one or both contracts, and find a way to ship another. Dallas would certainly take the Sedins over two inconsistent and overpaid netminders.
Zdeno Chara will also be a free agent in 2018, and with his Norris Trophy days behind him, could get moved out of Boston. Wouldn't they want the Sedins instead of him?
Those are just some possible options.
The Vancouver Canucks are going to have to start tearing it all down soon. And if they're that desperate to get back into contention, securing a few future assets in exchange for trading two past-their-prime veterans is the way to go.
This article originally appeared on