Vancouver Canucks: Losing Streak Could Be the Best Thing to Happen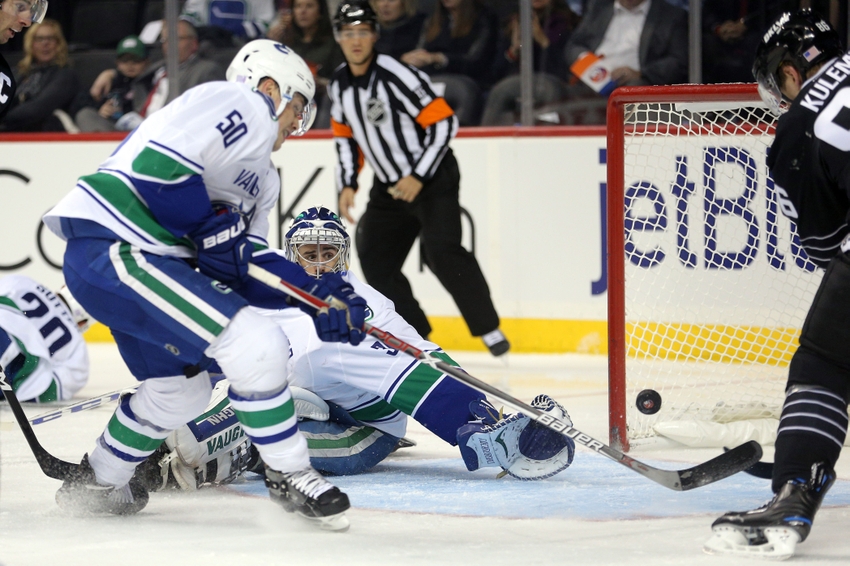 The Vancouver Canucks have lost nine games in a row. It's painful to watch right now, but the losing streak might be a blessing in disguise.
With each passing loss, it's becoming more difficult for Vancouver Canucks fans to stay positive.
During this winless stretch, the Canucks have been within one goal to start every third period. Technically, this means that they had a chance of winning every game.
But if you've watched most of the games, you know that they haven't been that close to winning any of them.
Vancouver is getting unlucky, to a degree. Pucks have bounced over forwards' sticks in the slots. Great chances have been missed, or opposing goalies have made great saves.
You can't account for luck in hockey. All you can do is create enough chances to outrun your bad luck. This is what the Canucks have not been able to do in the last nine games. Vancouver generates so few chances, they can't escape their bad luck.
No team converts all of their grade-A scoring chances. In fact, the best teams will still fail on most of them. So when you don't get very many grade-A chances in a game, you will not score enough goals to win. Until, that is, you go on a lucky streak where they all seem to go in at once.
The Canucks will get a lucky streak, eventually. Will that streak be enough to make them a winning team? Probably not — but again, you can't account for luck. Once that good luck runs out, though, they'll probably go right back to losing.
Regardless, I'm still hopeful for the team's future. Even if that future is still far away.
Why the losing streak could be good news
Before the season started the Canucks organization believed their team could compete. Willie Desjardins, Jim Benning and Trevor Linden all said so. They still say so.
The longer this losing streak continues, the more they'll be forced to reassess.
When your expectations and your actual results are so vastly different, one of two things has to happen. Either you admit that your expectations were wrong, and adjust, or else you rationalize your results away.
Currently, Canucks brass are rationalizing — a lot. They are blaming their losses on luck. Now that they have a few key players injured, they'll probably start blaming injuries as well. They also say that they can fix their team by adding another goal-scorer.
Eventually, though, something will give. Maybe management will get fed up with falling short of their expectations.
Or maybe ownership will get fed up with the rationalizations and get rid of management. Either way, someone will get sick of losing and make the change.
Change is coming — eventually
Trevor Linden and Jim Benning have strong convictions. So does owner Francesco Aquilini. It may take longer than we would like for any of them to admit their mistakes.
At the same time, you don't get to be in their positions by being unwilling to adapt. They may be reluctant to change, but that doesn't mean they never will.
What will it take? Who knows. Maybe only a few more weeks of losing hockey.
Or maybe longer. As long as the Sedins are around, management can probably continue to pretend the Canucks are a playoff team.
The Sedins don't have much time left though. Right now, they might be the only thing standing between the Canucks and total collapse.Once they retire, or are traded, there will be no more room to rationalize.
Hopefully the organization will choose to rebuild before that happens. Even if they don't, once they lose the Sedins they won't have a choice.
It's painful to watch your team lose. Even more painful when they say they are trying to win. Still, it might be just what this organization needs to find their way.
The Vancouver Canucks will eventually rebuild, and they'll eventually contend once again. It might just take a while.
This article originally appeared on