Vancouver Canucks Go 3-0 to Start Season Without Ever Leading in Regulation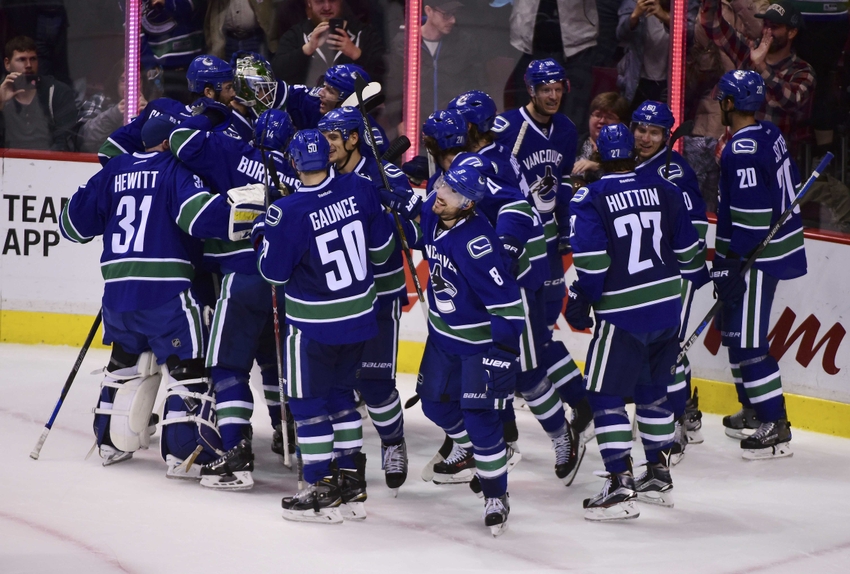 The Vancouver Canucks are — believe it or not — one of two unbeaten teams after three games this season.
Most "experts" predicted (or still predict?) the Vancouver Canucks to finish 30th in the 2016-17 NHL season. Three games in, however, the Canucks are still unbeaten, and set a slightly unusual NHL record: the first team to win their first three games without having a single regulation lead.
It's a much-needed breath of fresh air. In 2015-16, we were used to seeing the Canucks lose in overtime or shootouts. Even when they had an early lead, they always seemed to find a way to lose. Times have changed — at least for now.
Against the St. Louis Blues, who are still without a regulation loss, the Canucks were arguably the better team through most of the first half. However, it was Vladimir Tarasenko who sniped a puck past Jacob Markstrom 10:23 into the second period.
Want your voice heard? Join the The Canuck Way team!
So far, so good. We never expected anything else, and we are used to losing even when the Canucks played better hockey.
But, this year's Canucks are different.
With just 2:55 left to go, defenceman Erik Gudbranson fired a slap shot at the net, and centre Bo Horvat buried the rebound. He was clearly excited:
Not only did Horvat get a goal here, but it was also Gudbranson's first point as a Canuck. If he continues to score at this crazy pace, he will need only 24 more games to hit last year's point total (nine).
One thing that changed as opposed to the last two wins, it wasn't Brandon Sutter who won the game in overtime. Instead, a little Sedinery and Chris Tanev's stick was all it took.
The goal first seemed to be scored by Tanev, assisted by Daniel Sedin and Markstrom. Unfortunately, Markstrom was robbed of his third career assist, as Henrik Sedin apparently touched the puck last. Oh well.
Totally Random Game Notes
While the game was quite exciting for everyone, it was a very special night for UBC goalie Matt Hewitt, who backed up Markstrom due to a light groin injury to Ryan Miller. Hewitt says his "heart kind of stopped", but once he was at the game, he was all smiles while the rest of the team looked rather focused. What a day for him.
PTO signee Jack Skille, who is now on a real contract, came in to replace Jake Virtanen. He did a good job, but I still can't get over the Canucks giving up on Etem just to sign him. Skille is a hard-working player and a good depth player, but I don't think the signing was necessary.
The Canucks' power play (that now has the Sedins with Eriksson as well as PP quarterback Philip Larsen) is still without a goal. No need to panic, but things could be going better.
Putting Markus Granlund on Sutter's wing was a genius move. Willie D makes some odd decisions, but this really seems to be working out.
I really miss Troy Stecher and would love to see him play some real NHL hockey. Unfortunately, it'll probably take an injury to get him to Vancouver again.
This article originally appeared on