Vancouver Canucks G Jacob Markstrom Has Turned His Career Around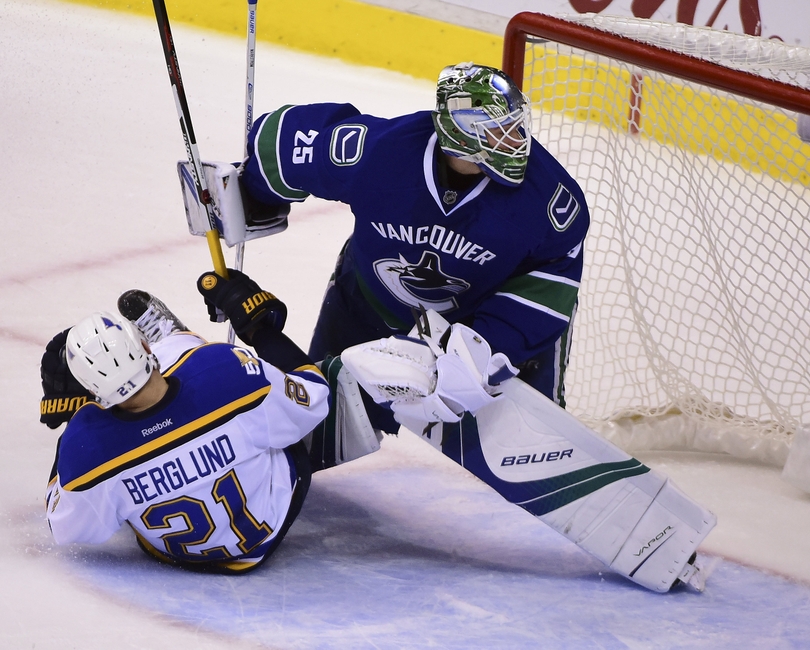 Two years after joining the Vancouver Canucks, Jacob Markstrom has gone from an NHL bust to a bonafide No. 1 goaltender.
It's been two years and seven months since the Vancouver Canucks acquired goaltender Jacob Markstrom.
Then-general manager Mike Gillis sent Roberto Luongo and prospect Steven Anthony to the Florida Panthers for Markstrom and Shawn Matthias. Gillis had already traded Cory Schneider a year earlier, in exchange for the draft pick that became Bo Horvat.
Vancouver's GM dealt away two franchise goaltenders. In return, he received one draft pick, one middle-six forward, and a goaltender with a career save percentage of .898.
Florida selected Markstrom 31st overall in 2008 and most considered him a future star. But in his four seasons with Florida, his numbers got steadily worse.
Needless to say, after watching two franchise goaltenders slip away, fans did not give Markstrom a warm welcome to Vancouver
Soon after the Luongo trade, the Canucks fired Gillis and replaced him with Jim Benning. The new GM's first move was to sign free agent goalie Ryan Miller. With Eddie Lack as the the backup, there was no room for Markstrom. The Canucks sent him to the AHL — after 29 other teams declined to claim him for free via waivers.
Markstrom began working with the Canucks' goalie coaches Rollie Melanson and Dan Cloutier. With their help, he backstopped the Utica Comets to the second-best record in the AHL and a berth in the 2015 Calder Cup final.
That summer, Benning decided to trade Lack and keep Markstrom.
The decision upset many fans. Lack was a crowd favorite, and many believed he was simply a better goaltender than Markstrom. Jacob had excelled in the AHL before, only to fail at the NHL. Most Canucks fans believed he would fail again.
Hard to believe that was only 15 months ago.
Two years can change everything
If you want to understand how far Markstrom has come, you don't need to look at his technique, or at his stats. You only need look at how Canucks fans saw him back then and how they see him now.
Earlier this week, Ryan Miller missed a morning skate with a mysterious injury. The Canucks had to call up an emergency backup for their game against the St. Louis Blues. Some wondered if Miller had a serious groin injury, while others speculated that he was about to be traded.
But the strange thing was, no one seemed the least bit worried.
The Canucks were off to an unexpected 2-0 start, and now they had lost their No. 1 goalie. No one was sure how severe the injury was, or how long Miller would be out. And no one seemed to care.
Miller has over 300 career wins. Still, fans were not concerned about what would happen to the Canucks without him.
That says it all. That is how you know that Markstrom has turned his entire career around.
When he arrived in Vancouver, fans questioned whether he was even good enough to play in the NHL. Now, they do not just believe he can be an NHL starter, they expect him to be. The only question is, how soon?
In two short years, he has won us all over.  There's no time to be bitter about losing Luongo; we're too busy cheering on the guy who replaced him.
The future looks bright with Thatcher Demko and Michael Garteig. The present doesn't look too bad, either.
Jim Benning believed in Jacob Markstrom. Now Vancouver Canucks fans do, too.
This article originally appeared on