Vancouver Canucks F Anton Rodin's Status Still a Mystery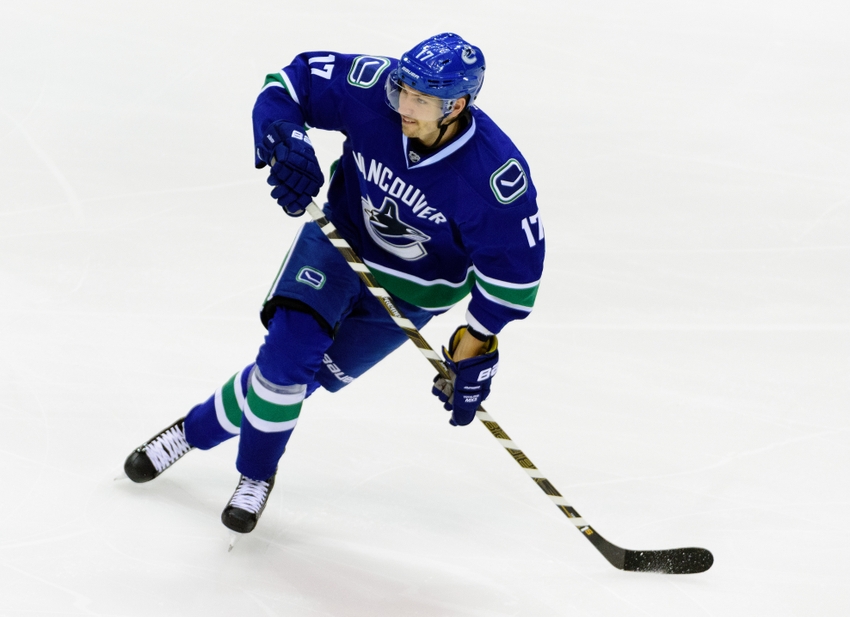 Winger Anton Rodin, an offseason addition by the Vancouver Canucks, was perhaps the biggest bright spot of the 2016 preseason.
Scoring two goals and three assists in four preseason contests with the Vancouver Canucks, forward Anton Rodin proved he was ready to play in the National Hockey League. Seven years after being drafted and four years after leaving North America, the Swede was finally ready.
Or so we thought.
So far, Rodin has not played a single regular-season game. His knee injury, which had kept him sidelined for all but 33 games with Brynas of the SHL last season, was bothering him again. Rodin seemingly went from NHL-ready to severely injured overnight, and the Canucks haven't given us a lot of updates.
The Mystery
On October 20, Jeff Paterson tweeted a picture of Rodin on the ice, but with no word of a return. On October 26, however, Ben Kuzma reported Rodin was not doing more on-ice sessions, instead being on a four-to-six week strength program. On Monday, almost exactly four weeks later, Jon Abbott reported Rodin was closing in on a return. In addition, Kuzma let us know Rodin got back on the ice for skill sessions.
So, what's the deal?
On the one hand, knee injuries can be very serious, and Rodin's seems to fall into that category. Caution is key here, so it is good to see the Canucks are taking it slow.
Then again, the past months have been worrying. Rodin missed half of the 2015-16 season in Sweden, but felt ready to return, only to experience a huge setback that seemingly came out of nowhere.
We can only speculate about his current state since the Canucks aren't communicating what is going on. Speculation seldom makes sense, so let's look at possible fits for when — or if — he returns.
Starting to think that Anton Rodin is really just a figment of our imagination. #Canucks

— Rob Williams (@RobTheHockeyGuy) November 14, 2016
The Fit
At The Canuck Way, we spent some time discussing possible lineup fits for Rodin. Simply said, a lot is possible.
Ben Dooley suggested Rodin should play with the twins:
When [Rodin] gets back to full speed though, he could prove to be a deadly option with the twins. The Sedins are looking for a winger who is fast and can shoot. That is exactly why Hansen worked with them last year. However, those things are also two of the most obvious things that work in Rodin's game.
I explored just about every possible combination for him, concluding that anything is possible. And every possibility comes with its own pros and cons.
With winger Jannik Hansen injured, head coach Willie Desjardins mixed everything up again anyway. Hansen, Brandon Sutter and Markus Granlund were the most reliable line for Vancouver to start the year. Now, Hansen is out, Sutter got moved to the Sedins' wing, and Granlund is back at centre.
If Rodin returns within the next week or two, Desjardins can come up with a line combination totally different from what I explored in my article.
Whatever happens, it would be great to finally see Rodin back on the ice. You know, to see he is really more than "a figment of our imagination".
This article originally appeared on